India Bans TikTok: How to Download TikTok Videos?
Apowersoft Watermark Remover
Apowersoft Watermark Remover is a reliable mobile app that helps you download Tiktok videos with great ease. This app will detect the link you copied from your TikTok account or lets you manually insert the video link you want to download into the required field, then remove TikTok watermark automatically. Despite the current issue that TikTok ban in India, you can still save your data from the app and share to other social media accounts. Follow the steps below to know how to download TikTok videos without watermark using this simple app.
Click the Download button to install the app to your computer.
Once installed, open the app and choose the "TikTok Downloader" option to proceed into the main editing section.
Next, paste the link you want to download into the field, and then tap the "Extract" button to preview the video in the interface.
After the app detected your video, tap the "Save" button to process, and automatically saved it in your device.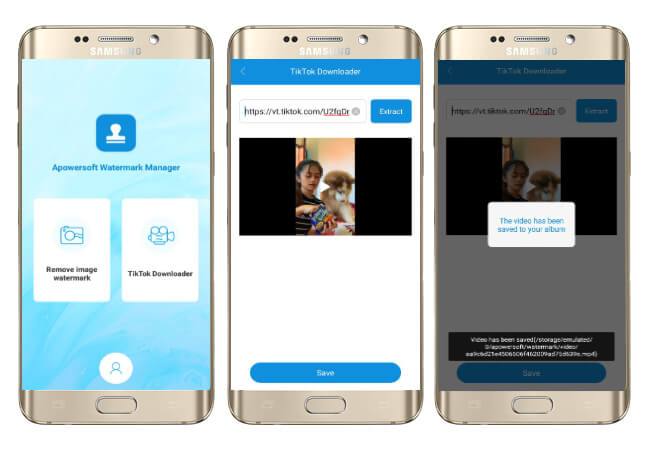 Video Downloader for Tiktok
Another simple yet effective app for an Android device to download TikTok videos is Video Downloader for TikTok. It is totally free and supports all kinds of TikTok versions, including TikTok Lite, Douyin, and Musically. Although India bans TikTok, you can use this app to download TikTok videos easily.
Install the app in the Google Play Store and then launch it.
Paste the TikTok video URL into the input field and tap the "Download" button.
When the video is found, select the "Download" button again to save it on your device.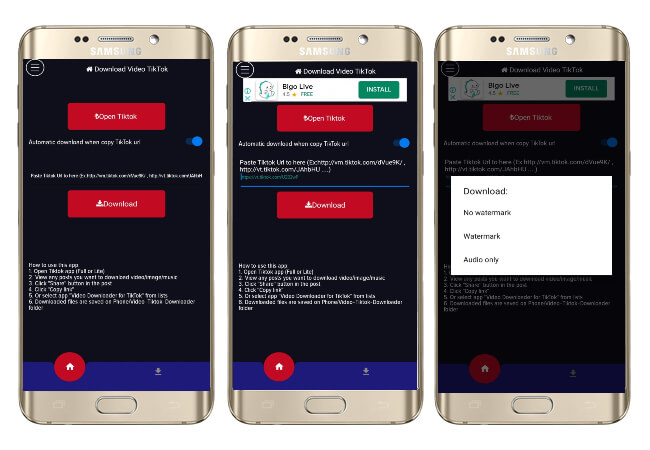 sssTikTok
If you are looking for an online tool for your TikTok videos to be downloaded, then sssTikTok is the best option for you. It has three download options where you can choose for, including with watermark, without watermark, and batch watermark remover. Needless to say, it enables users to save multiple videos at a time if you download the app version. Furthermore, this tool is compatible with both PCs and smartphones. Whether the TikTok is banned in India, this online tool is perfect for downloading and removing watermarks.
Head on to its official website and go back to your TikTok account to select the video you want to download.
After you copy the link, paste the URL from the long box.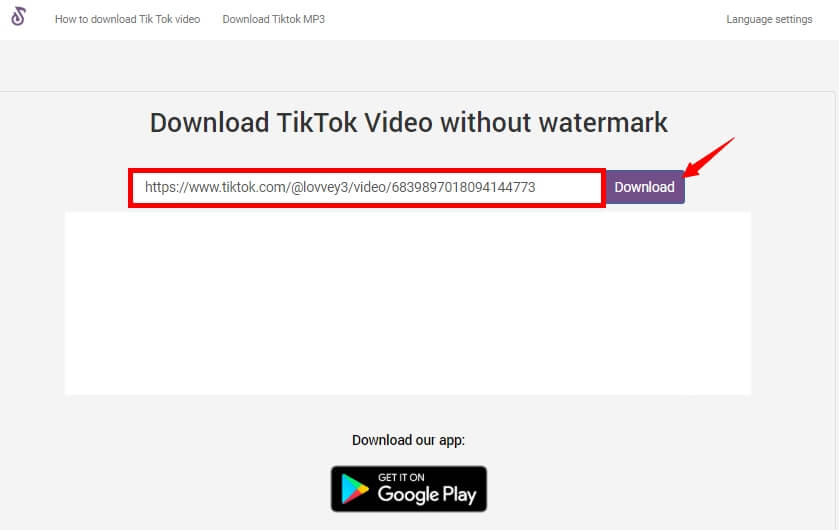 Click the "Download" button to process your TikTok video.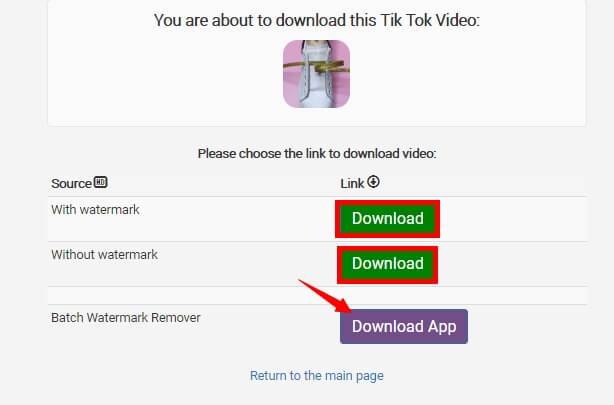 TikTok Downloader
TikTok Downloader is also a reliable online tool for downloading TikTok videos without hassle. It offers a simple interface and straightforward features that even beginners can easily use it to download your TikTok video with a watermark, no watermark, and/or audio-only. It is never a problem for saving your videos from TikTok, though India bans TikTok.
Simply go to the official site of this online tool.
From the interface, go to the "Enter a TikTok video URL" tab to paste the video URL you copied in your TikTok account.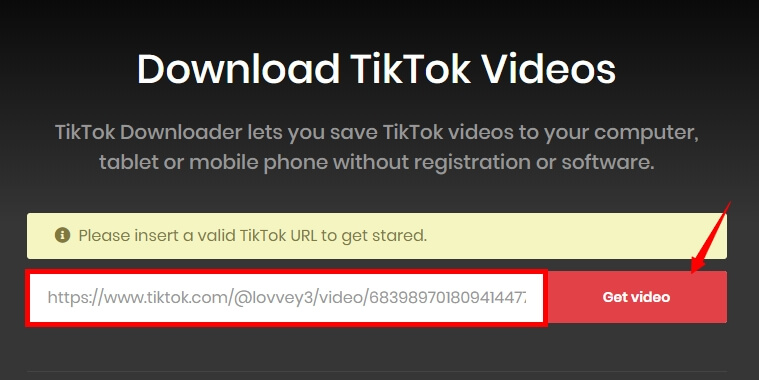 Then click the "Get Video" button to start downloading your video.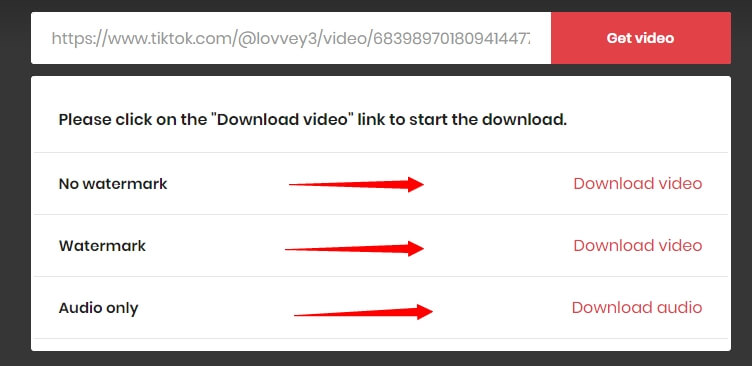 iTube
iTube is the best PC solution that lets you download TikTok videos and any other videos easily and quickly. This is a stunning piece of software that provides 2 times free trial to use its all useful features. If you are worrying about your short videos because TikTok is banned in India, this software is also a great choice to try.
From the official site, click the "Try It Free" button to install it on your PC.
Once installed, click the "Paste URL" button to paste your TikTok video link, and then click the "Download" button.
After that, click the "Continue" option to analyze the video link.
Finally, wait for the downloading process to be finished.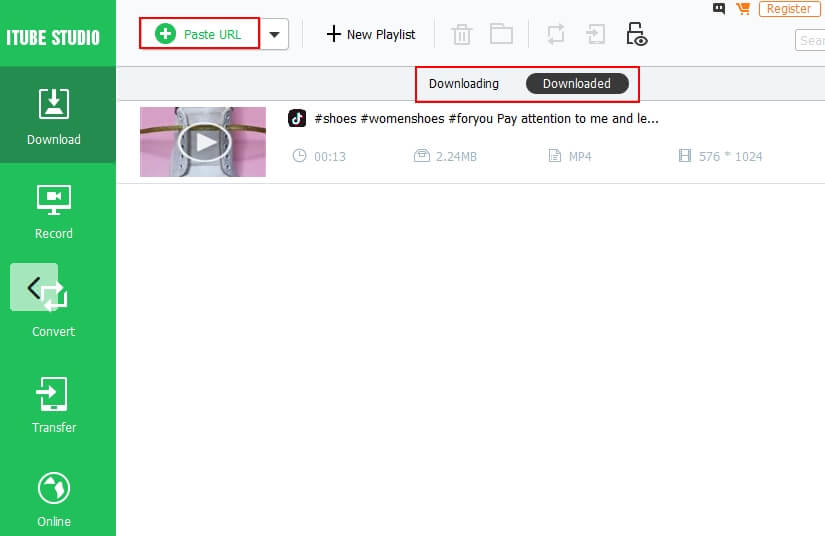 Conclusion
Despite TikTok banned in India in recent days, you can still have various ways to download TikTok videos with the help of the aforementioned tools. It is highly suggested to use Apowersoft Watermark Remover because it can automatically detect the video and save it without TikTok watermark.