Best Grey Photo Background Apps – Change Background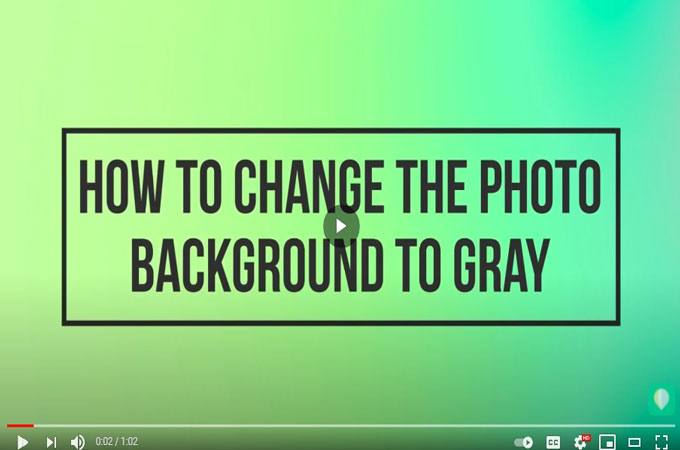 Apowersoft Background Eraser (Android & iPhone)
Apowersoft Background Eraser is a practical app that is highly useful in background editing. This app will eliminate the unwanted background automatically and change it into gray. This genuine app will give you an all-in-one photo background editor that you need.
Main Features
Automatically recognize the item without any selection
One tap to add new solid background colors and background templates.
Keep the original quality of the edited image.
How to make photo background grey with Apowersoft Background Eraser
Open the app, choose the recognition that you need.

Upload the photo and wait for the transparent result.
Tap "Change Background" > "Color" and choose the grey color.

Lastly, hit "Save HD".
Note:
Apowersoft Background Eraser wants you to experience its giveaway activity. Give it a try so you won't miss it.
Auto Background Changer
This Android app is an automatic background changer that can instantly change your background to grey. It uses artificial intelligence to cut out the subject from its background automatically. More than that, you may use its manual eraser tools for a more precise result.
Simple steps to make gray photo backdrop using Auto Background Changer
Download and install the app from the Play Store.
Run the app, tap "Auto Background" and import the image that you will use.
If you are satisfied with the automatic result proceed to "Background".
Set the color gray and hit the "Save" option afterward.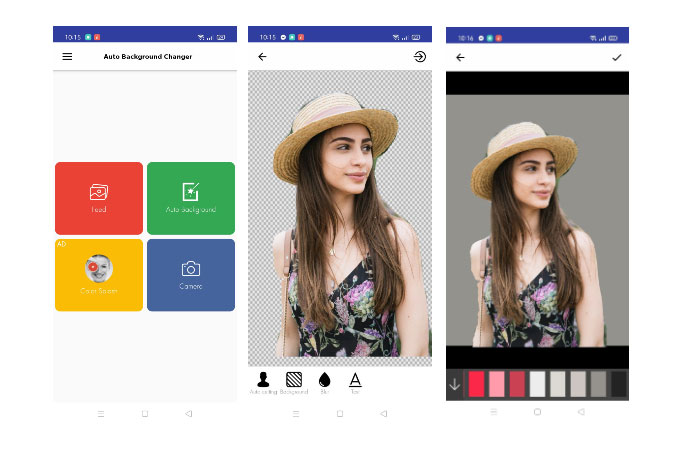 Remove BG
Another app that you may install on your Android device is Remove BG. No wonder this app is one of the most popular background editors because of its ability to erase background easily and change it to a new background. From the app's ready-to-use background templates and solid background colors that you need by using the color pallet.
Make grey photo background with Remove BG
Go to Play Store to download and install the app.
Start by tapping the "Cut Out" button to upload a photo.
Use the "Eraser" icon to remove the background.
Tap "Background", then the color pallet to adjust the color to grey.
Finally, save your work by clicking the check-mark icon.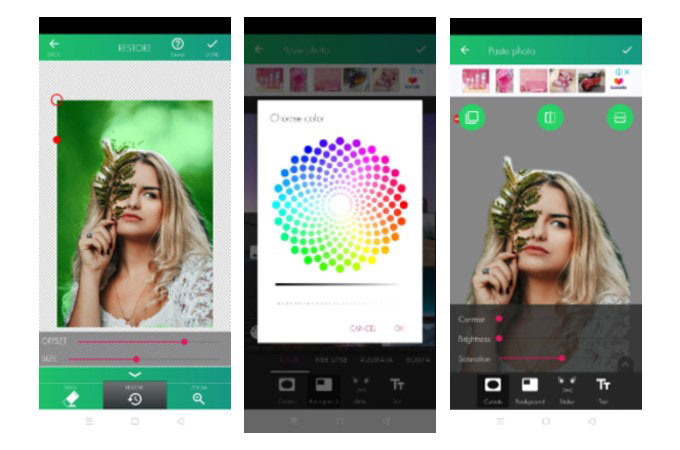 Background Editor
For all the iOS users out there, Background Editor is the app that is the best for you. The app is perfect for retouching any photos that you have. It can give you many options in changing your background, like using solid background colors that the color gray belongs to.
How to change photo background to grey along Background Editor
Download the app from App Store.
Tap "Change Background" and upload the image.
Manually remove the background using its eraser tools.
Then, tap the check-mark icon and options will pop up.
Choose "Solid Background" to choose the grey color.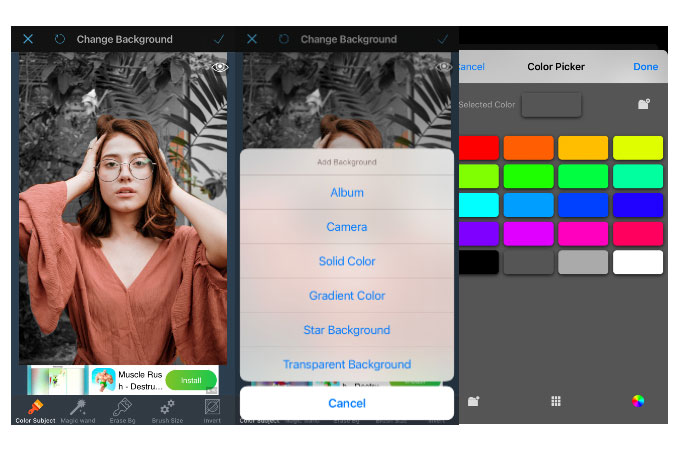 BackArt
BackArt is the last app in this list that you may rely on in changing your background color to gray using your iOS device. This amazing app can create your photo look professional without exerting a lot of effort. Besides, this app uses advanced removal features to get rid of the background and change it to different solid colors such as white, black, gray, and more.
Learn how to make photo background grey with BackArt
Search the app on App Store to download and install it on your phone.
To start, tap the "Select Image" icon to get the picture.
The app will present a transparent subject, tap "Background Editing" to set the gray color that you need.
Once satisfied with the result, hit the download icon.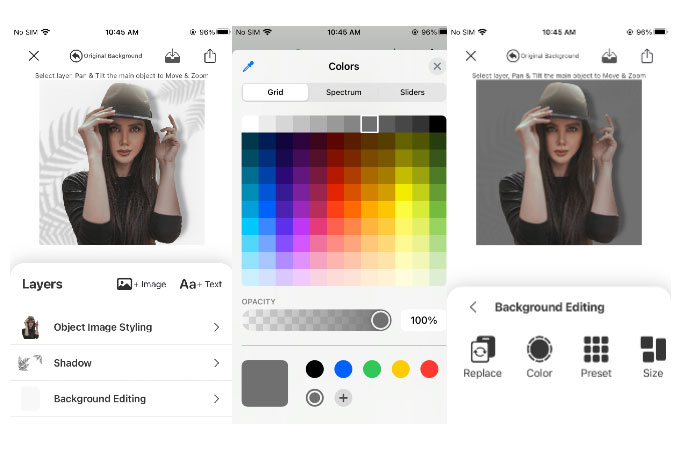 Conclusion
You will find a lot of helpful apps that you may use in making your photos in grey color. Try all these apps and choose which one is the best for you. However, with these five apps, Apowersoft Background Eraser is the most recommended one. It can simply make your gray photo backdrop no less than a minute.