The most important part before posting your products on eBay is ensuring the quality of your images. What are some common standards and practices? Don't worry because we have a guide for how to take good pictures for eBay.
Guidelines for Merchants using eBay Pictures
Picture must be your own original work.
The image must be clear, not blurred.
Background must in plain white.
Product photo should not have a shadow.
The image must not consist of any copyright marks.
The image file format must be JPG.
5 Best Free Photo Editors for eBay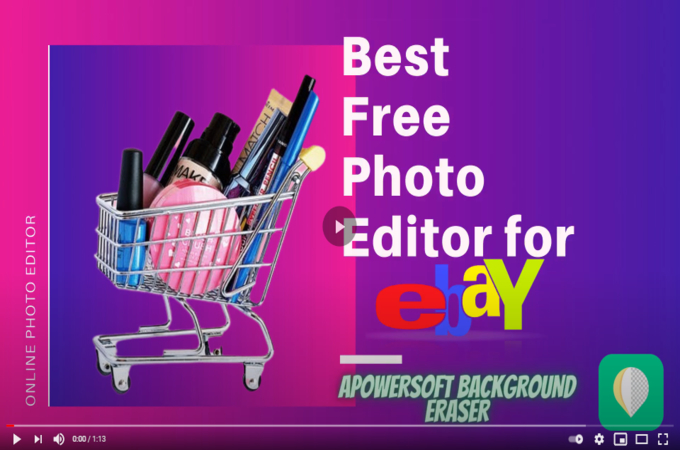 Apowersoft Online Background Eraser
Apowersoft Online background Eraser is our number one pick to help you out with how to take good pictures for eBay that you may use online. This tool is 100% free and equipped with basic photo editing features.
Main Features:
Remove background effortlessly with just one click.
It gives a precise cutout.
Provides ready to use background solid colors and backdrop templates.
Crop image in various aspect ratios.
Keep the edited image in its original quality.
Preview changes in real time.
How to Create Good Pictures for eBay
Go to its official page.
Click the second button and upload your product photo.

The background will automatically be deleted with zero clicks.
Then, hit the "Edit" button and modify your photo.

Once done, click the "Download" button.
Note:
It is not just for online use, you may also install it on your desktop and mobile devices. Click the "Download" button below to access the tool and get free VIP access on its product page.
PicWish
Another best free photo editor for eBay that you may rely on in your product photography is PicWish. This newly launched online service tool uses smart AI technology that will automatically process your photo. Removing its background and changing it to a new one can be done here in this amazing FREE web service tool.
Open your browser, look for the official page of background eraser.
Then, click "Upload Image" to upload photo from your computer gallery.

The tool will automatically process your photo removing the unwanted background. Select "Edit" afterward.

Under "Change Background" choose the background that you needed.
Once done, save your work by clicking the "Download" button.
Canva
Canva is another photo editor for eBay that is superior in its own way. This online app will help you to beautify your products before posting them on eBay. It is packed with various photo editing features like adjusting filters, brightness, saturation, and contrast. You may also crop and resize your photo to achieve the size that you need. However, you need to pay an additional price to access and fully download your edited work.
Visit the official page of Canva.
Click the "Edit your photo now" and drag the photo on the interface.

Edit your photo the way you want it to be.

Then hit "Save" to download your edited photo.
Pixlr
If you prefer online tools that are classic, yet provide advanced photo editing features Pixlr is good for you to learn how to take good pictures for eBay. It is packed with modern photo editing features for both beginners and professionals such as selection tools, color tools, and advanced color pickers. It also consists of some of the basic editing features like cut, copies, paste, and more. However, you need to purchase the tool for more advanced features.
Open your browser and visit the Pixlr official page.
Then, upload image by clicking the "Open Image" button.

Next, you will be directed to another interface where you can edit your eBay photo.
Once satisfied, click "Save" to keep your file directly on your computer library.
Fotor
Another photo editor for eBay that you may access easily is Fotor. This open-source free photo editor has a clean interface that anyone can use. You can improve your product photo before posting it on eBay by using its basic photo editing features. It will let you adjust the color, size, light, and more. Moreover, it will let you add effects by choosing from its large selection of photo filters. If you are not yet satisfied with the basic features you can purchase a more advanced one.
Head out to the Fotor official webpage.
Then, click "Edit a Photo" to open the editing interface.

From there, hit the "Open" icon to upload a photo.
Once uploaded, use the editing tools to beautify your photo.
To save the edited file click the diskette like icon.
Conclusion
These are the tools that can make photos for eBay without any photo editing skills needed. All these online tools will help you enhance your products with their different advanced features. Apowersoft Online Background Eraser is the most recommended one because you can access it easily and it's 100% free.