Apple led the development of the tech industry in the past years through their products, by making convenience and accessibility as key features. However, they also did it in such a way that users would have to purchase almost all Apple products to maximize profit. While the iPad is a very user-friendly device for watching movies and videos, Apple built a system wherein one has to first sync the iPad with iTunes to transfer them. The user cannot simply watch a movie in the iPad without converting the videos into compatible format that would be recognizable by the device.
In theory, Apple makes the video played easier by offering MOV format in the iTunes Store recognizable by any Apple device. However, you also need to acquire videos from places other than iTunes store, such as, your personal videos. Hence, it is important to know how to convert video to iPad on Mac or PC to be able to watch any videos on your iPad.

It's quite ironic that although Apple knows about the limited support to video formats, the company does not try to do anything about it. As a consolation, there're some media player or transfer apps available in iTunes store. It is a good thing that there are free video to iPad converter apps available in the internet these days. These converters can convert any kind of video to iPad compatible format. Here we have picked up the most 5 best free iPad video conveter among the others.
Top 1: Apowersoft Free Online Video Converter (Windows & Mac)
Apowersoft Online Video Converter is considered to be the best among all the free converters since it does not require any installation. This online app can be accessed anywhere, provided that you're connected to the internet. Best of all, it allows conversion of video files and audio files, such as MP4, WMV, ASF, AVI, MKV, 3GP, MOV, WEBM, MP3, WMA, AAC, WAV, FLAC, OGG, and RA. As of the moment, it offers unlimited conversion service without any fee in it. Even if it's not taking up a place on your computer like software, it is pretty fast in converting files that may be shown in different resolutions. Since Apowersoft is browser dependent, it may be accessed either on PC or Mac.

Top 2: iSquint (Mac)
Users who are accustomed to the Apple environment would obviously prefer Mac instead of PC. For this reason, there are also several free iPad video converter applications for Mac alone. The small letter "I" in the prefix is already a dead giveaway that iSquint is designed only for Mac. Unlike Apowersoft, iSquint requires installation in order for it to work. It also handles almost all video formats and it is relatively faster than a browser dependent converter.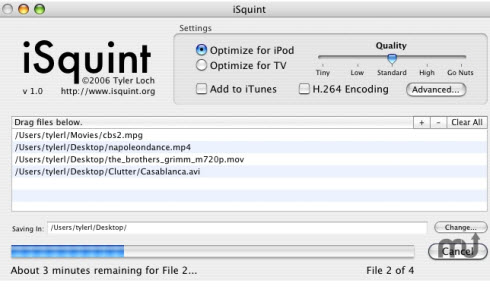 Top 3: Ffmpeg (Mac)
This is another free iPad video converter for Mac which similarly requires software installation. Although it may not have the fancy name of iSquint and the aesthetics, FFmpeg packs tons of other extra features that are not being offered by iSquint. This is particularly catered to users who are not simply contented with just converting a particular video file. For those advanced users who are interested in transcoding and streaming video files through utilities such as ffmpeg, ffserver, ffplay, and ffprobe, this software is for you.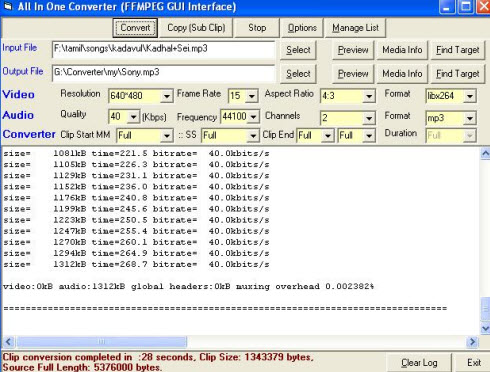 Top 4: MPEG Streamclip (Windows & Mac)
While this free video converter only highlights MPEG in its name, it is also capable of converting all popular video formats. The advantage of this software is that it can transport movie streams. It allows editing of the video with special tools, providing a lot of flexibility to make the video even better. MPEG Streamclip is available to both PC and Mac but it is the latter which presents the better alternative for handling media files.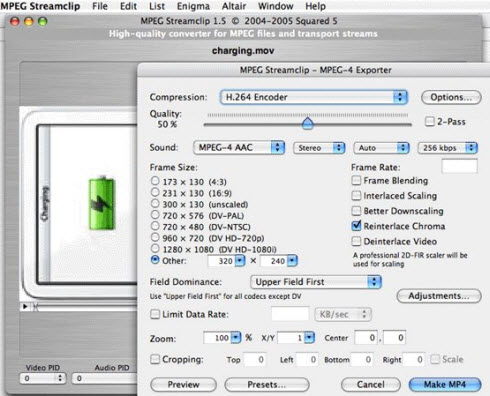 Top 5: Videora iPad Converter (Windows &Mac)
As the name suggests, Videora cuts to the chase and simply states that it is an iPad video converter. Available for both the PC and Mac, Videora can convert files like FLV, VOB, MPEG, AVI, and XVID. This tool also provides a solution to convert videos from DVD and even online video streaming sites like YouTube. Thus, once YouTube videos have been downloaded and converted by Videora, they can easily be transferred to the iPad so the user can watch videos even offline.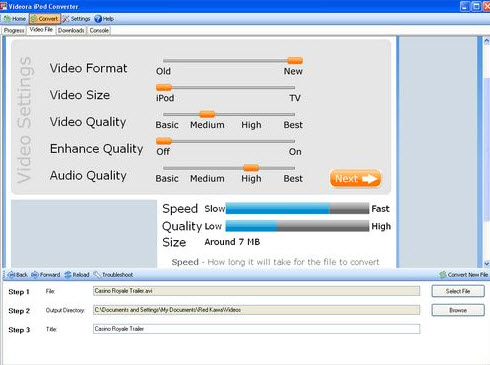 While these are the best free video converter software available these days, applications improve every day. In the future, there might be more converters that may contain certain features that the five listed software don't. Still, for a person who only intends to watch movies in an iPad without all the technical problems, there is little need to look for other software when these free converters can already do the job right.