VOB or video object is the file format used on DVD video discs, which contain the movie data including its audio, video, subtitles, menus and navigation contents. Aside from DVD players, only few media players support this file format like ALLPlayer, Media Player Classic, GOM player, VLC media player and MPlayer. If you want to watch the movie using another media player or another device like your smartphone, you need to convert it to another format supported by the player or device. MP4 format is one of the best formats to use since it is supported by most players and mobile devices. There are applications that you can use to free convert VOB to MP4. Some of them are web based, while others need to be downloaded and installed.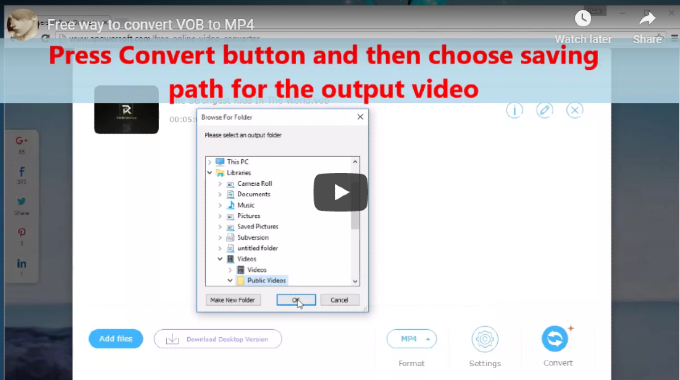 Tools for Converting VOB files to MP4
Before, it was difficult to convert files to other formats. With the advancement of technology file conversion became more convenient. There are two online tools that you can use that will let you convert VOB files to MP4 without a cost. They are Apowersoft Free Online Video Converter and Online-Convert.
Apowersoft Free Online Video Converter
This tool lets you convert VOB files to MP4 without a cost and at fast speed. Recently it has been updated with more functions supported and more intuitive user interface. Java applet is canceled. A new Launcher is needed if you are the first time to use it. No worries about the safety cause the Launcher won't hurt your personal files. Available formats are classified in terms of video codecs and audio codecs. Btw, the .gif is added to support now. Not only can it work as a file converter but also an animated gif creator. The editing options are like before in general with some tiny changes. Keep reading to know how to use it to convert VOB to MP4.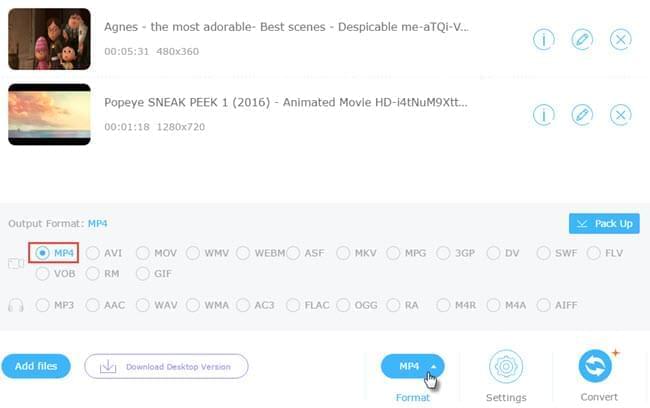 Go to the Apowersoft Free Online Video Converter official page.
Click "Select files to start", you'll be guided to download a Launcher before you can fully use its features.
After the Launcher initiates the app, choose .vob files from the pop-up folder on your computer.
Drop down "Format" and select MP4 for the output file.
Hit "Edit" to modify the settings for the file that you want to have.
Press "Convert" and wait for the process to complete.
Online-Convert
This is another tool to convert VOB to MP4 online. While it offers the feature to cut videos, the conversion process takes time. This is because data is submitted on the site before being converted, which you then need to download to your computer. Furthermore, it also comes with ads. Here are the steps on how to use this tool.
Go to Online-Convert.
On the video converter section, select your target format, which is MP4 and click "Go".
Click the "Browse" button to search for the file you wish to convert if it is saved on your computer. If it is uploaded online, you may enter the URL on the field specified.
Select your preference under optional settings.
Click the "Convert" button.
Wait for the file to be uploaded on the site.
Once upload is done, the converted file will begin to download.
If the download process did not start, click on the direct download link to start it manually.
If you want a more powerful and more professional converter that offers more features, Apowersoft Video Converter Studio is one of the best options. You can take advantage of the free trial to test its features and experience what it enables to offer before purchasing the full version. Aside from the conversion of files into various formats, it comes with helpful video editing functions that you can benefit from. For example, it offers the option to add subtitles and watermarks. You can also combine videos into a whole one or crop the video as you need, which is useful for editing. Moreover, it currently allows you to download videos from website and change them onto different formats. Though it costs some money, the effort and price are worth it because of its fantastic performance and great options. Its simple interface makes conversion easy to do. Just press the "Download" button and install it on your PC at first. Here are steps about how to operate.
Click the "Add Files" button to import the video you wish to convert.
Open the "Profile" drop-down list to choose "MP4" for the video output.
Hit the "Setting" button to adjust the parameter settings if necessary.
Click "Convert" to start the conversion process.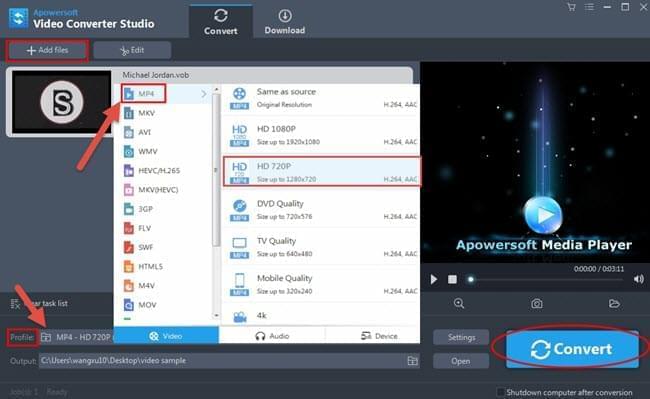 You can now watch VOB files on other players and devices with the help of these VOB to MP4 converters. Furthermore, you can share these files to friends and family members with players that do not support VOB so they too can enjoy the movies.