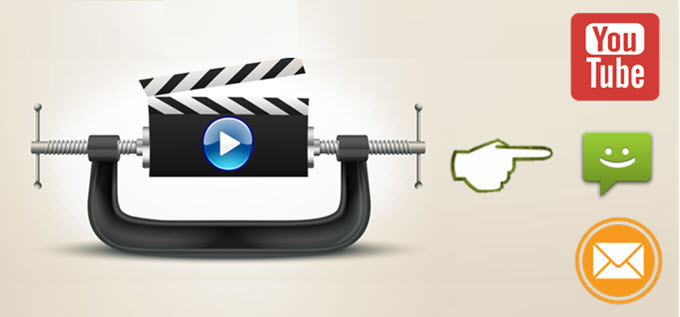 Ask
Is it possible to shrink video file size without lowering the quality at all? I need to send a short video to my uncle via e-mail. However, the e-mail client has a 14MB limit for attachment, and my video is 26MB. I don't want to lose much video quality and reduce the resolution. Please advise.
Answer
Large file size is really a big headache to people who want to send videos to someone via e-mail, or those who would like to upload videos to sharing sites like YouTube or Facebook or for the sake of saving device capacity. Whatever the reason is, there is no such thing as lossless compression by definition. Reducing file means discarding data. And discarding data means lowering quality and resolution. What we can do is to make the compressed file close to the original file to the fullest extent. At least, we cannot visually discern any difference between the original and resulted file.
Shrink Video File Size without reducing quality
Generally, there are three common ways to reduce video file size: change video frame rate, resolution and bitrate; cut unnecessary video clips and convert it to a flash video file. Look to these tools as follows that will help you easily compress the video file to a smaller size.
How to use Video Converter Studio to compress video file size
As the name implies, Video Converter Studio is not only a converter program but also a file size compressor which can let us reduce the file to a specific size with a fast compression speed. It features a broad range of choice for selection if we have to designate a size for the target file for some reasons. And the quality will be remained similar to the source video file. Before we can proceed with it to compress video file size, we need to download and install it to our PC at first and then let's see the detailed steps.
Open the program and click "Add files" button to import video files that you wish to compress.
Hit "Size" button and a pop-up will show immediately to allow you limit the output file size.
Enter a specific file size that you prefer between the range and then click "OK".
Drop down "Profile" bar and choose the format that is accepted by your device.
Click "Convert" button to start to reduce video file size.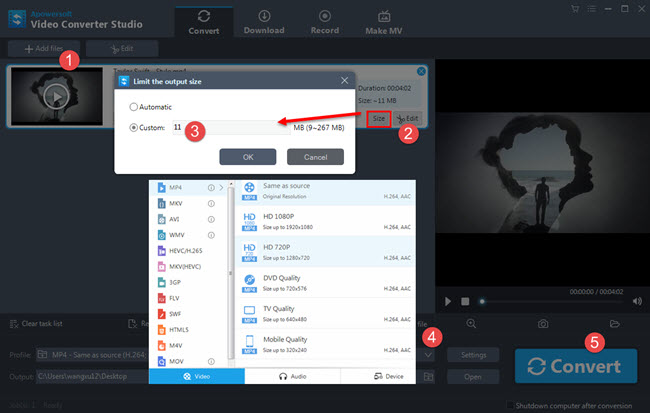 The bitrate, frame rate and resolution of the video are preconfigured well once we type in a file size in the "Limit the output file" window. No need to change them manually makes this method quite convenient and simple for common people who are not computer savvy.
Beside this, we can find it integrates four functions into one program: Convert, Download, Record and Make MV. Other functions like editing video (trim, merge, crop, rotate, change effect, add watermark/audio track/subtitle) and playing videos are also very powerful.
Other available methods to shrink video file size
i
Convert video to Flash file format
Flash files like FLV, ASF and SWF are famous for its small volume and fast delivery over the Internet. Converting big files to file type, for example, FLV format, will obviously decrease the file size, making big videos more appropriate for uploading and transporting. The best application for convert files with large size is Apowersoft Free Online Video Converter. Within three steps we can handle a basic file conversion at a high speed. After you log into the website, go to start a video conversion with below guide to compress video file size.
Click "Browse" button to import the video you wish to compress.
Select "FLV" as the output format.
Hit "Convert" button to make the conversion.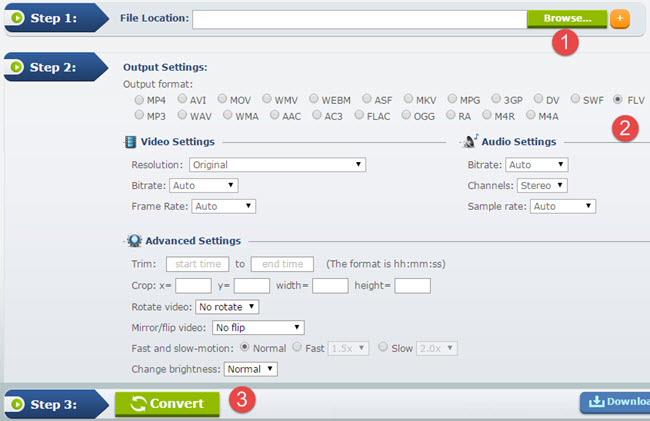 If you are considering putting the compressed file to portable devices for video enjoyment, you are not suggested to adopt this method because FLV format is not friendly with them unless you install Adobe flash player or some similar players on the devices.
ii
Make use of Handbrake
Though Handbrake is known to people as a good-to-use video transcoder, it also can be used as a file size reducer. After you fully install it on your Windows machine, refer to below steps to shrink video file size.
Click "Source > Open File" to add the video file you want to compress on the interface.
In "Destination" section, press "Browse" button to select a path for saving the compressed file and provide a name for it.
In the "Output Settings" section, choose "MP4" as the Container format and enable "Web Optimized".
Go to "Video" tab, select H.264 (x264) as the video codec and click "Start" button after all settings above are done.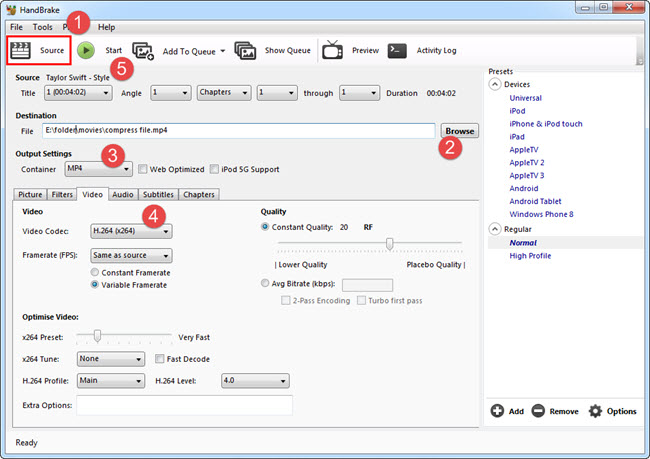 Compared with other two methods, Handbrake is a little bit harder to understand and use. And we cannot predict what the compressed file size is going to be. All the parameters are self-set so that the video quality is unpredictable.
Conclusion
That is the whole solution for reduce video file size. Which one do you like best? If you have any other helpful method to compress video, please make a comment to let me know.