Ask
I tried to use Apowersoft Phone Manager to manage my iPhone 6s. But no luck for me, the Phone Manager cannot detect my phone after several attempts, no sure what went wrong with the problem, can anyone plz tell me how to resolve the issue? Thanks in advance.
Answer
Hello, sorry for the trouble that it might bring to you. First, before using Apowersoft Phone Manager, you should ensure that the iTunes has been installed on your computer. If you have not installed it yet, please navigate to the Apple's official site to download the application.
Solutions to Phone Manager not detect with iPhone/iPad
Now the consideration is to identify whether iTunes can detect your iPhone. You should connect your device with the supplied USB cable, and then open the iTunes. If the Apple's official software iTunes failed to detect your idevice, Apowersoft Phone Manager would definitely fail to detect your iPhone. This is also the main reason why users failed to connect Apowersoft Phone Manager with iPhone.
Given this, you've got to first confirm the solutions to solve the iTunes not work with iPhone/iPad:
i
Please make sure that the USB cable is in good condition and has been plugged into your computer. You also should ensure that your USB port works fine whose functional fault and bad contact might result in the connection failure error.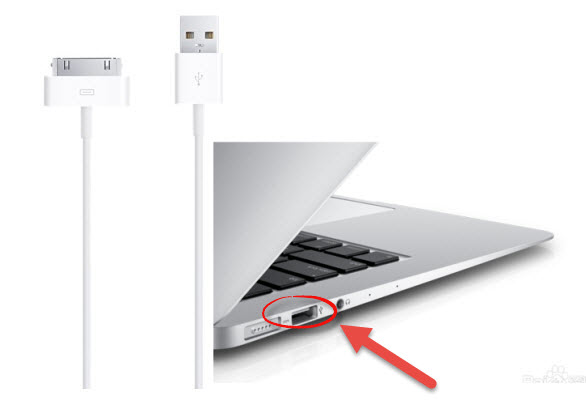 ii
Try another computer to connect your iPhone, iPad or other devices. If iTunes can work with your apple devices, this might indicate a problem with your previous computer.
iii
Please check whether the iTunes related components "Apple Mobile Device" and "Bonjour" have been running when you start your computer.
Simply press "Windows + R" on the keyboard to search the running service.

Then input "services.msc" to locate the "Apple Mobile Device" and "Bonjour" components.

Right-click the items to see whether it has been activated, if not, click "Start" to run.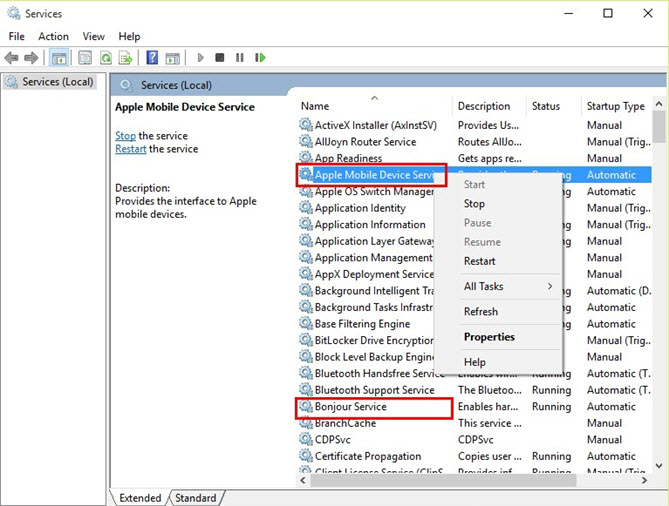 iv
Un-install the iTunes and then re-install it. In order to un-install iTunes, simply select "Control panel" > "Uninstall or change a program" > "Uninstall". And then delete all files with Apple components including iTunes, Apple Software Update, Bonjour, Apple Mobile Device Support, Apple Application Support. After uninstalling the program completely, you are suggested to restart your computer and reinstall the iTunes.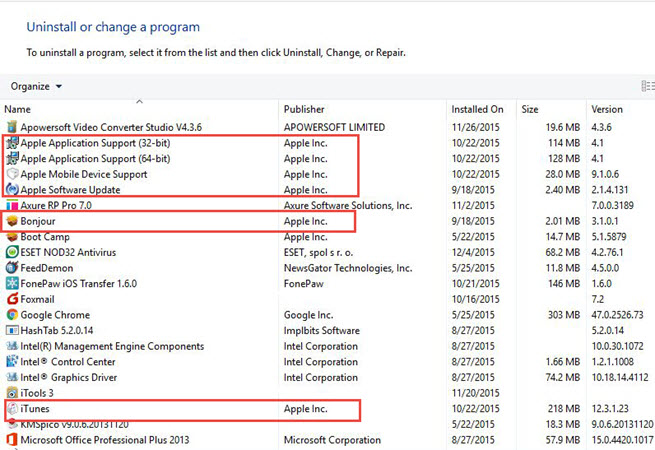 Tips: Generally speaking, if you un-install the iTunes completely, you can re-install it with success. But in a very few cases, the iTunes installation fails due to the incomplete uninstallation, which might in turn lead to the failure of detecting your iPhone or other idevices. At this time, please open "Control panel" > "Un-install or change a program" > "Un-install" again, and then un-install all files with an Apple Inc. suffix. (A part of users only have 5 apple components while others have 7 inc components.)