Ask
I have a stack of files in PDF format and I plan to transfer these files on my Android devices for reading them at any leisure time. The issue is how I can move these documents to my Android? Do you know any good solutions?
Answer
How to Transfer PDF to Android with Easy
As one of the most prevailing document formats, PDF is created for us to keep up with the rapid life pace and huge workload. The independence of PDF from hardware, software or operation system enables you to freely transfer them from PC to Android phones and read them on your device. There are various methods you can use to put these PDF on your Android devices. To save your energy, we have reviewed and summarized solutions below for your easy option.
1. Solution one – Apowersoft Phone Manager
Apowersoft Phone Manager – One-click transfer PDF to Android
This phone manager is one of the most prevalent mobile management programs, which is famed as a professional transfer tool. You can use it transfer various mobile or tablets files such as PDF, EPUB, contacts, applicaitons, bookmarks, call logs, music and videos. Now get started with guidance below to transfer PDF to Android.
Download and install this PDF transfer tool on your PC.
Run this application and connect your Android devices to PC with USB cable.
Once connected, click "Books" tab, choose "Import" button and then you can move your PDF files to Android devices.

Disconnect your device from computer by clicking "Disconnect" button.
Actually, you can also use this program to transfer documents in other formats like epub, html, txt, xlsx and docx. As long as you need, you can quickly move these files to Android devices. What's more, this phone manager also comes with other magic functions, such as one-click screenshot, one-key file removal or full-screen display on Android.
AirMore – Wirelessly download PDF on Android
AirMore is another file transfer tool which can quickly transfer PDF to Android. Comparing with other methods, AirMore empowers you to wirelessly transfer files to any Android devices. Without using USB cable, you can quickly access your file. You can create, transfer or remove them at a quick speed. Now follow steps below to put your PDF documents on your devices.
Type "airmore.net" on your computer browser (AirMore is now available on Chrome, Firefox and Safari browsers).
Open AirMore app on your handset and scan the QR code displayed on AirMore web. Both your phone and PC are required to be connected under the same WiFi network. After that, click "Accept" when a notification box pops up on your Android.
Once connected, enter "Documents" tab on the left side where you can see different documents stored on your phone, such as PDF, DOC, XLS and ZIP.
Click "Upload" button, you can transfer PDF to Android from computer. Make sure your phone is always activated.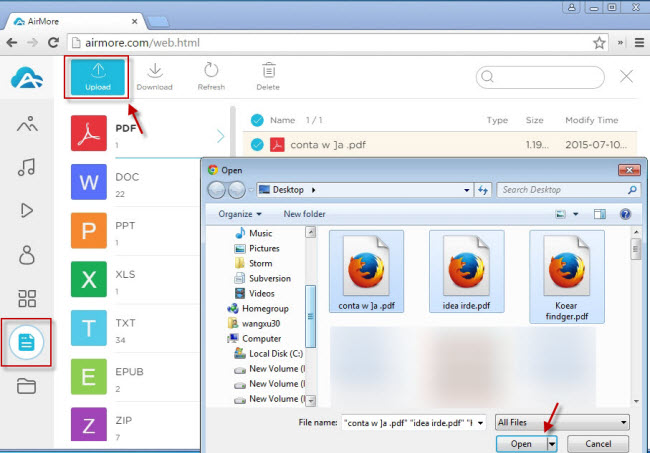 In addition to transferring PDF, this program also allows you to share files from Android to computer. If you do not need some documents, you can also delete them with one click. If you want to manage files like music, videos, apps or contacts on PC without using USB cable, AirMore no doubt is a good option.
There are many other methods you can adopt to transfer PDF to Android, such as Google Drive and Dropbox. However, after objective review, the methods motioned above are considered to be the best ones. Especially for Apowersoft Phone Manager, it performs efficiently not only in transferring files but also in managing your entire device.