How to Get Rid of White Background in Photoshop
No doubt that you can use Photoshop to delete white background from any image. This program is known for its professional and powerful photo editing features, and one of its amazing features is to get rid of any unwanted background from photo, specifically a white background. Moreover, this program offers almost all the remover tools to choose anything in the photo, such as magic wand, lasso, quick selection, pen tool and more. On the other hand, if you are just a beginner it will be very difficult for you to navigate the tool precisely because it has a wide range of features that are complicated to use. Here we simplified the steps on how to delete white background in Photoshop.
Open the tool, then click "Open" under "File" to upload the image that you will be using.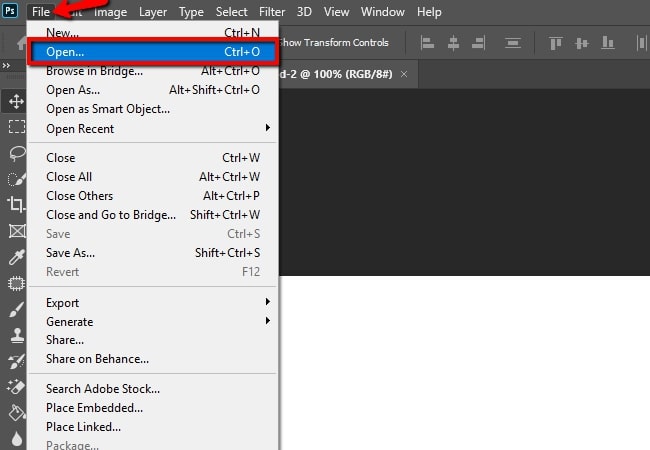 Next, go to the left side of the screen and look for the eraser icon. Choose from among the eraser tool, background eraser tool, and magic eraser tool and apply them to your file.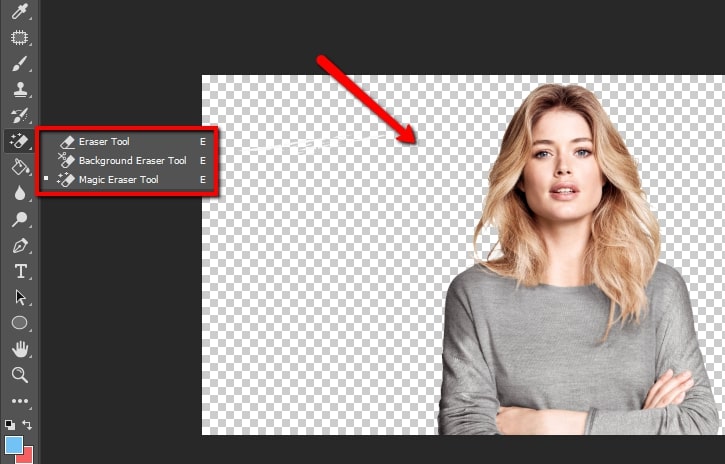 Once finished, you can save your image directly by clicking the "Save as" option under the "File' button.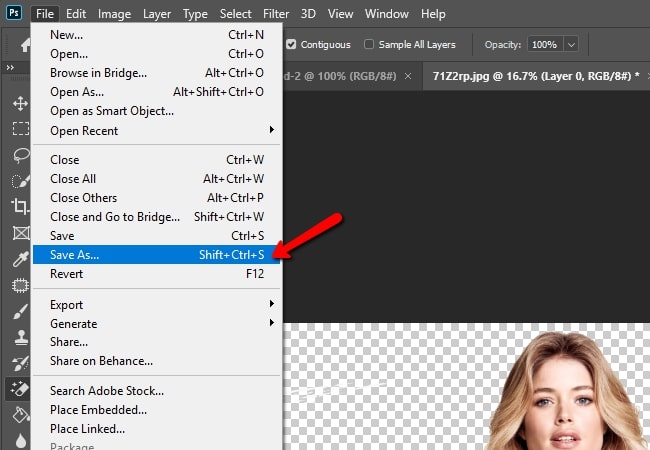 In addition to Photoshop, there are many other alternatives to Photoshop that can get rid of white background but with a much more intuitive interface and self-explanatory functions.
How to Remove White background in Photoshop Alternatives

Apowersoft Background Eraser
The first Photoshop alternative that you can rely on to remove white background in Photoshop in a quick and easy way is Apowersoft Background Eraser. Instead of manually using the selection marker or lasso tool in Photoshop, this program will automatically delete the background. It can precisely separate the foreground of your photo from its background, not only for white backgrounds, but also for any complex background design. Moreover, if you want to substitute a photo background you can easily choose among the built-in backdrop templates, colors, or upload your own background design.
Download the program from its official website and install it on your computer.
Download
Run the tool, then choose between "Portrait recognition" or "Other recognition".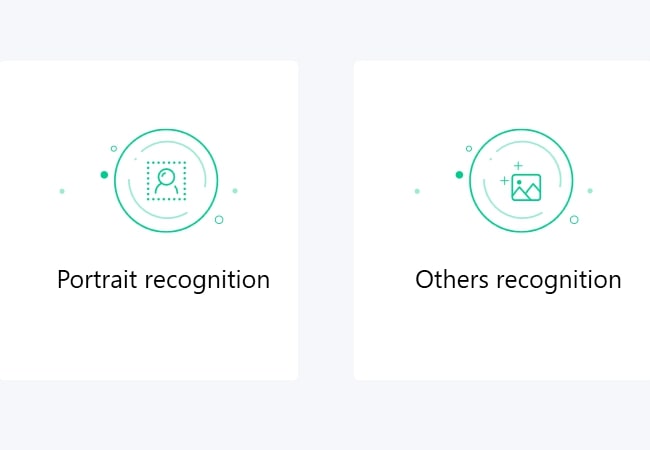 After that, a new window will pop-out. You just click the plus sign icon to import the photo and it automatically processes the photo without the white background.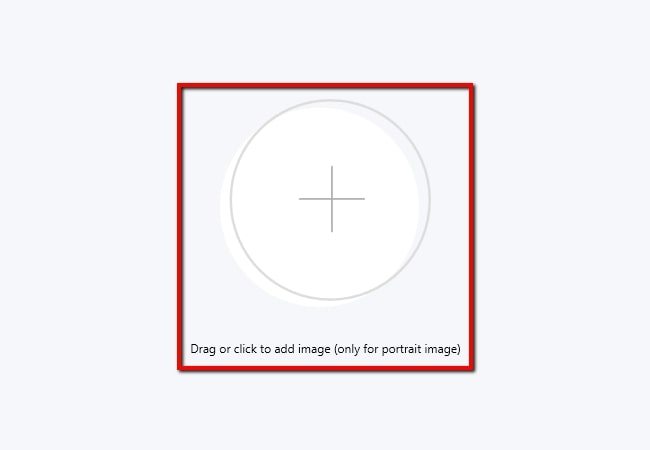 Lastly, hit the "Save" button to download the edited file.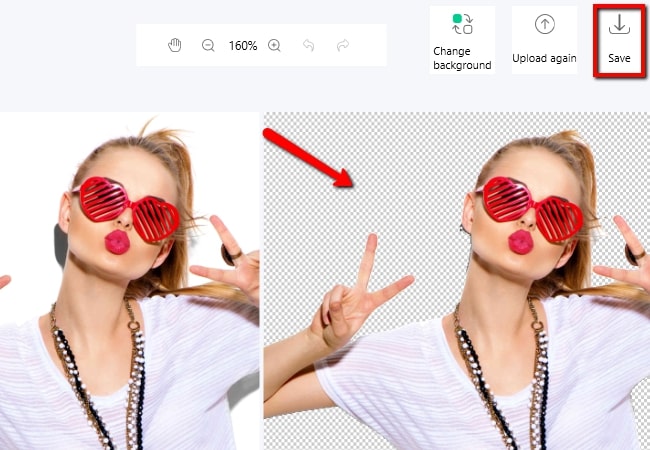 Photoscissors
The next alternative tool that we have is Photoscissors, a tool that works easier than deleting white background in Photoshop. You can replace the white background of your photo with transparent or any other plain color. Besides, this tool doesn't need any professional skills because it also automatically gets rid of the unwanted background. Here are the steps to remove the background from your photo.
Open the program, under "File", click "Open Image" to import the image that you need.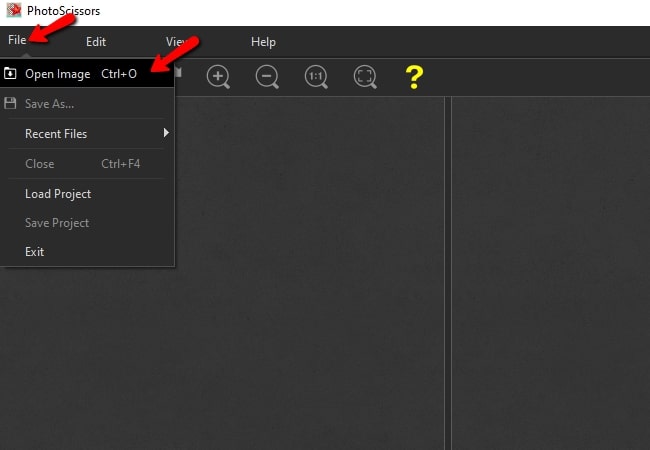 Once it automatically processed your image, you can directly save the file by hitting the diskette like icon at the upper left of the screen.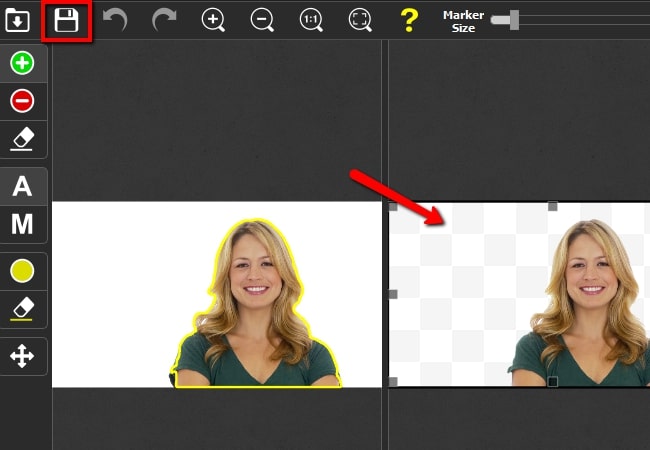 GIMP
The last tool that you can rely on to get rid of white background in Photoshop is GIMP. This image editor has a user-friendly interface that you may use even if it's your first time. It provides a high-quality image manipulation feature where you can choose among the background remover tools that it has like rectangle select tool, ellipse select tool, free select tool, fuzzy select tool, and many more. With GIMP, it will be effortless to remove a background. Try removing the white background by following the guide below.
Open the software. From its interface, click "File", then "New" and you can upload the photo that you need in the tool.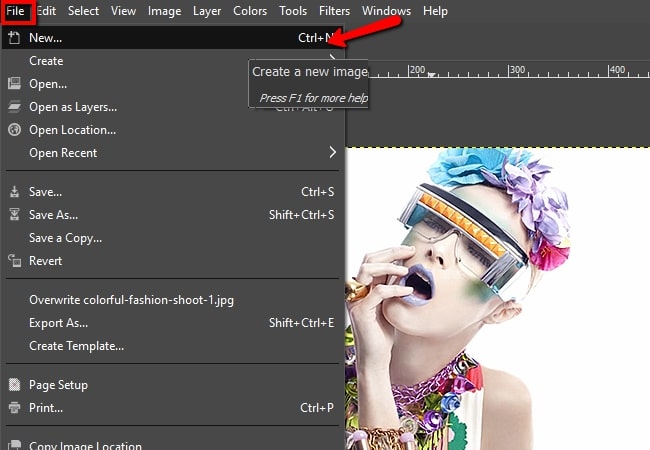 Next, choose among the photo remover tools that are located at the upper left corner of the screen.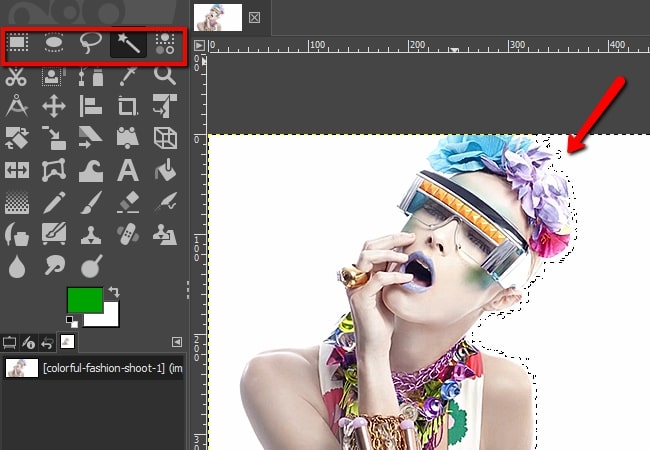 Manually delete the white background, then go to "File" again and click "Save as" to download your final file.
Conclusion
Undoubtedly, Photoshop is an amazing photo editing tool that can help us process an image in many ways. You can just follow the simple guide to remove white background in Photoshop. However, since it can be quite overwhelming, these simple alternatives are your best choices to try. And among the three similar tools, Apowersoft Background Remover is highly suggested to use.