Tips to Delete Highlight in PDF
Remove Highlight in PDF
ApowerPDF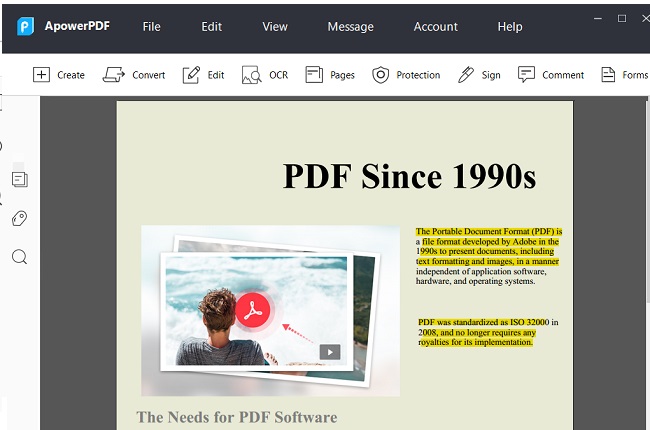 ApowerPDF is free software that manages PDF files and this tool will allow you to remove unwanted highlighted text on your PDF documents with ease. In addition to that, you don't need any extra feature just to remove highlighted text. So just select the highlighted texts you want to remove and then press delete and its done, as simple as that, you will not think about anything else. That's what this tool can do for you regarding how to delete highlight in PDF. Read more below to learn the detailed steps on how to delete highlighted texts.
Download
Launch the app and click the "Open" button to import your file.

Then choose the highlighted text you want to remove.

Once done, press the delete button on your keyboard to delete and hit the "Save" button under the "File" tab to save your adjustments.
Pros
Unlimited use with also unlimited file size.
It has a very intuitive tool interface that even a beginner can use it without hesitation.
Cons
You can't upload from cloud storage since this is a desktop application.
SodaPDF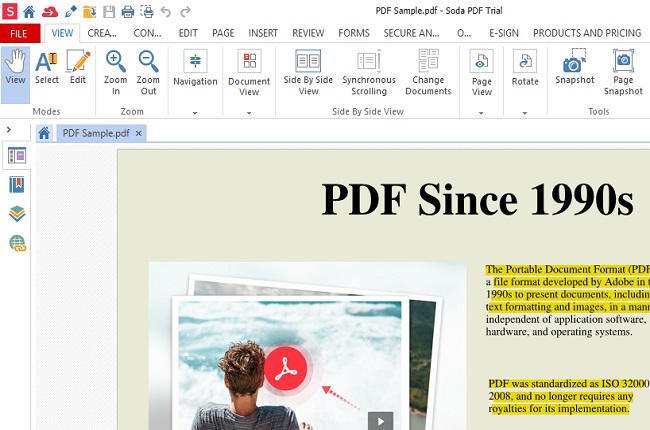 Another solution you can use to remove highlight text from PDF is SodaPDF. It is a desktop application that is also helpful in managing PDF documents. You simply delete highlight text with the edit feature. Just choose the unwanted highlighted texts and in a few simple clicks, it will be deleted permanently. But it doesn't end there. It also offers great security, collaboration, and its new feature designed to boost your productivity. Having said that, here are the steps on how to delete highlighted texts smoothly.
Download and install the software.

Open the app and click the "Open file" to upload a file.

Hit the "Edit" tab and choose the highlight you want to delete.

Click the right click of your mouse and choose the "Remove" button to delete highlight in PDF.

Save your file by simply clicking the "Save" button under the "File" tab.
Pros
Great tool to remove highlight and also to highlight text.
A perfect solution to use when dealing with PDF.
Cons
The desktop software sometimes crashes so that you might waste your time.
PDF Pro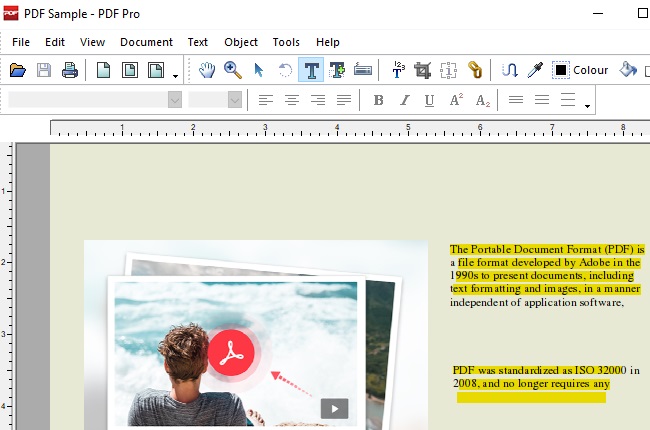 PDF Pro is a software made for managing PDFs. It has a web-based solution and desktop tool. Using its desktop solution, you can easily remove unwanted objects from your PDF like text, image, signature, and of course, highlight text. Basically, its feature about how to remove highlight in PDF makes this tool include on the list. Its object tool feature will allow you to resize, move, and select. In this case, you can use this to delete highlight text that you want to erase. Moreover, listed below are the detailed steps on how to remove highlight text you don't want.
Import your target file by hitting the "Open" button under the "File" tab.

Click the "Hand tool" and choose you to want to erase.

Hit the "Delete Selection" button to delete highlight in PDF.

To save your adjustments, simply click the "Save" button under the "File" tab.
Pros
You can use its features even if it is in a free trial version.
It has an online editor if you preferred online editing.
Cons
There have been some editing lags on its latest update.
Delete All Highlights Easily
Foxit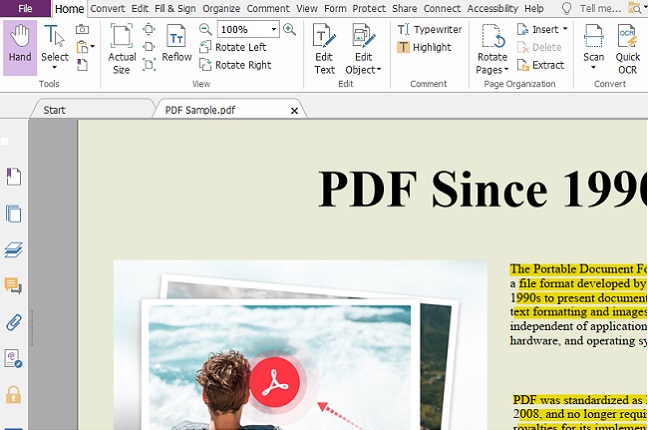 Do you want to remove all highlight texts in PDF in a quick way? Foxit might be the right tool for you. You can follow these few simple steps to delete all highlights in PDF. First, open comments panel on the left side of the tool interface and choose what type you want to sort. Click the + highlight sign and the highlight texts will automatically appear on the lower part of the panel then using your mouse right-click on those highlighted comments and hit the "Delete" button to delete all highlight texts. To discover more about this tool, you can install and try it.
Pros
It allows you to create and edit PDF with its free version with no limit.
It has professional editing tools.
Cons
Needs to be updated frequently.
Adobe Reader XI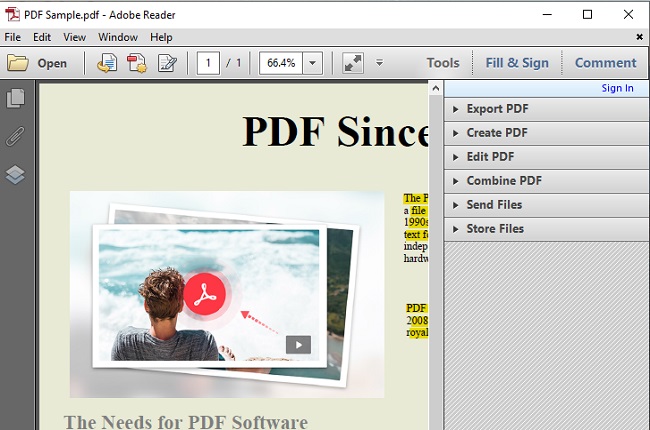 Adobe Reader XI is a software you can use to simply remove all highlights from PDF in just a matter of time. just open your file using this software and click the comment button in the upper right side of the tool interface then all of the highlighted text will appear under the comment list box, press shift + end to select all highlight and hit the right-click button of your mouse and choose delete button. In this way, it will remove permanently all selected highlight text in just a few clicks.
Pros
It allows you to easily remove or delete highlight in PDF without pointing each highlighted text.
This tool allows you to manage large file documents.
Cons
It requires a large size of storage on your device and very expensive.
Comparison
| | | | | |
| --- | --- | --- | --- | --- |
| Solution | Can accommodate large file sizes | Ease of use in deleting highlight text | User-friendly especially for beginers | Compatability on different OS |
| ApowerPDF | ✔ | ✔ | ✔ | ✔ |
| Soda PDF | ✔ | ✘ | ✔ | ✔ |
| PDF Pro | ✔ | ✔ | ✘ | ✔ |
Conclusion
The solutions above are great and each a bit unique on how to remove highlight from PDF. However, some tools are expensive while others are cheap but with a limited tool. Above all, if you are looking to a very simple and quick way to remove highlight text, it is highly recommended to use ApowerPDF because of its simple way and very low-cost maintenance. You can also use this as your PDF editor and converter in case you want to modify some of your PDF documents.