Samsung Galaxy Tab was first introduced in 2010. Various versions have been released since then with Samsung Galaxy Tab 10.1 being the latest. This brand is one of the most widely used tabs around the world with great features including fast Internet browsing, better communication and easy app access.
Another feature is the ability to view videos. However, it only supports videos with formats including MP4, Flash Video FLV, WMV, MPEG-4, DivX, XviD, H.263 and H.264. For this reason, you would need to convert a video with unsupported format to a supported format in order to watch it on your Samsung tab. You will need a good Samsung tablet video converter for this task.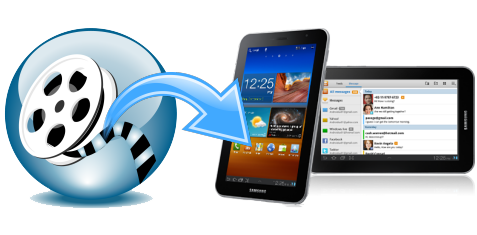 Three Ways to Convert Videos to Galaxy Tablet
There are different converters available that you can use for converting videos to make them compatible with your Samsung device. Some of these applications are for free, while others require purchasing. Let's take a look at your best options.
Apowersoft Free Online Video Converter
First on the list is Apowersoft Free Online Video Converter. This is a cost free online converter that lets you free convert videos to Galaxy Tab 10.1with ease. Go to this site and you will be presented with its straightforward interface. Conversion is fast and it offers various formats, including those that are supported by your tab. Since this is a web based application, it does not require any installation.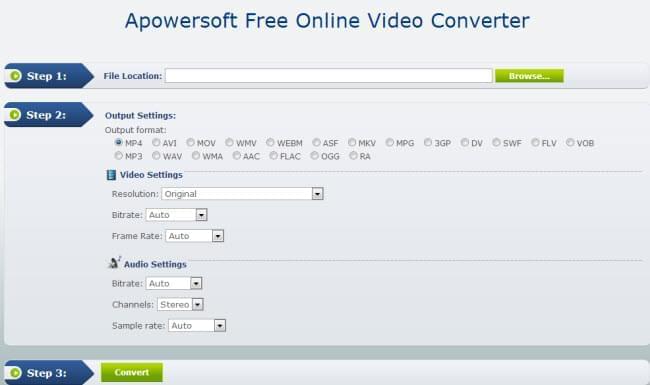 Online Converter for Android Devices
The next video converter that we'll tackle is the Online Converter for Android Devices, which you can access here. Like the first method, it runs using your browser so you don't need to download or install the application. However, you may get confused upon seeing the page as it has several texts written, making the conversion area not easily recognizable. Furthermore, it takes longer to convert a video using this program.
Apowersoft Video Converter Studio
We will now move on to the last option, which is Apowersoft Video Converter Studio. This is the best shareware that you can use to convert video to Samsung Galaxy Tab. This converter has a long list of supported audio and video formats. You will not have any problems choosing the format that would work best for your Samsung tab or even any other device.
What separates this application from the free ones that let you convert videos for Samsung tablet online is its batch conversion feature. You can convert multiple videos at the same time, which saves time and effort. There's no need to wait for one video to finish converting as you can immediately convert the next one. Conversions are done fast so you will not be bored waiting for the process to complete. Aside from conversion, it also allows taking of snapshots by previewing the video and clicking on the camera icon to capture the part that you wish to save. It also supports video editing, as well as adding of subtitles.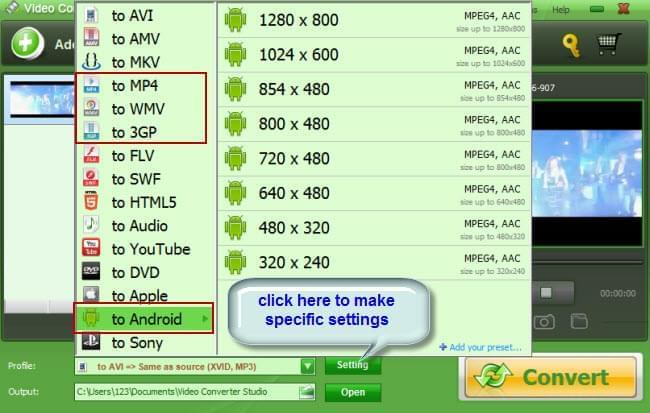 Free Ways to Transfer Your Converted Video to Samsung Tablet
After converting your videos to a compatible format using your preferred Samsung Galaxy Tab video converter, it's time to transfer the converted videos to your tablet. Here are two ways on how to do this.
Directly transfer video to your Samsung Tablet PC via USB cable
For the first method of transferring your videos, connect your tablet to your computer using its USB cable. The computer will detect the tab so you can transfer files between the two including the videos you converted.
Use free Android Manager
The second option is to use free Android Manager. This will give you access to the content of your device and let you transfer videos conveniently to your tab. Furthermore, it also allows easy management of files on your tab as you have bigger screen and more control using the mouse.