Galaxy S5 is the latest Android ruler that was released recently by the top Android provider which is Samsung. This smart phone is the successor of the well known Galaxy S4 that was out on the market for almost a year. The S5 is simply a modified S4 that is packed with more advanced features such as a 16MP main camera, 2GB RAM. It runs under the latest Android 4.4.2 KitKat and is powered by by Quad-core 2.5 GHz Krait 400.
Aside from the innovative functions, S5 is also equipped with the most advanced media player that can handle multiple video codec including MP4, H.263, H264, MPEG, WMV7, and so forth. However, most of the videos don't use such formats today, that is why many S5 users seek for the best way to free convert videos to Galaxy S5. To enjoy videos from various resources on your S5 without incompatible issues, below are some of the best methods that can be utilized.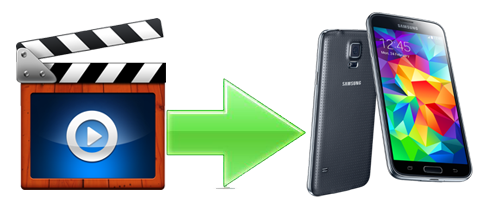 1. Simple ways to convert video to Samsung Galaxy S
2. Three solutions to transfer videos from PC to Galaxy S5
Most reliable ways to convert video for Samsung Galaxy S5
1. Free online solution: Apowersoft Free Online Video Converter
To convert video for Galaxy S5 online can be easily done with use of Apowersoft Free Online Video Converter. This fantastic application is built to perform any file conversion in the simplest but effective manner. To run this application, here are the brief steps:
Step 1: Open this online program and look for the video file that you need to convert by using the "Browse" icon. Just remember the exact location of the video clip to save time.
Step 2: Select the appropriate output format for the video that you will process. In this case, it is safe to use MP4 format. If you want to change the video settings, you can do it so as well.
Step 3: Click the "Convert" button, look for the location that you want to save the new file and wait for couple of seconds and your video conversion is done. Just be reminded that the conversion speed may vary depending on your internet connection.

2. Shareware solution: Video Converter Studio
For a more sophisticated method to convert video to Samsung Galaxy S5, you can make use of Apowersoft Video Converter Studio.
This jam packed application contains multiple functions like video conversion, basic editing, subtitle adding, and many more. By using this tool, you can turn your video into various file formats with just few clicks. And it provides output presets to directly export videos to Galaxy compatible format without configuring any settings. To utilize this converter here is how:
Install this desktop program and launch it afterwards.
Hit on the "Add" tab and select the video clip you need to process.
Drop Down "Profile" box by clicking the downward arrow and choose the desired output format.
Simply click the "Convert" button and the conversion begins. Your newly converted file will be ready in no time.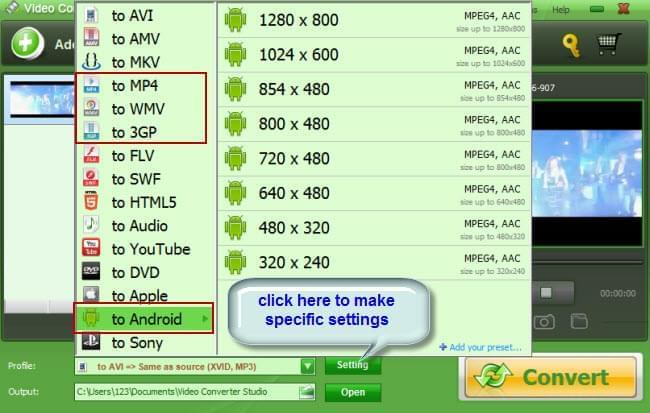 Transferring local video from PC to the latest Galaxy S5
After processing your clip using video converter for Galaxy S5, the next thing to do is to transfer it to Galaxy S5. Below are 3 ways to effectively put your video onto Samsung S5.
Way 1: Use USB cable directly
This is the simplest method anyone can utilize. Just get the USB cable that comes with your S5 and connect it to PC. The computer will automatically detect your device. Once detected, explore into your mobile files, open the "Video" folder, and then paste the video clip that you want to transfer. Safely remove your device afterwards.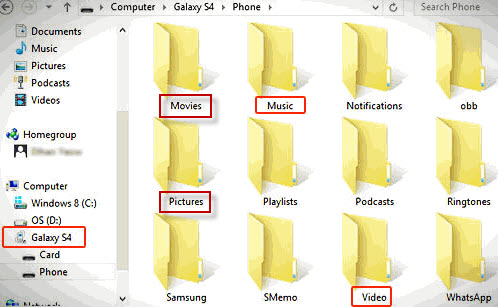 Way 2: Use Samsung Kies
By using this program, you can transfer and manage all of your media files with it at the same time. To add video to Kies, launch the program and connect your Galaxy S5 while it will be detected instantly. Go to "Videos" and click the "Add Video" button located at the top portion, when a pop-up appears, browse for the video that you want to add click "Open". The selected file must now appear at the interface of the tool, now the only thing left is to sync it with your S5.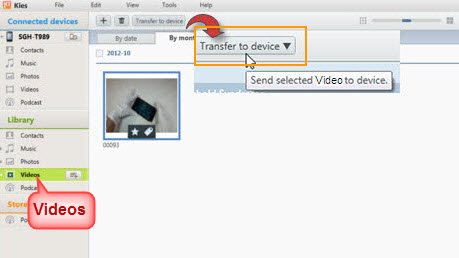 Way 3: Use Apowersoft Android manager
This tool can effectively manage and transfer files from PC to S5 then this is the finest app for you. To start, install the said program and open it, and here are the brief steps:
Connect your S5 device to PC using compatible USB cable.
Open this Android manager, under "Device", your phone's name will appear on the left side click it for more options.
Click in the left pane to locate to a certain directory of your mobile, in case you want to import videos, click on "video".
In order to save video clips from your PC to other device, simply click on "Add" option. You can also add images and music with the same process.