Convert video to AMV with Apowersoft AMV Converter
Apowersoft AMV Converter Studio is a professional application that lets you convert videos not just to AMV but to other video formats as well including MP4, WMV, MPEG and FLV. With this, you will not just be able to convert videos to play on your MP4 player, but on other devices as well like iOS and Android. Furthermore, it can convert videos into audio files with formats like FLAV, MP3, AAV, OGG, WAV and WMA. So if you wish to get only the audio part of a specific video, it is possible with this application and you can choose the format that would play on your audio player. You don't need a separate downloader and converter as you have these in one program.
This video to AMV converter also allows editing of videos before conversion. Some of its edit features include Effect, Crop, Trim, and Subtitle. This is more convenient as you don't need to use another application for simple video editing. You can easily personalize any video with this capability. It has a user-friendly interface, which is intuitive. With all the great features it offers, it is not difficult to learn how to use it, even if you are not computer savvy.
Another great feature of this tool is that it allows batch conversion. You can convert several videos simultaneously, which saves time. It has a different size option, so you can choose whether you would like a high-quality video or one with lower resolution, depending on your preference. A free trial is offered so you can test the application before deciding to purchase the paid version.
Download
You can convert video to AMV easy and fast with this software.
Launch Apowersoft AMV Converter.
Click the Add button on the upper left corner of the window.
Click the video file you wish to convert and click Open. Press the Play button on the right side of the screen if you wish to preview the video.
Next to Profile, select AMV and choose the video resolution preferred. So you can, for example, convert MP4 to AMV or any other format that you want to convert from.
Click the Convert button to start converting the file to the desired format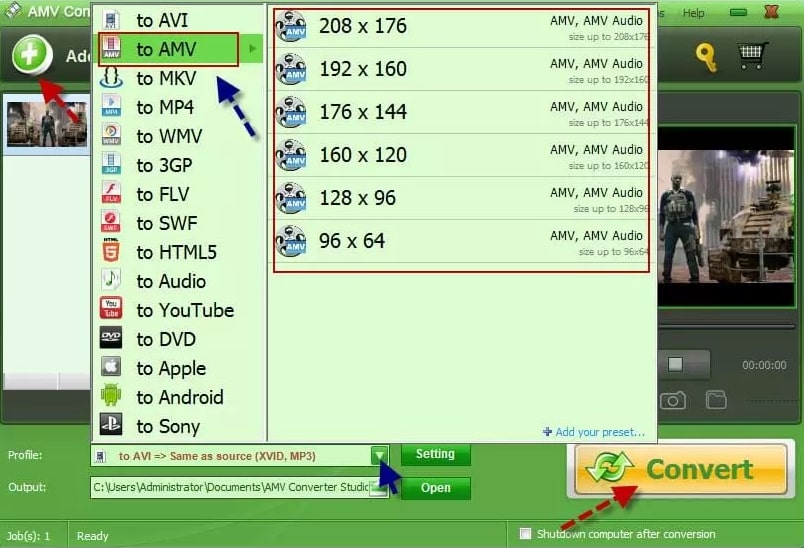 Once completed, you will see the word "Finished" on the right side of the file. You can access the converted file by clicking the "Open" button.
Because of its smaller size, AMV is an ideal format to use when converting videos as long as you have a compatible player. Check the specifications of your device if it supports this video format. And when it comes to video converter, one of the best options is Apowersoft AMV Converter. In case you have other devices that do not support AMV, you can still use the application to convert AMV to AVI or other formats that are compatible with your players.