Best Apps to Clear Up Blurry Photos of 2022
Apowersoft Background Eraser – app that makes pictures clear
The first app that we have on this list is Apowersoft Background Eraser, this versatile tool can be installed on both iOS and Android phones. It can make unclear pictures clear in an instant by just uploading the blurry photos that you have. Not only you can unblur photos, but you can also use the smartest background remover, photo enhancer, photo retouch, background changer, photo eraser, and more with this awesome app.
Here is the best app that makes pictures clear – Apowersoft Background Eraser
Download and install the app from the Play Store or the App Store.
Choose "Blurry Portraits Cleanr" to upload the blur photo that you have.

The app will automatically process your file presenting the clear result.
Then, just hit the "Save HD" button to save it.
PicWish – 100% FREE
If you are ready to enhance your photos twice or four times for a great result, PicWish is the best for you. With PicWish's enhancement AI you can boost the resolution of your photos without affecting their original quality. Create the best quality images that you can share on your social media sites with this best app to make photos clear.
See the simple steps below to achieve clear photos with PicWish
Go to the official page of the enhancer tool on your mobile phone.
Tap the three dots icon, choose "Photo Enhancer" and hit the "Upload Image" button to get your photo.

Select the upscale resolution that you need for your photo
Once done, hit "Apply" then "Download".
AI Photo Enhance
The AI Photo Enhance has one of the effective sharpening features that you can have on your Android phone. With this app, you can easily deblur your photos without giving up its high resolution. In just 20 -60 seconds you can have a good result with this amazing app that makes blurry pictures clear. You just be sure that the faces on your photo are full and clearly visible.
Follow the steps below to deblur your photos.
Get the AI Photo Enhance from the Play Store and install it on your phone.
From the interface, tap "Select Photo" tab to upload the photo that you need.
Then, hit the "Enhance Photo" button for your photo to be processed.
Once processed, tap the check mark icon.
Finally, a new interface will come out showing the diskette like icon to save your file.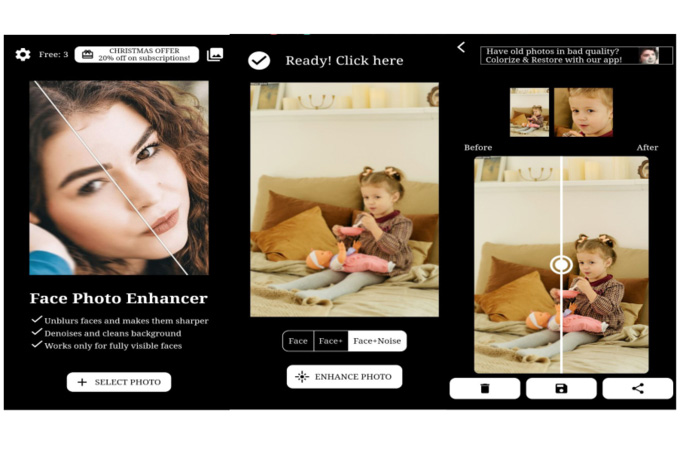 Enhance Photo Quality
This app that makes pictures clear will provide you with the sharpening features that you need to improve your photo quality. Enhance Photo Quality uses an AI-based image enhancer to make your life easier in making your photo clear. However, like a lot of apps, there are ads that keep on popping out while using the tool.
Have this guide to easily unblur your photos.
Open the App Store to download and install the app.
Tap the "Enhancer" tab to import the blurry photo that you have on your phone library.
Then, tap "Enhancer" to process your file.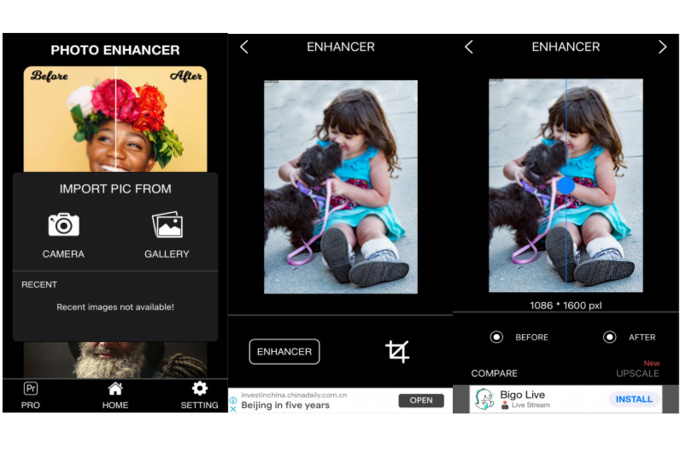 Photo Enhancer AI
Another perfect app to make photos clear is with Photo Enhancer AI. This app is great not only for enhancing but also for restoring photos that will keep good memories. No matter how blurry or damaged your photos are, with Photo Enhancer AI you can improve the quality of your works.
Enhance photo quality with this amazing app called Photo Enhancer AI.
Open the App Store, look for the app and have it install on your phone .
Run the app, upload the photo by clicking the "Import photo" button.
Wait for the app to process your photo.
Lastly, hit "Save" to download your photo.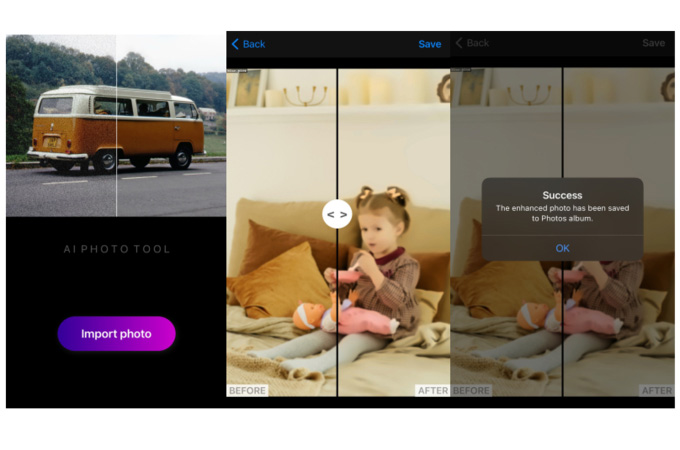 Remini
If you are looking for other apps to clear up blurry pictures clear that you may have on both Android and iOS, try Remini. From grainy, pixelated, damaged, low-quality photos you can have clear and high definition photography. This app has an incredible movie-grade AI technology that will do the work automatically.
Improve your low-quality photos to high-quality ones.
Search the app from the Play Store or App Store, for you to download and install it on your phone.
From there, tap "Enhance" to upload the photo that you need to edit.
Once uploaded, hit the check mark icon for the process to start.
Finally, hit the save icon to download your photo.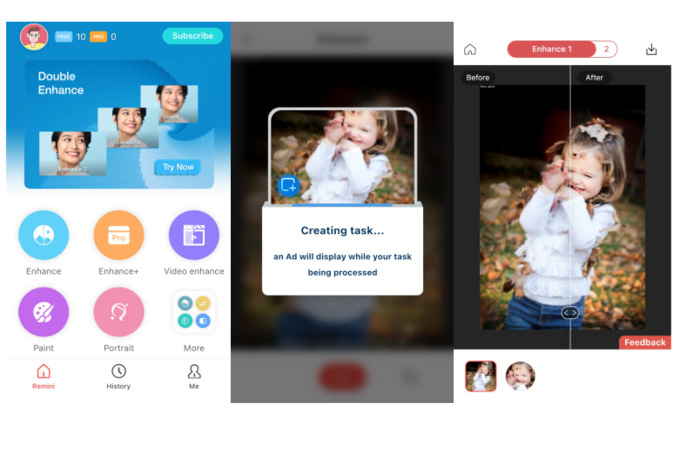 Conclusion
Give these apps to clear up blurry photos a shot. You don't need to have photo editing skills, just upload your blurry photos and they will automatically give your a clear result. Among these apps, you may try using Apowersoft Background Eraser for it will present you a satisfying unblur photos. But if you don't want to install anything you may have PicWish. Share with us your experience in using these apps in the comment section below.