Best Solutions to Change PNG color on Different Platforms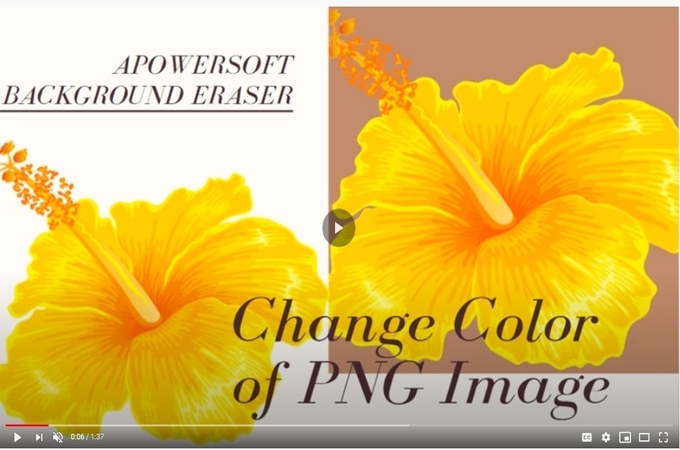 3 Useful Apps that You Need
Apowersoft BG Eraser (Android & iOS)
Apowersoft BG Eraser is a highly suggested app for Android and iOS users that helps you change color to png image with ease. This app comes with an auto background removal feature and ready-to-use solid color backgrounds. For you to learn how to use this app, then follow the easy-to-follow steps listed below:
Choose among the three recognitions to import the photo.

Then you'll get a precise cutout.

Next, tap the "Background" tab and pick a color you prefer for your photo.

Once satisfied, tap the checkmark icon and the "Save HD" button to save it.
Main Features:
Automatically remove the background photo.
Accessible plain colors and backdrop templates.
Easy-to-use editing features such as crop, flip, resize, and more.
Photo Room (iOS)
Another reliable app to help you change PNG color is Photo Room. Not only this app offers a background remover, but as well a professional and unique style background. The only setback is that you need to purchase for Pro version to save a photo with good quality.
First, install the app and open it.
Hit the "Start from Photo" icon to import the photo.
This app will recognize the subject or main object from a photo.
You'll see different types of backgrounds available that you can have.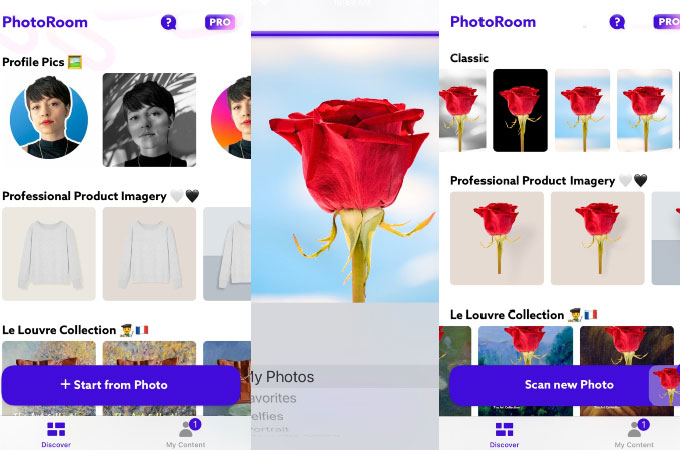 Simple Background Changer (Android)
For Android users, you can use Simple Background Changer to change the color of the PNG image. With its simplicity, the process will be much easier. Follow the simple steps in order to have a png image with a plain color background.
Install the app, open it and tap the "Cut Photo" to import the photo.
Use the auto-removal feature to automatically remove the background.
Change the background option if you want a white, black, or green.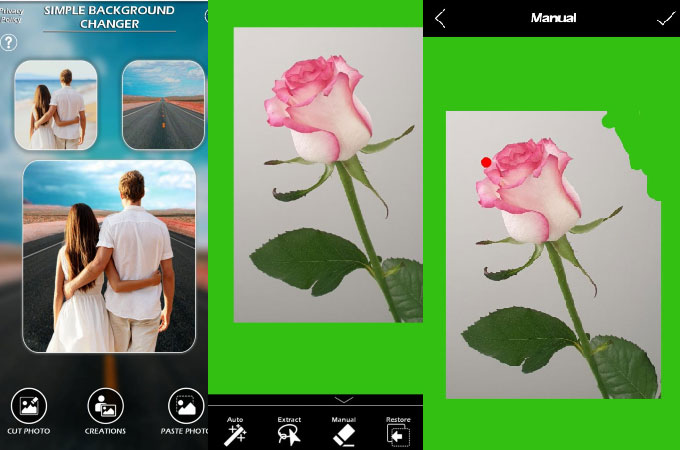 Online Solutions to Change Color of PNG Image
Online Background Eraser
Online Background Eraser is known for its simple interface and is considered to be the best background color changer to help you change color of PNG faster and easier. It has all the colors available in the library for your crop-out PNG.
In order to change color of png image, follow the step-by-step guide below.
Go to its official website and choose recognition to upload the photo you need to edit.

Then you can see the processed image without a background.
Click the "Edit" button at the upper part of the window.

Click "Change Background" > "Color" or "Images" to choose which one you like for your PNG file.
Hit the "Download" button to save your file if you are satisfied with it.
Pros:
Easy to use
Time-saving
Easy access
Easy to use
Storage saving
Money-saving
Cons:
It offers only three free trials.
Why do we Recommended this Online Tool?
It is accessible, does not require any photo editing skills, free, ease of use, and user-friendly interface. That's what makes this online tool useful and highly suggested online tool among others.
Fotor
If you are looking for a photo editor that can change PNG color online, look no further than Fotor. This online tool can magically help you out in adding any color to your PNG file. However, this tool doesn't offer any background templates or colors, so you need to prepare the replacement background file in advance. What's the best about it is you can edit your PNG file by using its photo editing tools like effects, frames, stickers and many more.
Open the official website of the tool.
Click "Open" > "Computer" to upload the photo.

Once done, click the "Import" button again to get the background image that you need for your PNG file.

Drag the file background color on the PNG file in the middle of the screen and adjust its size.

Finally, click the "Save" button to download the file into your computer.
Gifgit.com
Another tool that you can use to change color of PNG image online is Gifgit.com. This tool is a quick editor that can replace the color of your PNG image with its painting tools. You can use the brush tool to shade in the color that you want on your image. Here are the simple steps that you can follow.
Go to your browser and open the official page of the tool.
Upload your PNG file by clicking the "Choose File" button.

Under "Tools", choose "Painting Tools" > "Brush" and select the color that you want for your PNG file.

Next, brush the background of your PNG file with the mouse pointer.
Lastly, save your file by clicking the "Download" button.
Desktop Solutions to Change Color of PNG Image
Apowersoft Background Eraser
Apowersoft Background Eraser is a desktop tool that can help you change color of PNG image in an instant. It will allow you to change the color of your PNG image in three ways: template, color, and custom images.
Learn how to change png color by simply following the detailed steps below.
Download
Download and install the program with the button below.
Run the program, then choose among the three recognitions to import a photo.

Next, you will see the background of your png will be removed.

Once imported, choose "Change Background" and then click the "Color" button to change the PNG file color.

Finally, click "Save" to download your edited file.
Reasons why we Recommend this Tool?
For its user-friendly interface and lots of solid colors available in the library, the process to change png color makes it simpler and faster. Furthermore, it provides editing features that lets you crop, resize, and flip the photo before you save it in HD quality.
PhotoShop
Another desktop tool to change PNG color is none other than Adobe Photoshop. It consists of various plain colors that you can use for free, or you can also use your own image as the background. Even though the tool is a little bit difficult to use and understand especially if you are just a beginner, you can just follow the guide below to fully achieve great results.
From its interface, click "Create New", then a new window will pop out.

Under "File", click "Open" and import the PNG file that you will use on the tool.

Then, click the "Paint Bucket Tool" and choose the color that you like for your PNG file.
Once done, click "File", then choose "Save us" to directly save your file on your computer.
Bottom Line
The tools mentioned above can surely help you change color of PNG image without any hassle. If you want to save your time and money, you can use Apowersoft Online Background Eraser. Just choose the one which you think will suit you the best. Feel free to share your experience with us here.