Leading Tools to Change Background Color of 2021
Try these useful photo background changers that you may have on different platforms. Find the one that will meet your preference in making your photo background stunning and suitable for your subject. You don't have to worry because all the things that you need to learn about these tools are written in this article.
Mobile Solutions
Apowersoft Background Eraser (Android & iOS)
Apowersoft Background Eraser is a versatile app that can easily change picture background color. There is no need for you to learn about photo editing because you just need to tap your desired background color from its various solid photo background. You may also choose some of its unique background templates for more exquisite photography.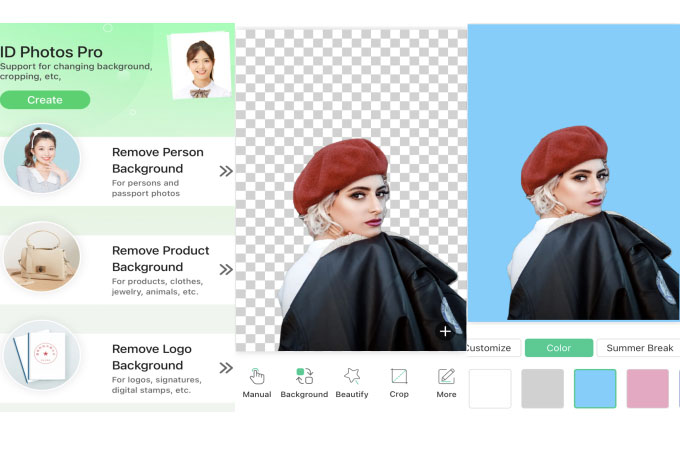 Pros:
Eliminates background automatically with a tap
Offers 3 different types of recognitions
Provides pre-set photo bcakground templates and solid background colors
Seamless photo background editor
Cons:
Automatic Background Changer (Android)
Automatic Background Changer is an Android app that contains features that are useful for background photo editing. It processes automatically and changes background color with one of its predefined solid background colors and templates. You may also use your own background design if you want.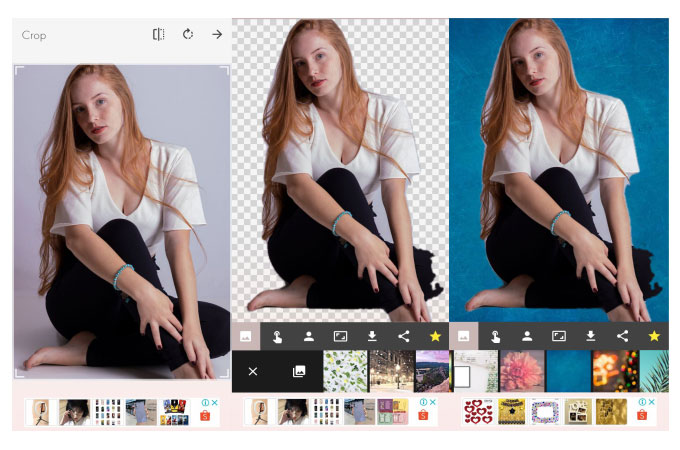 Pros:
Can remove unwanted background with its automatic process
Change picture backgroud with some simple taps
Save and share photos directly on your social media sites
Cons:
Save edited photos in low-quality resolution
Photo Room (iOS)
If you want to have studio-quality photography, Photo Room is the best iOS app that you may rely on. It has a well-designed interface for you to efficiently change background color of photo. You can delete the background in just one tap and compose a new image with its pre-set background solid colors. Moreover, this app can also capture, edit, and combine photos.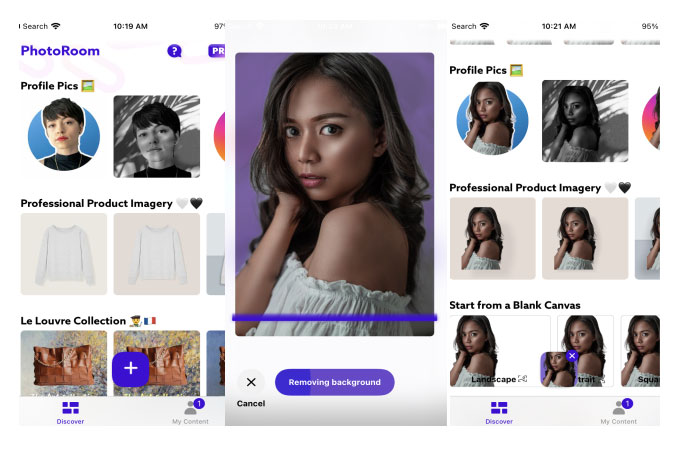 Pros:
Remove background automatically
Present more than one photo background results
Save photo in its original quality
Cons:
Online Solutions
Apowersoft Online Background Eraser
You can replace the background in just a few seconds using your web browser with Apowersoft Online Background Eraser. This online tool uses advanced AI tech to detect the subject from the background automatically giving you a transparent result. Then, you may change background color online by choosing among its ready-to-use solid background colors and background templates.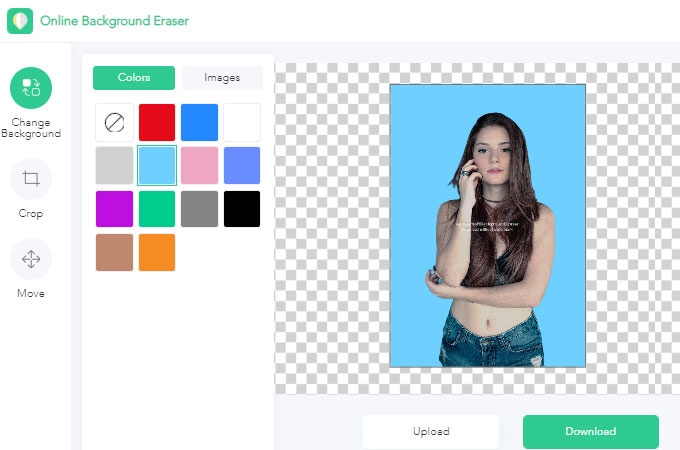 Pros:
User-friendly interface
Present a wide-range of background plain colors
Keep the original quality of edited image
Cons:
Sometimes processing time is too slow
Remove.bg
Remove.bg is a well-known online photo editor that focuses on removing the background. With its ability to automatically deletes background from a photo, you can save time and effort. This tool brings more digital efficiency in background editing, which you can easily change background color online in just a split of seconds. You just need to select the best plain colors that the web tool offers.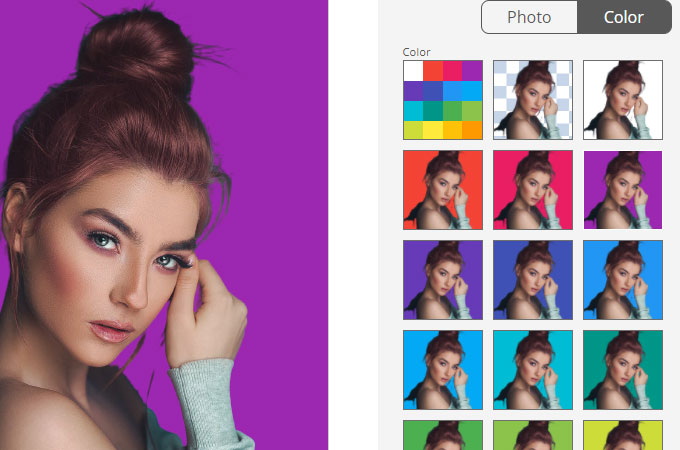 Pros:
Eliminates background with its automated process
Well-designed interface
Consist of lots of preset solid background colors
Cons:
It requires users to sign up for an account
Removal.ai
This new online background remover tool will impress you with its features in photo background editing. Removal.ai is a background remover and changer tool that will give you the best result that you want to have on your photography. Change background color online to have a stunning image with the best visual presentation and graphics that Removal.ai offers.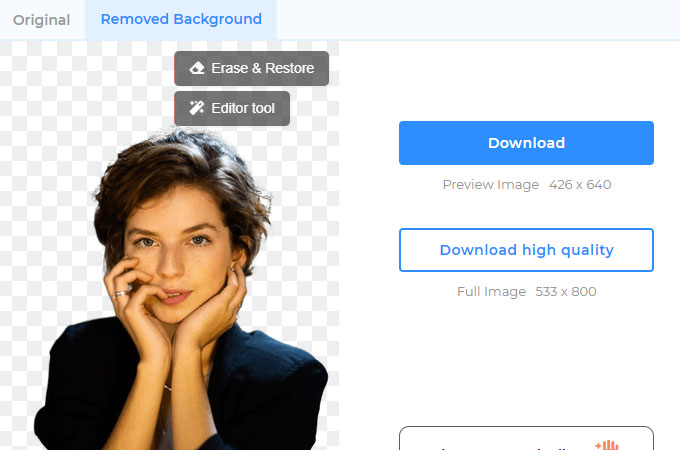 Pros:
Automatically detect objects from its background
It gives a clear cutout edges
Quickly change the background alongside its solid background colors
Cons:
Doesn't support a lot of image formats
Desktop Solutions
Apowersoft Background Eraser (Desktop)
With its simple interface, this background eraser is very easy to use. Apowersoft Background Eraser will give the things that you need in photo background editing. And one of its amazing features is to change picture background color with the help of its solid background collections that it automatically offers.
Download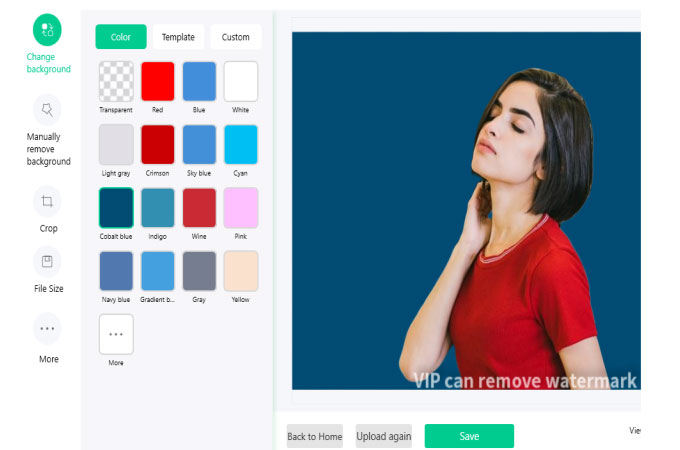 Pros:
Well-organized user interface
Take just a few seconds to change the old background to a new one
Process photos at once using its bulk feature
Save high-quality resolution image
Cons:
You need to pay for the software after three trial uses
Note:
Apowersoft Background Eraser recently launched its version on Mac. Click the download button below to experience it.
Download
LazPaint
If you are fond of using a photo editor that offers almost everything to beautify your photo, LazPaint is one of the most trusted ones. Practically, you can change background color with the use of its color palette. With a bunch of photo background removal options, you can get rid of the background quickly.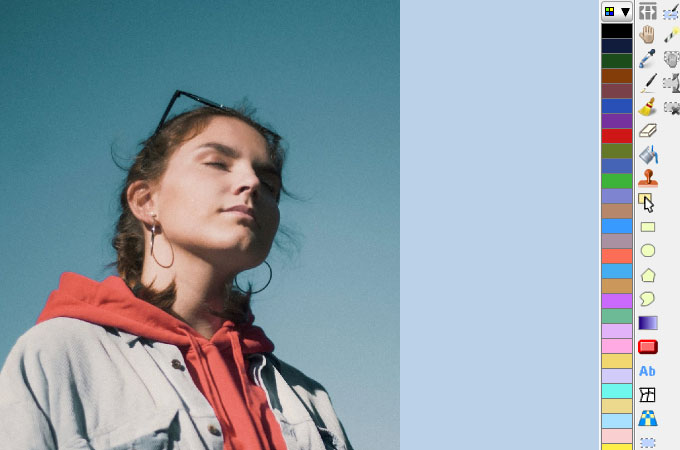 Pros:
Offers manual removal tools
Adjustable color palette
Changing background in one click
Cons:
PhotoScissor
PhotoScissors is another favorable desktop program that can remove background and replace it with other solid background colors and templates. It will automatically separate the subject from its background without any hassle. there are literally dozens of ready-to-use background templates and preset plain colors. This program will definitely change background color of photo with just some easy steps.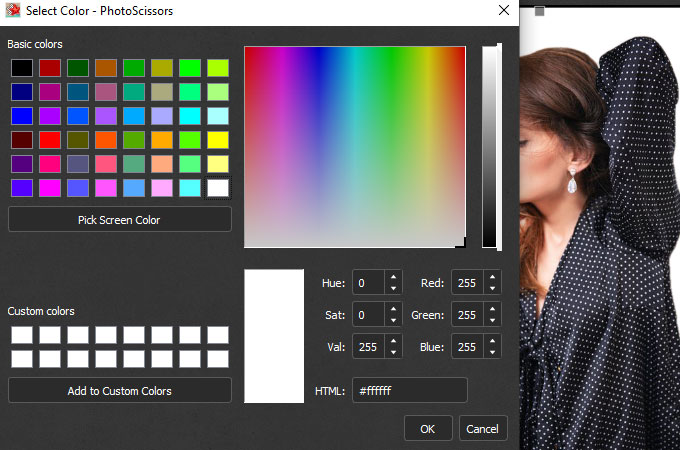 Pros:
Can handles complex background like hair
Automatically and manually remove unwanted background
Add new background colors or templates
Cons:
Sometimes it doesn't present a precise cutout
Conclusion
It is very important that the background of your photo is matched with the subject that you have. Fortunately, there are lots of tools that can change picture background color without requiring you to have photo editing skills. Apowersoft Background Eraser is the most recommended one because of its versatility. If we missed out on tools that need to be included in this list, please write them down in the comment section below.