Blu-ray Disc or BD is a data storage format that is far more advanced than an ordinary DVD in terms of it storage capacity. Single layer Blu-ray can handle 25GB as compared with DVD disc which can only handle 4.7GB, with this it can provide a better movie resolution of 1080p with ideal viewing experience.
On the other hand, to enjoy watching your Blu-ray movies on iPhone directly is not feasible since BD's format is not supported by iOS devices which include iPhone. In this case, the best thing to do is to convert Blu-ray to iPhone compatible format. After the process of conversion, you can then play those high quality movies on your iPhone directly.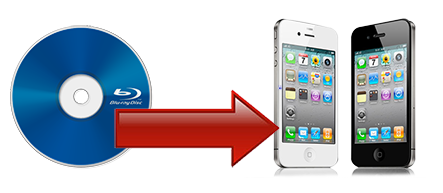 Finest ways to convert Blu-ray to iPhone
1. Free solution: MakeMKV + HandBrake
To rip Blu-ray for iPhone 4S, there are two solutions that you can utilize. The methods introduced here can only be used for personal entertainment while any business activity is not allowed. The first one is a free solution that will combine two programs which is MakeMKV and Handbrake. As we all know Blu-ray disc contents are protected by copyright or the AACS encryption which prohibits everyone form ripping and duplicating. That is why the first step is to get rid of this copyright by using MakeMKV, a video converter/transcoder. Then convert it afterwards to a format that is accepted by iPhone using Handbrake. As this free Blu-ray ripper for iPhone, it works well as long as you follow these steps:
Install MakeMKV and HandBrake to your PC.

Launch MakeMKV and insert your Blu-ray disc into computer's DVD ROM.
When the BD is recognized, select "Open disc".
Once the AACS encryption is finally removed, you will be headed to the return list where you can find your movie.
To avoid confusion, choose the file that usually has the largest size and longest title. Check it and uncheck the other boxes.
Now tap "MakeMKV" button to begin with the process and wait till it's done.
Open HandBrake, make the desired video settings and video output. In this case, choose MOV format and start with the video conversion.
Wait for little moment and you can transfer your newly ripped Blu-ray to your iPhone.
2. Shareware: Blu-ray Ripper
If you think two programs to process your Blu-ray disc is too much then you can make use of the second solution which is by using a shareware that will serve as a Blu-ray to iPhone converter. This will involve a great program which is called the Blu-ray Ripper. Unlike the first method, this tool is capable of removing AACS encryptionand and converting Blu-ray movie into an acceptable format for iPhone at the same time. This would definitely save your time used on the conversion and let you enjoy movies on iPhone more conveniently. Aside from these, Blu-ray Ripper can also serve as a Blu-ray video editor which is great. Here is how it works:
Download and install Blu-ray Ripper on your computer.
Launch the program, which will lead you to the main interface, click "Load Disc" and choose "Load BD Disc".

Insert your Blu-ray disc into the computer's DVD ROM and wait till the system reads it.
At this time, you can see your desired movie loaded on program's interface.
You now have the option to edit and add effects if you want.

Once done, you can modify the video settings and choose the right output format which is MOV.
Click "Save as" and you can check it in preview window.
Finally, hit the "Convert" button and wait a while till it completes. After that, you can transfer the video onto iPhone for enjoying on-the-go.
Both of these methods work fine in turning Blu-ray's movie into an iPhone compatible format. However, I'll give a slight edge to the Blu-ray Ripper since it can do decryption and conversion without any other applications. Plus it has a built in video editor which is rarely seen together with a video converter. It is indeed the simplest way to convert Blu-ray movie to iPhone 5s and other previous iPhone models.