Blu-ray is a digital optical disc data format designed to store high definition video and data. While DVDs can play high quality movies in 480p resolution, Blu-ray on the other hand comes with a standard resolution of 1080p or even higher. This only means that all details and special effects can be seen in crystal clear quality.
Due to its stunning quality and real high definition formats, more and more people are now looking forward to Blu-ray. Opening Blu-ray discs is easy with Blu-ray capable players, just open and insert then you're good to go. Same as to playing Blu-ray files on your computer with the use of special media codecs.
However if you want to play Blu-ray files on your iPad, this would only mean a big disappointment. Bear in mind iPad doesn't support playing Blu-ray files. With this, you will need an efficient Blu-ray to iPad converter to make things possible. After video conversion, you can enjoy real high quality movies anywhere you go.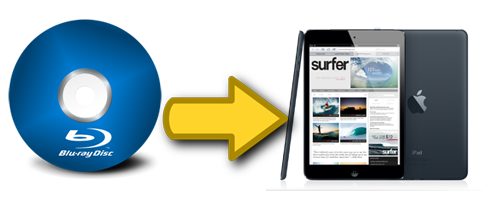 The easy ways of How to rip Blu-ray to iPad
Free Solution: MakeMKV + Handbrake
First, you need to rip Blu-ray discs to get the copyright protection off. Note that you cannot copy any Blu-ray movies into your hard drive or iPad without eliminating those strict patents. In this case, you will need a free Blu-ray to iPad ripper called MakeMKV. It is an open-source program known as a format converter or transcoder. It can decrypt videos without losing files as well as quality. Aside from being free, what's great about MakeMKV is that it preserves audio tracks, chapter information, meta-information and all others during its fast conversion process.
Then you will need the software called Handbrake. With this tool you can convert any Blu-ray files into your desired format or make its size smaller to fit on your iPad. Handbrake is equally free and it is available to download online. To convert Blu-ray to iPad Air or to make it playable on other iPad version, see this guide below:
Open MakeMKV and load your Blu-ray disc into your PC.

Upon recognition click "Open disc".
After MakeMKV does it work, find your movie within the return list.
It is usually the file with the longest title or biggest in size, check it and uncheck other boxes.
Tap the "MakeMKV" button and wait until process completes.
Open Handbrake and tweak video settings according to your wants.
To make it compatible with iPad, it is advised to use the MOV file format.
Shareware: Blu-ray Ripper
If you want an all-in-one tool that can rip and convert Blu-ray discs easily and conveniently, check out the Blu-ray Ripper. It is like having the MakeMKV program and Handbrake all at once but with added benefits. With Blu-ray Ripper you can easily remove copyright protection, extract music from Blu-ray discs, encode all videos and audios, edit clips, and rip DVDs.
More than just your ordinary Blu-ray to iPad converter, the Blu-ray Ripper functions as a decrypter, converter, Blu-ray editor, ripper and file converter. Using Blu-ray Ripper is very easy, you don't even need technical skills to successfully rip and convert a Blu-ray disc. See the steps below:
Install and run Blu-ray Ripper on your PC.
On the main interface click "Load Disc" and select "Load BD Disc".

Insert your Blu-ray disc and wait until the tool recognizes it.
By now you should see your movie loaded on the Blu-ray Ripper's interface.
Edit the movie as you want or add 3D effects as you wish.

Adjust video settings and choose the right output format.
Hit "Save as" and preview your file.
Click the "Convert" button to rip and save your Blu-ray movie.
Compare to other paid and free Blu-ray to iPad ripper, this Blu-ray Ripper software works very efficiently. It is equipped with advance NVIDIA CUDA and AMD APP technologies that guarantees fast and stable processing speed. Professional users on the other hand will enjoy the 3D editing features of this tool since it comes with "anaglyph" and "split screen" modes for convenient 3-dimentional modification. Again, you can use the Blu-ray Ripper not just to rip Blu-ray discs and DVDs but to convert files and edit videos as well.
There are many ways to rip Blu-ray to iPad, you can use the above free tools or get a premium software that can handle all these things in a fairly easy way. The benefit of getting yourself a great Blu-ray converter/ripper is that you don't need to use several tools and perform numerous steps just to open HD videos on your iPad. Within few scrolls and clicks, you can have that stunning movie playing right before your eyes.