6 Best Photo Watermark Remover
PicWish
Start removing unwanted objects and watermarks using PicWish. It is an online image editing tool that allows users to edit, enhance and customize their images. It provides various tools and features for basic and advanced image editing, such as resizing, rotating, cropping, applying filters, removing backgrounds, adding text, and more. It uses advanced algorithms to analyze your photos and apply the most appropriate adjustments. One of its standout features is removing unwanted objects that you can utilize to remove watermarks on your photos. Overall, this tool is a high-quality photo editing app with easy-to-use features and AI technology that can help you create amazing images in seconds. Start using this amazing tool to remove watermarks on your photos using the steps below.
Download and install the program into your computer.
Upload the image and start brushing the watermark then click Remove Now.

Your image is now ready. Get it by clicking the Save All button.
Pros:
Saves time
User-friendly
Customizable
High-quality results
Cons:
Limitations on the free version
Photo Stamp Remover
Photo Stamp Remover is also one of the best image watermark removers. This image watermark remover provides all tools needed. For manual methods, you can use the clone stamp tool like how Photoshop works. For automatic removal, you can use selection tools which include brush tool, rectangle tool, and magic wand. Despite the simplicity of this program, skills for photo editing will be necessary to produce stunning photos. Here are the simple steps on how you can use this tool.
Have it installed on your PC and open it.
Click the "Add File(s)" button to import the photo into the software.
Next, select the watermark areas you want to remove by using one of the selection tools.
Click the "Remove" button and it will process your photo. Then you can save it directly to your computer.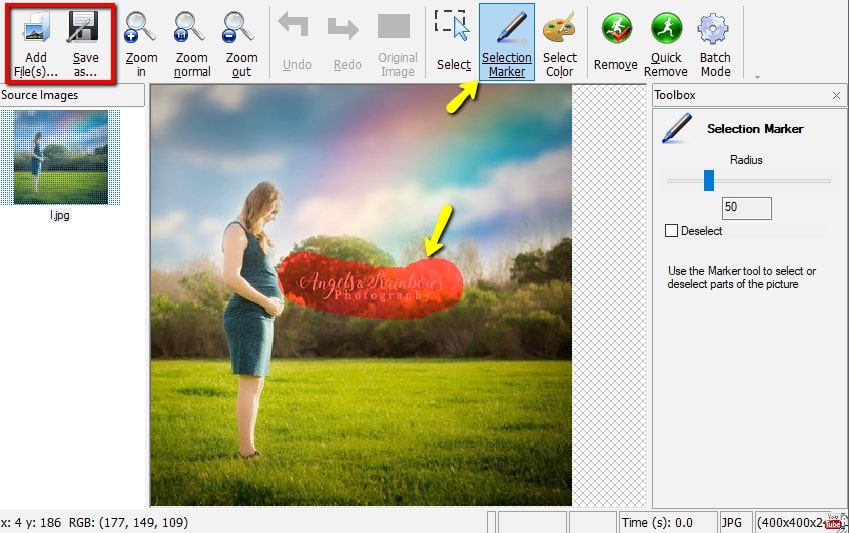 Pros:
It comes with a simple interface.
It enables users to edit and process photos in batches.
It has a free 30-day trial
Cons:
Other features are difficult to learn.
Prices range from $29.99 to $199
WebinPaint
If you need a simple online photo watermark remover, then WebInPaint is a good option for you. You can use the mask tool of its set of tools to highlight the watermarks you want to delete from your image. Additionally, it has no cost and does not even require any installation process. Follow the steps below to learn how to use this web-based tool.
First, visit the official website from your favorite browser.
Click the "Upload Image" button to upload the photo that requires editing.
Then select the red dot marker to choose the watermark.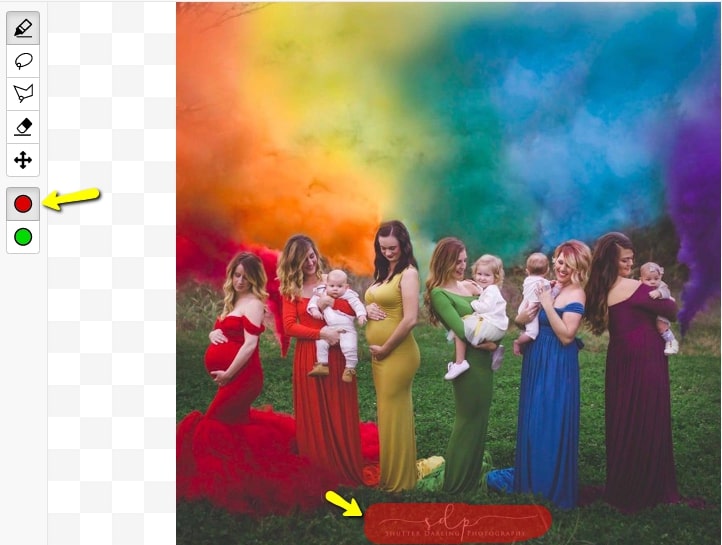 Finally, click the "Eraser", then "Download" button to save your processed photo.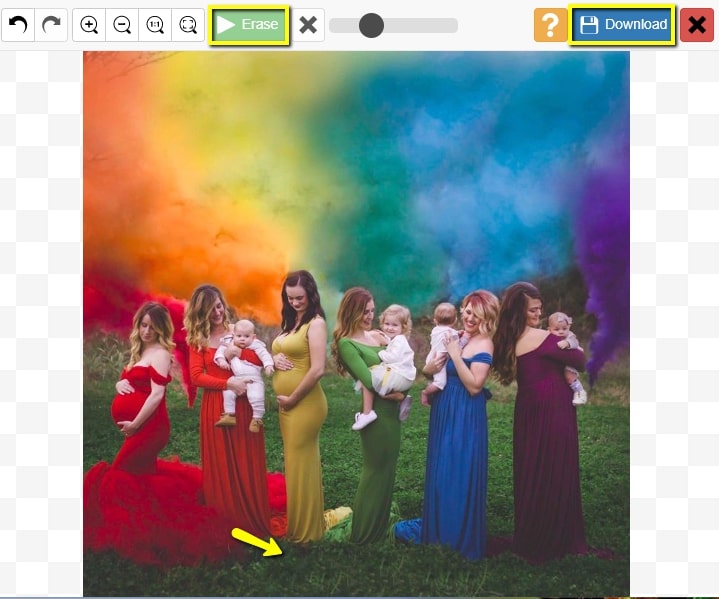 Pros:
It is very easy to use.
It is accessible on any device.
Cons:
It requires constant internet speed.
It has limited options for watermark removal.
AirBrush
AirBrush is a mobile application that can be used as a photo watermark remover. When it comes to removing watermarks on photos, you can use the eraser tool to automatically remove the area once you applied it. Moreover, this app gives you a wide range of retouching tools including filters, skin smoothing, makeup, and others. For you to remove the watermark from the photo with it, here are the steps below.
Open the app on your device and tap the library button to choose the photo you have to edit.
Then select "Tools" > "Erase" and highlight the person that you want to remove. This app will automatically delete the highlighted part.
Finally, tap the "Check" icon to save your edited file.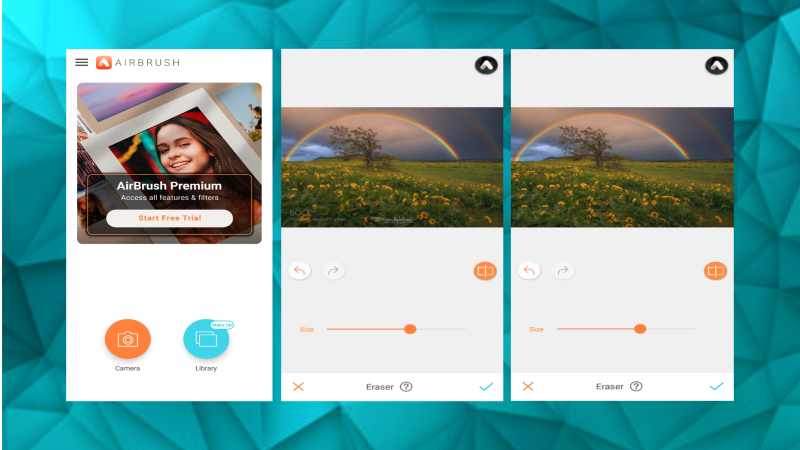 Pros:
It has a clean and intuitive interface.
Simple and easy to use removal tools.
Cons:
Free but with in-app purchases.
Photo Retouch
Photo Retouch is also a great option if you are looking for an image watermark remover. It allows you to remove watermarks, people, street signs, and a lot more. You can use either "Object Removal" and "Quick Repair" to easily remove the watermark area from your image. Follow the steps below to learn how to use this app.
Install the app from your App Store.
Open the app and the "Plus" icon to import the photo you need to edit.
Once imported, use either "Object Removal" and "Quick Repair" tools to highlight and remove the watermark.
Then save it by hitting the "Save" icon from the interface.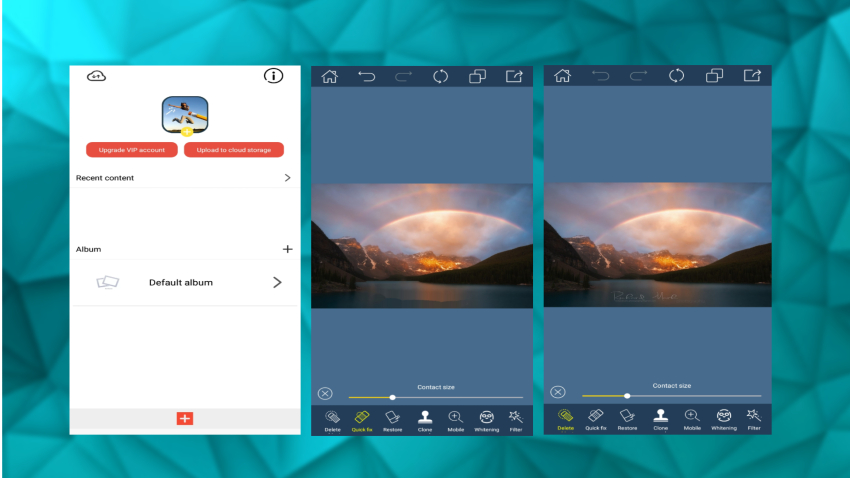 Pros:
User-friendly interface.
It provides useful removal tools.
Cons:
Lack of photo editing features.
Ads often appear when editing.
Snapseed
Aside from those two apps, you can also use Snapseed as photo watermark remover. It has an advanced "Healing" tool to remove watermarks in the photo. Moreover, this app can be used to create beautiful images. For you to remove the watermark using this app, follow the instruction laid out below.
First, install the application on your device.
After that, open it and tap anywhere in the screen to import a photo that you need to edit
Next, tap the "Tools" option and hit the "Healing" tool to highlight the areas of the watermark you want to remove.
Then wait for the magic to happen and hit the "Check" icon to go back from the editing section.
Click the "Import" option to save it on your library.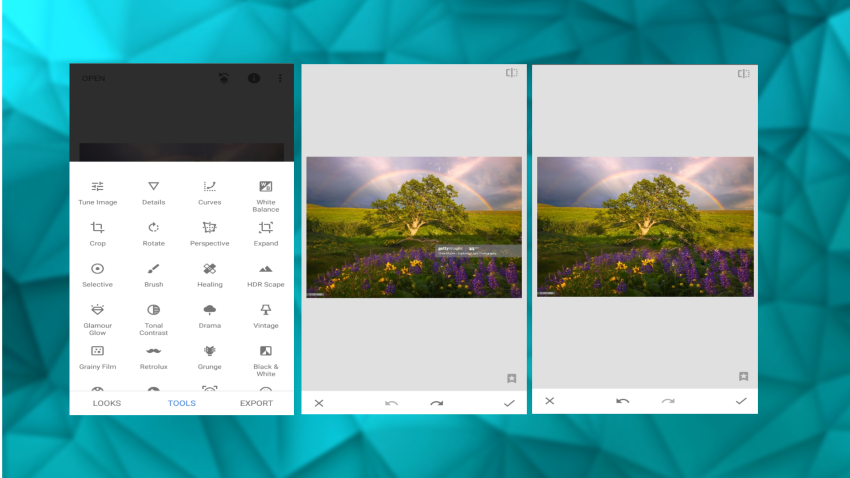 Pros:
It offers advanced photo editing features.
Cons:
Some tools are difficult to use.
Conclusion
Those are the good options if you are just looking for the photo watermark remover. Give us a comment if you have missed a tool that you want us to include on the list.