Best Photo Enhancer for Beginners and Professionals
5 Recommended Photo Enhancing Apps
Apowersoft Background Eraser (Android & iOS)
First on the list is a powerful and intuitive app named Apowersoft Background Eraser. In just a few seconds, you will get a perfect and clear portrait. So if you want a straightforward way to enhance your image, then use this app now.
To learn how to use this simple yet best photo enhancer, follow the steps below.
Tap the download button above to install the app.
Open it, and hit the "Blurry Portraits Cleaner" tab to import a photo.

Then you'll see the before and after result.
If you are satisfied with the result, hit the "Save HD" button.
EnhanceFox Photo Enhancer (iOS)
If you are an iPhone user and would want to improve the quality of your photo immediately, EnhanceFox is the right choice for you. It reduces blurring, increases the size, clarity, and overall quality of your photos. In addition, it comes with artificial intelligence technology that helps users repair blurred photos that make them clear. Indeed, this is one of the best photo enhancer apps that you can rely on.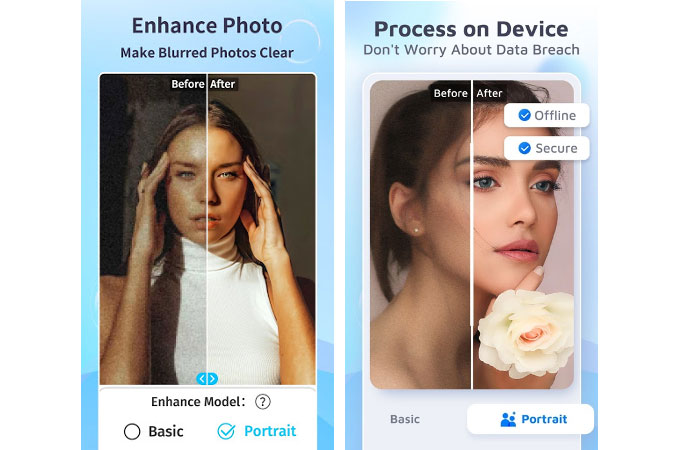 Pros:
It is powered by Al for good output quality results.
It automatically enhances your photo.
Cons:
Some features are missing.
AirBrush (iOS)
The imperfection you'll see in your photo can be removed easily with the help of the eraser tool of AirBrush. This app is a popular photo editing app with impressive features and offers a full pack of retouching tools that are not only capable of improving the quality of your image, but also adding a vignette, to blur or deblur, and more. Therefore, enhancing a photo is much easier when you have the best photo enhancer.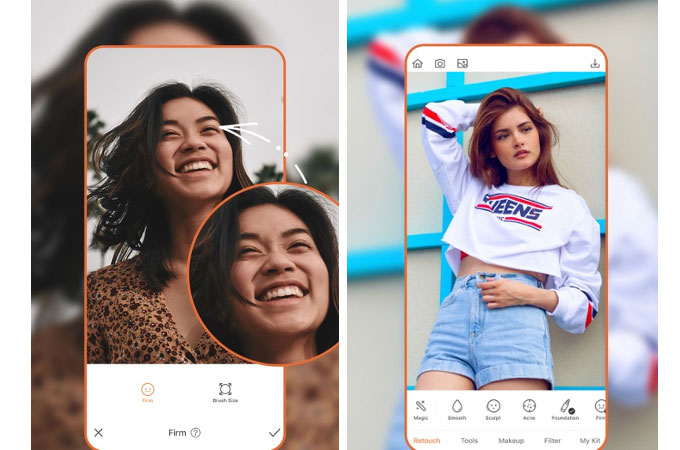 Pros:
Free and fast to use.
It changes the image quality with ease.
Cons:
It is free but with in-app purchases.
Remini (Android)
Enhancing your photos to produce clearer ones is easier with Remini. Especially when you have an old photo that you want to improve and recover, the process is trouble-free. In fact, this app lets you process your photo with Al or Artificial Intelligence technology.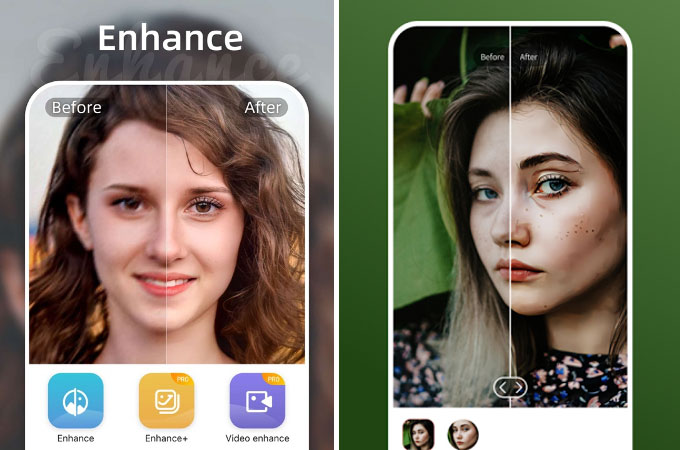 Pros:
Automatically enhanced photo.
It offers an intuitive interface and straightforward editing tools.
Easy to use.
Cons:
Annoying ads often pop-up.
Adobe Lightroom: Photo Editor (Android)
This app is definitely not for casual users, but absolutely one of the best photo enhancer apps. Therefore, if you are a professional or photographer who wants to improve the overall quality of your image and transform it into the look you want to achieve, then Lightroom is the most recommended app. You can do anything you want with Lightroom, for example, to sharpen, reduce noise, highlight, correct white balance, and more.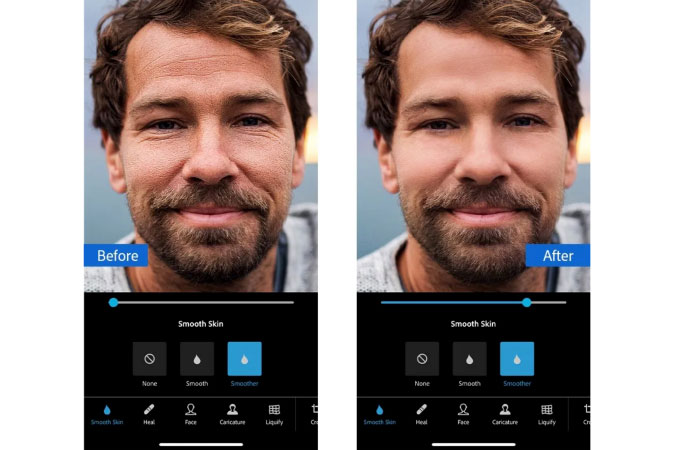 Pros:
This can be used for a wide array of edits.
Improve the quality of the image perfectly.
Cons:
It can be expensive for non-professional editors.
Pay $21 a month after a trial option.
Top 5 Best Online Photo Enhancer (Free & Paid)
PicWish – 100% FREE
Old portraits, selfies, product photos, or any kind of photos, PicWish is a great choice for you. In just a mere instant, you'll see that your photo is enhanced perfectly. That's the reason why many users consider this as the best online photo enhancer. Also, this site is absolutely free and no skills are needed to enhance images.
Follow the simple steps below in order to enhance an image using PicWish
Go to your browser and visit this page "https://picwish.com/photo-enhancer".
Tap the "Upload Image" button to choose a photo in your Gallery or Photos you want to enhance.

Once imported, this best photo enhancer will enhance your photo automatically.

If you are good with the result, then hit the "Download" button.
Fotor
Start to improve your photo quality with only one click using Fotor. This powerful online tool comes with tons of editing tools, as well as Fotor lets you manually adjust the photo or choose One-tap Enhance to improve the quality automatically. Furthermore, it allows users to process in batches.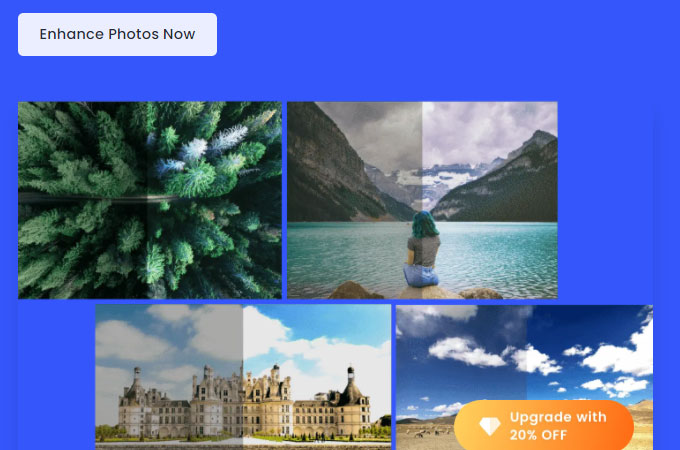 Pros:
No skills are needed.
Instantly enhance images.
Offers premium-level filters.
Cons:
The enhancement tool is only a free trial, and so you have to purchase to use it again.
Let'sEnhance.io
Another interesting and best online photo enhancer is Let'sEnhance.io. This site increases image resolution without losing quality with its powerful Al or Artificial Intelligence technology. Plus, it will adjust the color and tone of your image instantly to produce a clearer one. In fact, Let'sEnhance.io is built and designed to enhance images without having difficulties.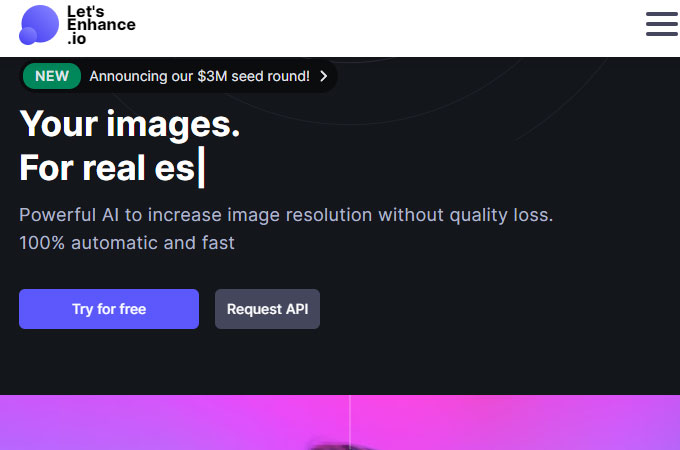 Pros:
Effortlessly enhance images while keeping the quality up to 16x.
Perfect for newbies and professionals.
Cons:
It needs to add some features.
Al. Image Enlarger
If you want to improve the image color, contrast, and quality of your image, then Al. Image Enlarger is definitely the best online photo enhancer you could use. It lets you enhance images by 200%, 400%, and 800% without impacting the quality. Also, it uses contrast enhancement techniques to optimize the color and contrast of your photo.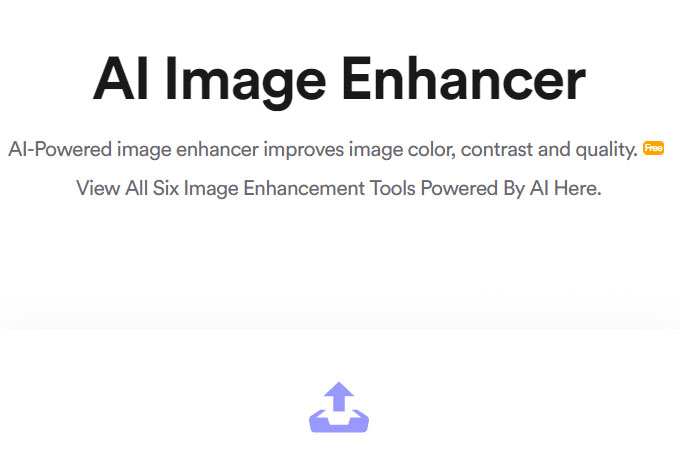 Pros:
In one click, you can improve the quality of your photo.
It has an intuitive interface and editing tools.
Cons:
You can upload max size 5MB or 2000×2000.
Vance Al
The last but definitely not the least is Vance Al. This platform is a useful and the best online photo enhancer that you can use without the photo editing skills required. It comes with powerful Al photo enhancer tools that let users enhance images fast and easily. You are able to increase image resolution up to 800%, enhance retail detail, and adjust color up to 100% instantly.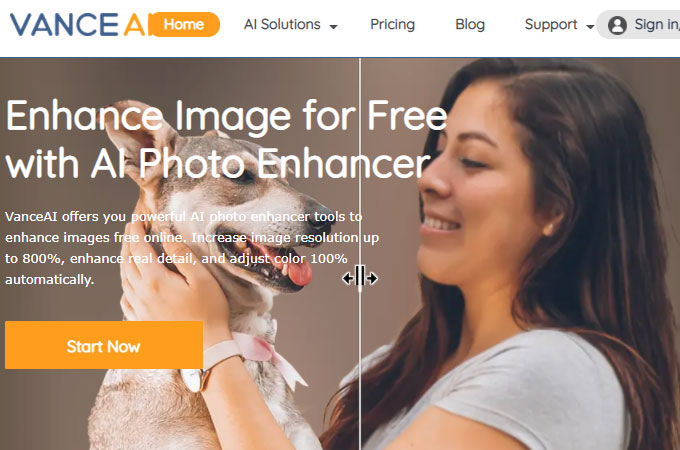 Pros:
Built with an impressive enhancement techniques.
It enhance images up to 8x with premium quality in 5 seconds.
Cons:
Not all of its editing tools are free.
Conclusion
Now you have all the tools needed, it's time to pick the best photo enhancer you think suits you. If you want to save your time and avoid inexpensive tools, then Apowersoft Background Eraser and PicWish are both recommended tools. But if you are a professional and wish to have advanced tools, then you can rely on the other tools mentioned above.