Top 6 Photo Date Stamper for You
| Features | DateStamper | Timestamp Photo | Auto Stamper For Photos | Ofoct | Apowersoft Watermark Remover | Picosmos |
| --- | --- | --- | --- | --- | --- | --- |
| Customize Date Stamp | | | | | | |
| Process in Batch | | | | | | |
| Maintain Quality | | | | | | |
| Supports Multiple Formats | | | | | | |
| Intuitive & Clean UI | | | | | | |
DateStamper
User's rating: 4.8
System requirements: iOS 11.0 or later
File size: 14.6 MB
DateStamper is a date stamper app for iOS users that you can get from the App Store. It offers in App-purchases to get some additional features, including unlimited batch and premium styles. This app is absolutely a great photo editor app that enables you to easily add a date stamp and time to your photos. You can customize the date stamp by changing its font, color, and styles.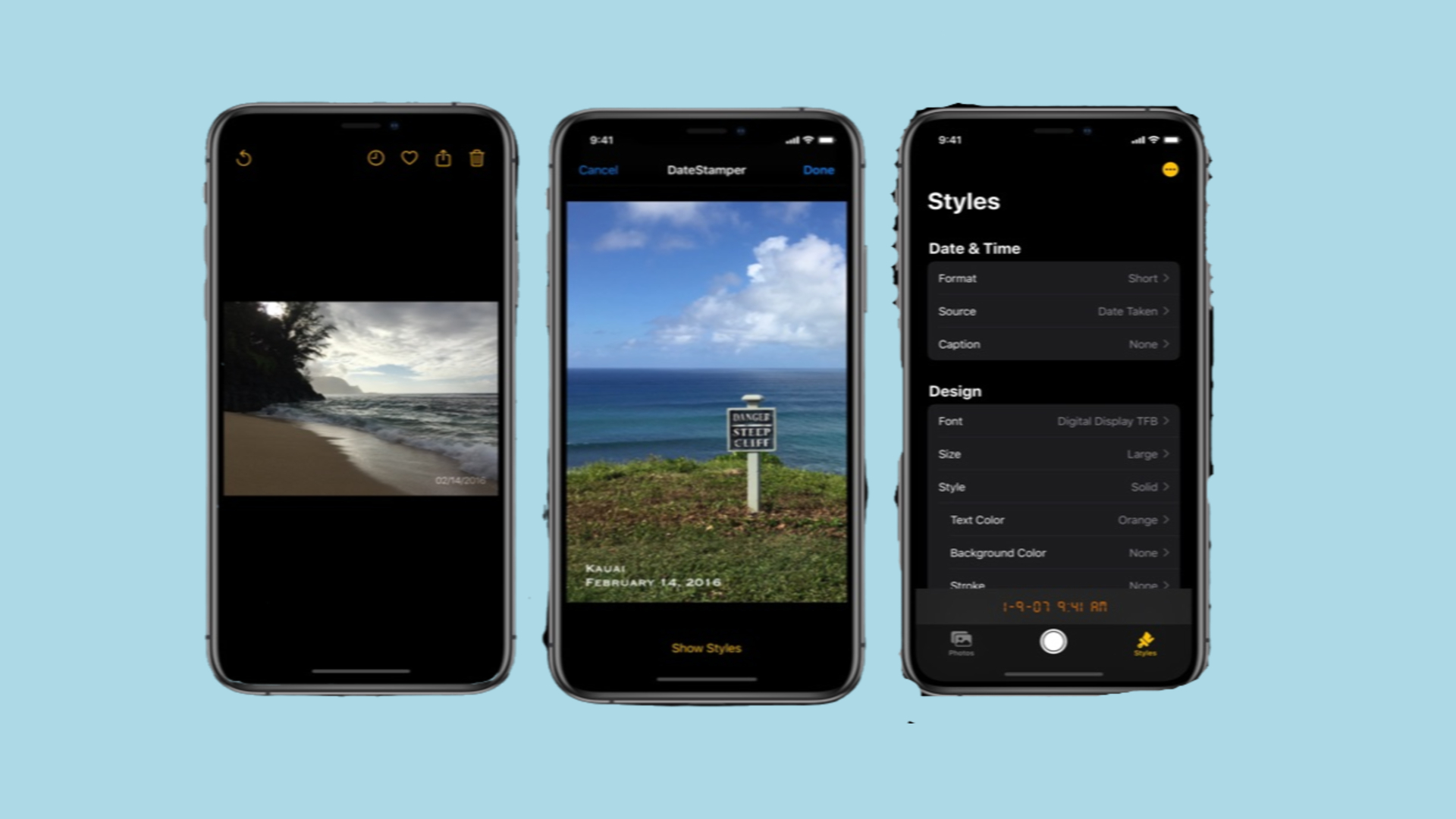 Pros:
It provides a beautiful and intuitive interface.
It can stamp multiple photos simultaneously.
Cons:
Purchase premium for advanced features.
Timestamp Photo and Video Free
User's rating: 4.3
System requirements: Android 4.3 and up.
File size: 3.8 M
Timestamp Photo is a free photo date stamper app for Android devices. By using this app, you can effortlessly add and change the date stamp format, position, font, color, and size. Also, you can save the file with a date stamp while keeping the same resolution and quality. To add the date stamp simply choose a photo from your photo library, then the app will automatically add date stamp in your photo. Or you can customize it from the settings section then click ok to apply changes.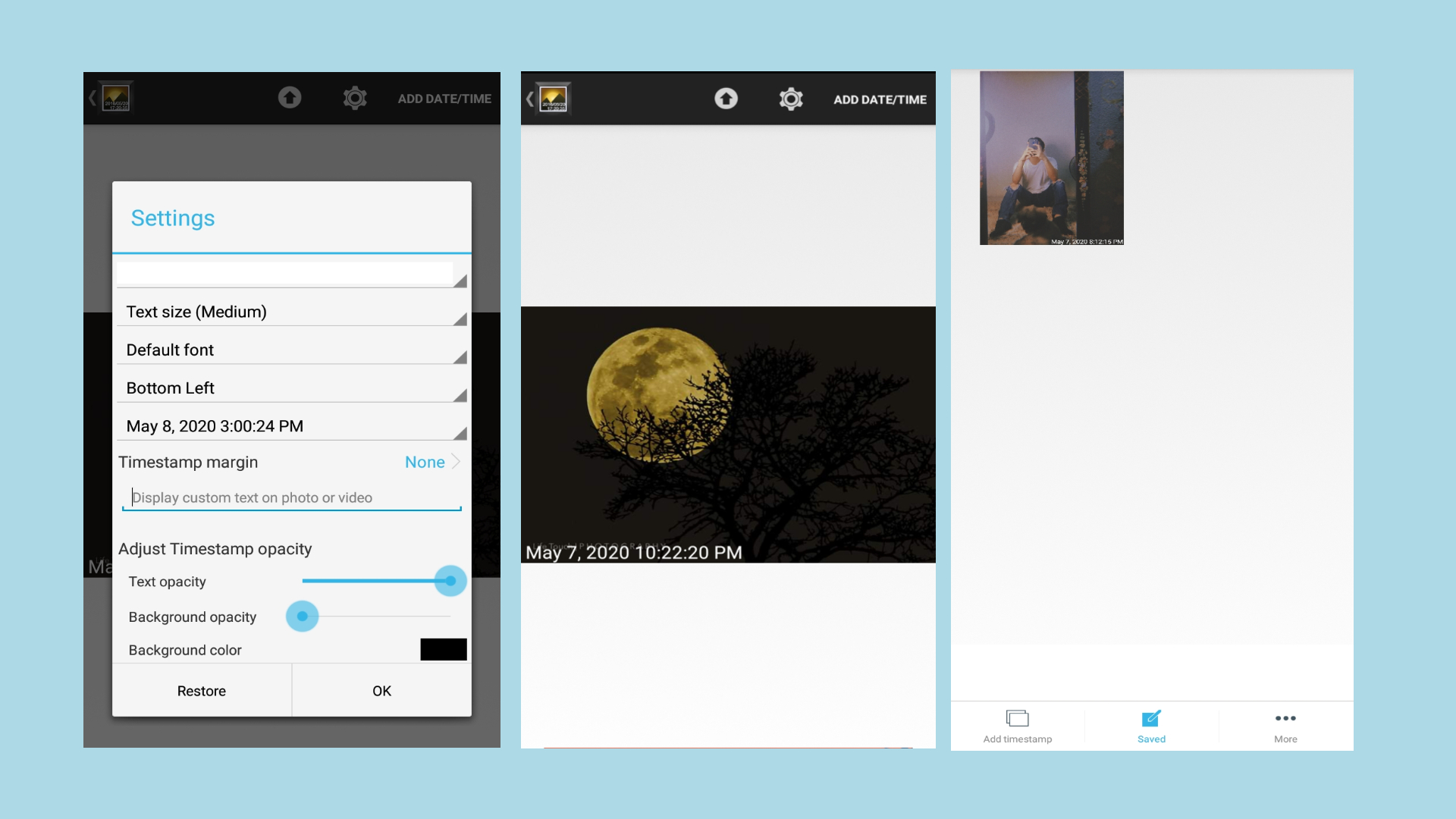 Pros:
It supports multiple selection and batch processing.
It has a 20 datestamp format.
Cons:
Free app but too many ads.
Lag happens sometimes.
Auto Stamper For Photos
User's rating: 4.4 (Android) & 4.3 (iOS)
System requirements: Android 4.3 and up.
File size: 12M
Auto Stamper for Photos is another reliable date stamper app that is perfectly designed for iOS and Android users. This app provides amazing features, including auto-add date/time stamp, auto copyright logo stamp, GPS map stamp, copyright signature stamp, and sequential number stamps. Just like other apps, this app also allows you to adjust the date stamp color, format, position, and size.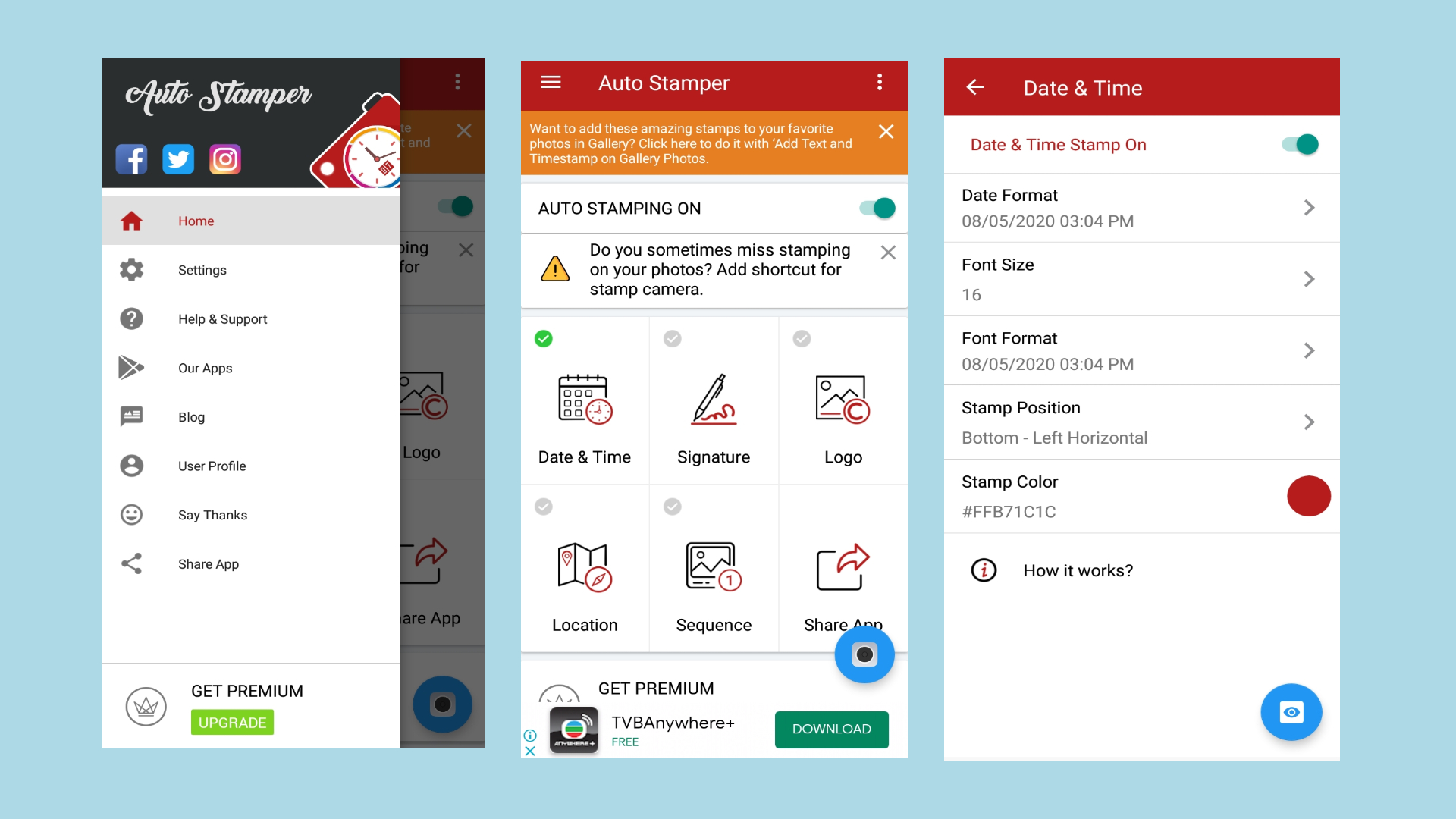 Pros:
It provides numerous cool date & font formats.
Customizable date stamp.
Cons:
Pay to use other features.
Irritating ads appear frequently.
Ofoct Online Date Stumper
User's rating: —-
System requirements: Online
File size: —-
If you are looking for a purely free online photo date stamper, then Ofoct is the best option for you. It is very simple to use for adding date stamp on photos. All you need to do is upload your image and you're ready to go. This online tool provides a bunch of font styles, colors, and other amazing features that you can use to make your date stamp look good. Just make sure you have a stable internet connection.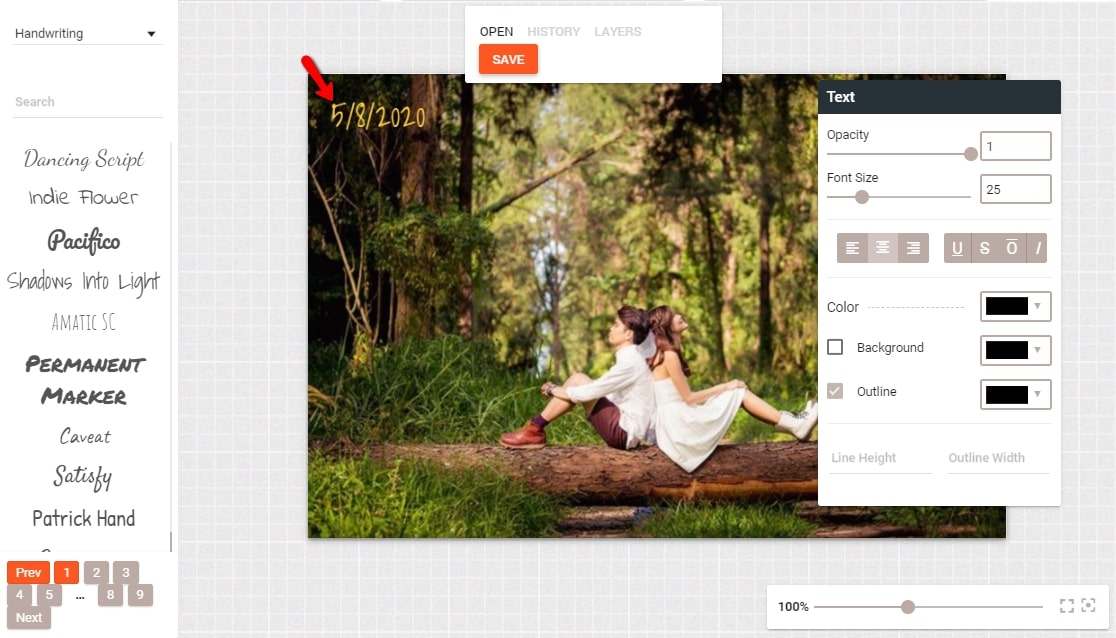 Pros:
Requiring no software downloads.
Free to use.
Cons:
Need a consistent internet speed.
Apowersoft Watermark Remover
User's rating: 4.5
System requirements: Windows 7/8/10
File size: 20.0 MB
If you are looking for a perfect photo date stamper, Apowersoft Watermark Remover is available for you. This program is totally easy to use as compared to any other photo editing software for the windows. Moreover, you can use it not only to remove any watermark in your photos but also to add a date stamp without hassle. You can customize your date stamp by changing its size, font text, style, color, and location.
Just import the photo into the software after you install it.
Then click the "Add text" or "Add image" button to input text or upload an imgae.
Then compose a date stamp into your photo the way you want.
If you are satisfied with the real-time preview, click the "Convert" button to process and save it.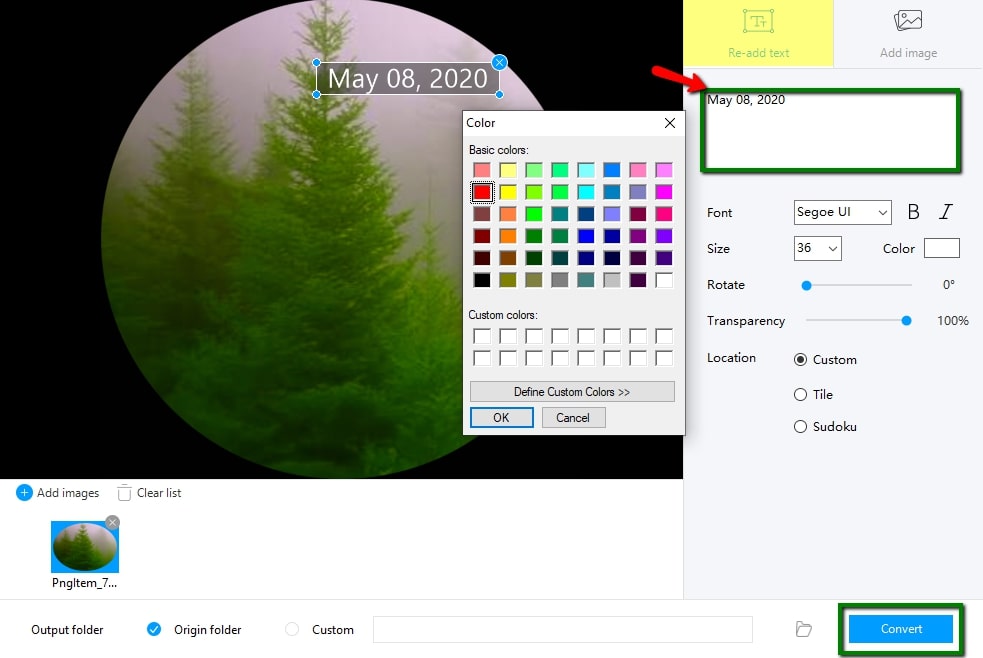 Pros:
Easy to understand interface.
Batch process for multiple photos.
Keep the original quality.
No professional skills are required.
Cons:
Lacks of editing features.
Paid software
Picosmos
User's rating: 4.3
System requirements: Windows
File size: 38.72 MB
Lastly, we have Picosmos, a free photo date stamper. This program offers tons of editing sections. In order to add a date stamp, you can use the batch section. Just import the photo you want to edit and go to the watermark menu, and then choose the add text option. From there, you can get date and time buttons. Press the button to add the current date and time on your image.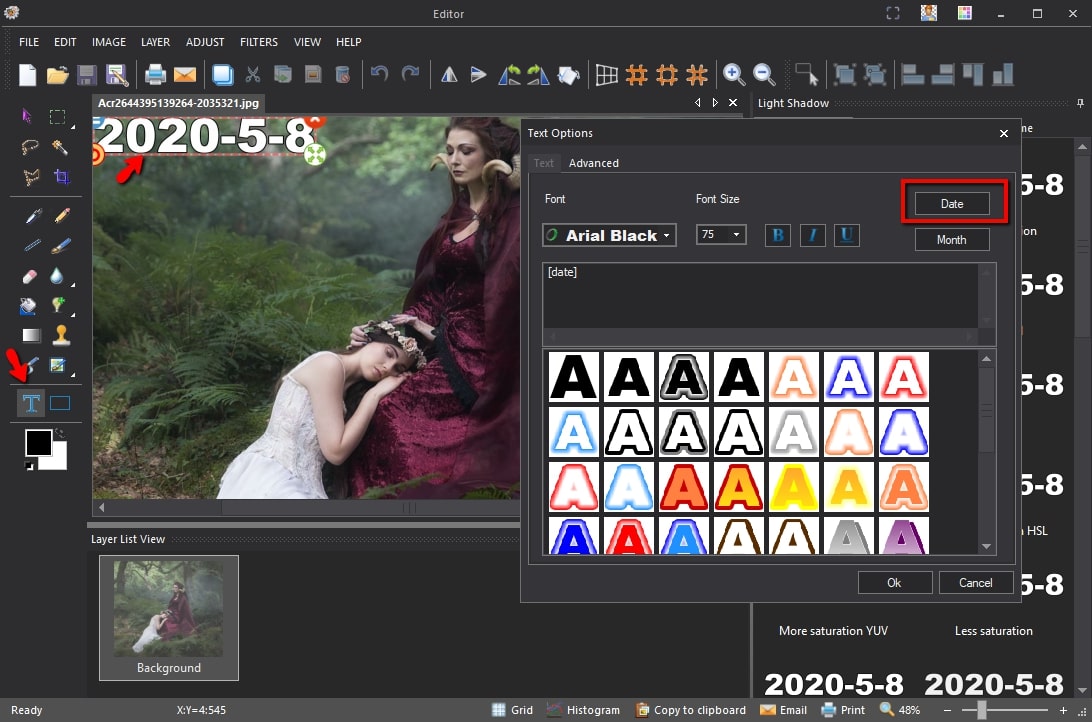 Pros:
It has a wide range of editing features.
Cons:
Some tools are difficult to use and navigate.
Takes time to learn about its functions.
Conclusion
A photo date stamper is useful and relevant to mark the time for your file. Those are some best apps, online, and window software to help you add a date stamp on your photos. Apowersoft Watermark Remover is worth trying for its easy interface and versatile functions. This software is very easy to use and should be the best photo date stamper for all ages.