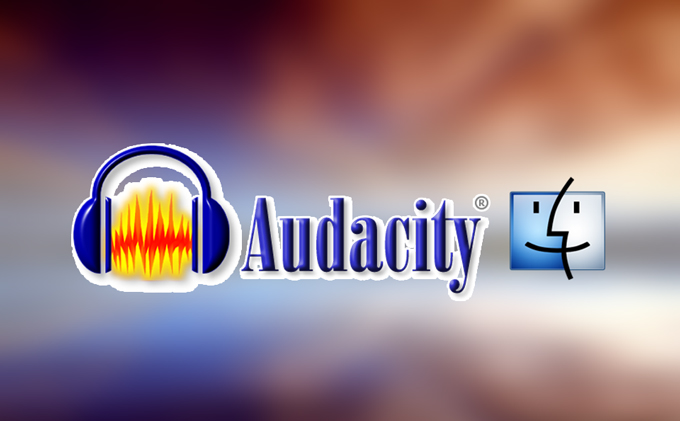 If you own an Apple computer, the chances of getting high quality and totally free applications are frantically limited. This is specifically true when it comes to audio editing tools for Mac users. Of course there are popular music applications such as the company's Soundtrack Pro or Bias Peak, but they are impractical for ordinary consumers not because they are premium tools but they entail very high price tags. To this, open source and free music editing applications such as Audacity for Mac is a big relief for music fanatics.
Started by Dominic Mazzoni and Roger Dannenberg, it is available for all platforms including Windows, Linux and Mac. Currently, Audacity has 76.5 million downloads and holds highly regarded awards such as the Best Project for Multimedia as well as 11th most popular downloaded software from SourceForge. Audacity is an efficient tool that can record, convert, edit, alter, import and export files without even spending a single cent.
Audacity for Mac Review
True with its form, Audacity can really deliver high quality audio files while users are offered with tons of customization features and powerful editing options. Just like any other desktop applications, Audacity comes with advantages and disadvantages. See this short but informative Audacity review below:
Advantages
It can record high quality audio from mixer, microphone, digital media, live radio, streaming, sound cards and more.
It can import as well as export music files in different formats.
Preserving audio quality and support for various bit rate samples is possible.
Cut, copy, paste, delete, mix, and label tracks with its convenient editing feature.
It has the ability to add various effects without altering the music's tempo.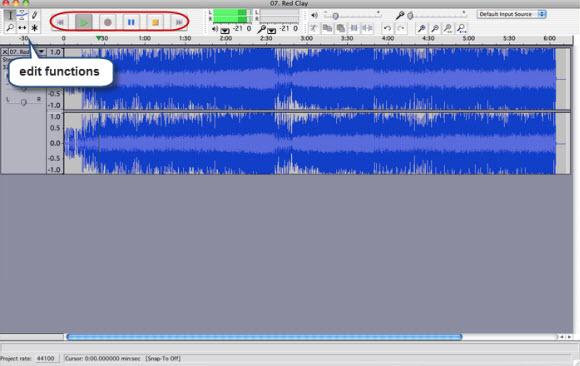 Disadvantages
Users are reporting occasional crashes upon launching Audacity on Mac OS X El Capitan.
There is no RSS feed creation.
Direct MP3 output is impossible due to the lack of built-in MP3 encoder.
The complicated arrangements make it hard to use, especially for novice users.
Creating large projects with Audacity may take some time and technical hitches.
If you are unsatisfied with the performance of Audacity, then you might need to look at other tools as Audacity alternative for Mac.
Top Mac Software Similar to Audacity
Apowersoft Audio Recorder for Mac
If you want a premium audio recorder works on Mac including the El Capitan, Apowersoft Audio Recorder for Mac will give you more than just quality audios but flexible editing options as well. You can use it to record any sound that is playing on your Mac, while it supports both internal and external audio sources. Different file formats are also available such as M4A, MP3, AC3, AU, M4R, AIFF, OGG, and all others.
With this alternative to Audacity on Mac, you can record just about anything from streaming audio, radio sounds, local files, VoIP calls, audiobooks. Also you have the ability to record music files from popular websites such as YouTube, VEVO, Pandora, MTV, iTunes, Yahoo, Jango, Napster and many more. Additionally, you can use this tool to record audios from external sources like microphone and in-line devices.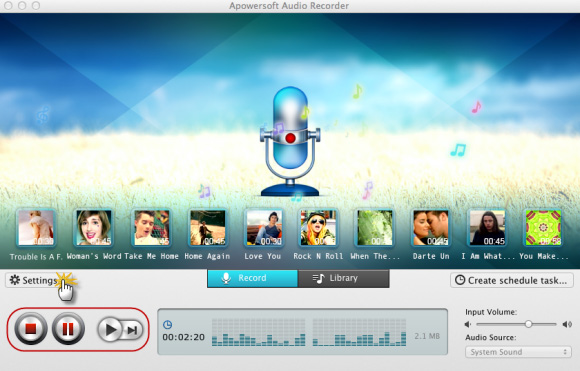 One of the best features of Apowersoft Audio Recorder for Mac is its ability to edit audios in real time. This only means that you can visually see your files being trimmed, cut, merged, split, distorted, converted, filtered, and all others. Recognizing and editing music track information or ID3 tags is also possible with this music software. Best of all, it doesn't have any limits so you can record and edit music files as long as your heart desires.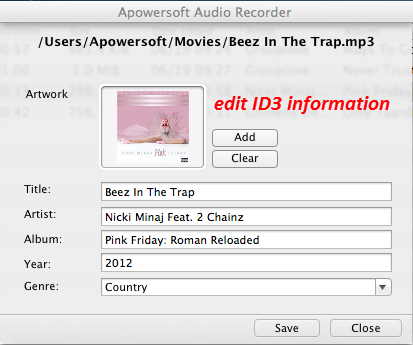 As a powerful program, other features of Apowersoft Audio Recorder for Mac include the built-in scheduler which you can use to create scheduled recordings. It will automatically start and stop recording by adjusting the settings of start/end time and others. High quality 1:1 lossless audio output, different languages supported, software upgrades, improvements and stability patches are also offered for best audio recording experience.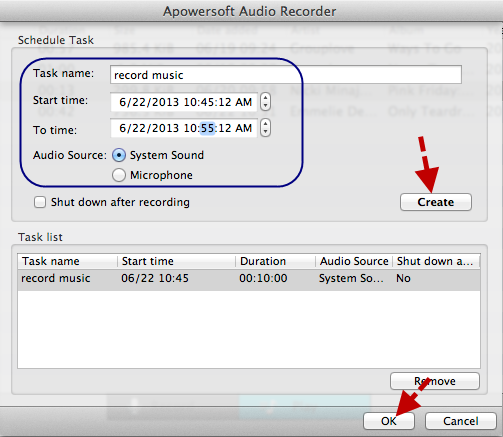 Indeed, it is a powerful tool that can perform just about anything from recording music files online to editing audios from external sources. Compare with the former, this desktop application is very easy-to-use and comes with 100% clean installation. No ads and other software will bug down your system upon installing the recorder.
Ondesoft Audio Recorder
Another popular Audacity alternative for Mac is the Ondesoft Audio Recorder. It can capture and record audio from any web browsers may it be Firefox, Safari, Skype, iChat, iTunes, VLC, QuickTime, FaceTime and more. It can also record music files from websites like YouTube, Vimeo, iTunes Radio, Lastfm, etc. With support for grabbing contents from Mic and CD player.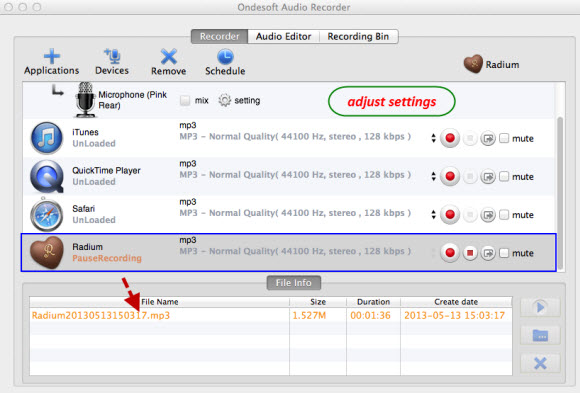 Ondesoft Audio Recorder supports Mac OS versions from 10.6 to 10.11 and it caters popular file formats such as MP3, AAC, FLAC, and the likes. Similarly, there is a built-in editor and one-click call recorder which meant for saving chat conversations. It has an efficient interface and there is a free trial available for undecided users.
Whether you want a free software that can do basic editing and recording functions or a premium tool that offers versatile capabilities and unlimited sound grabbing options from Mac is very much possible. With these desktop applications, you can now enjoy good music any time you want and as many as your PC's hard drive can contain.