Top 4 Transparent Photo Editors
| Features | Background Eraser | Magic Eraser | Apowersoft Background Eraser | Lunapic |
| --- | --- | --- | --- | --- |
| Automatically make photo transparent | | | | |
| Precise cutout | | | | |
| Intuitive interface | | | | |
| Save directly in transparent format | | | | |
Background Eraser
User's rating: 4.3
System requirements: Android 4.1 and up
Size: 12 M
Background Eraser is a transparent image editor app on Android that can remove, clean, and make your photo transparent with just a few simple steps. It can automatically erase the background of your photo. and save it in a transparent format. You can also manually remove the background if you are not satisfied with the auto-removal result.
Simply get the photo from your gallery, and choose the aspect ratio for your photo.
Once your photo is uploaded, you can choose from among the three eraser tools and start processing the picture.
After that hit the checkmark and then the diskette-like icon to save your transparent photo in your phone.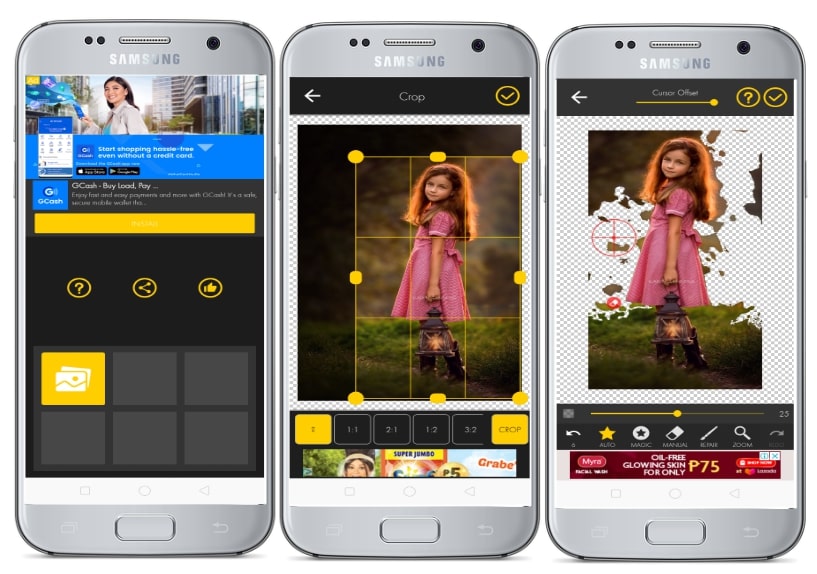 Pros:
It offers three eraser tools.
Can save photo in PNG formats.
It has a repair tool to fix the affected object.
Cons:
The cutout is not precise sometimes.
Magic Eraser
User's rating: 4.8
System requirements: iOS 11.0 or later
Size: 27.1 MB
Anothergreat tool is Magic Eraser, a transparent background editor app for Android phone. This app is able to make your transparent in just a few taps and save it as PNG or JPG format. It has tools including "Magic Wand" and "Brush Tool" to let you remove the background from your photo.
Just upload the photo that you need into the app from your gallery.
Then, manually remove the background of your photo using its eraser tools.
Once done, you can save your transparent photo in PNG or JPG format.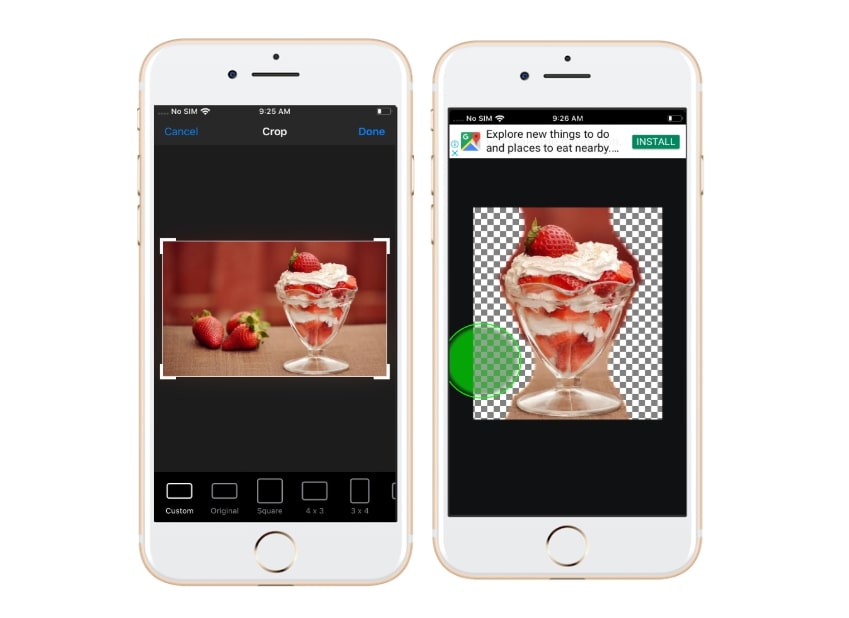 Pros:
It provides an auto-erase tool.
It has a zoom feature for detailed editing.
Cons:
Processing speed is slow.
Apowersoft Background Eraser
User's rating: 4.5
System requirements: Windows, Online, Android & iOS
Size: 20.4 MB
Apowersoft Background Eraser is a powerful desktop transparent photo editor that you can download on your desktop and use it anywhere you go. Aside from that, it also has online, Android and iOS versions, but the functions are a bit different. This software can automatically separate the foreground of the photo from its background, making it transparent. So without any professional skills, you can convert your picture into a transparent one.
Download the software and install it on your computer.
Open the software, choose the function you can use based on the subject of the photo you want to cut out.
Click the plus sign icon and then import the photo from your computer. Wait until the photo is loaded then the background will be deleted automatically
Click "Save" button at the top right corner to download the processed image into your computer.
Pros:
Automatically make a photo transparent.
Precisely cutout foreground from its background.
Has different versions for commonly-used platforms.
Cons:
Paid software with free trials.
Lunapic
User's rating: 4.5
System requirements: Online
Size: —
Lunapic is a popular online transparent background photo editor that you can access freely. This online tool will definitely transform your photo into a transparent one. In fact, this tool is a professional and powerful photo editor that offers a lot of image-editing features. If you want to edit the photo background, this site is really a good choice to try.
You can go directly to the Lunapic website in Google Chrome.
Upload the photo that you will use from your computer by dropping "File" and choose "Upload image" from it.
After that, choose "Edit" and "Transparent background", then just click on the background area and hit the apply button. The background will be processed out of the image soon.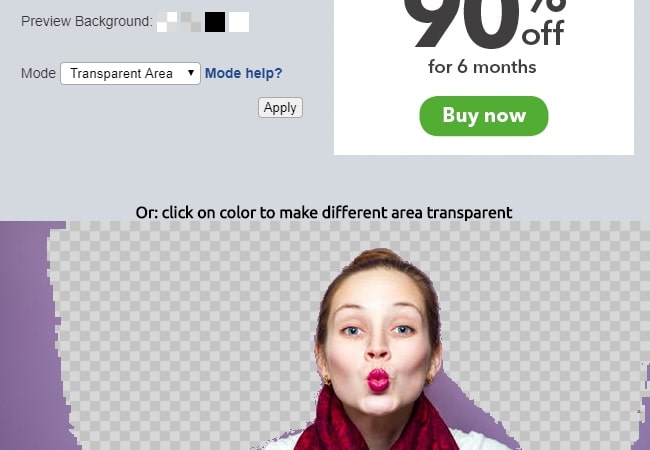 Pros:
Manually remove the background from the photo.
You can adjust the transparency threshold.
Cons:
Navigation the tool can be difficult.
Sometimes the foreground may be distorted.
Conclusion
With the above four transparent photo editors, you can make your photo in transparent format right on your desktop, mobile devices or even online. I highly recommend Apowersoft Background Eraser because you can use it on any platform and is full of great editing features.