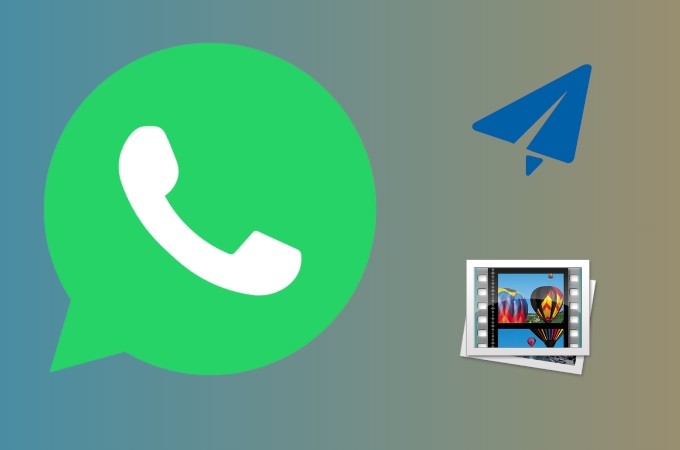 WhatsApp is a messenger app that lets you send messages via your smartphone for free, relying upon your internet connection. The messages can be plain texts, images, audio clips, and videos. The maximum video file size for WhatsApp is 16 MB and the footage length of a video size ranges from 90 seconds to 3 minutes. You are not able to send a video of more than 16MB in size on WhatsApp. Though WhatsApp has its limitations, you can still send large files on WhatsApp by following the solutions below.
3 Solutions to Send Files Video on WhatsApp
Google Drive
The first way to send a long video on WhatsApp is by using Google Drive. This is a free cloud storage service which lets users back up files stored on their device. Aside from this, users can use this service to share large files, such as videos, images, documents and so on. It also supports a variety of file formats. A single user with a Google account can have up to 15 GB of free storage. You can access your files on every device, as long as you log into your account.
Here are the steps you should follow to learn how to send large video on WhatsApp.
Open Google Drive on your device and log into your account.
Upload the video file you want to send by tapping the "+" icon.

Once the file has been uploaded, tap and hold the file. When a window pops up, tap the "Copy Link" button.

Next, go to WhatsApp and select a contact whom you want to send the video to.
Press and hold on the text field and paste the link of your video.
Dropbox
An alternative method for this task is to use Dropbox. This is an online service which can be used to send large files, including videos. This tool is perfectly created for sharing a large file such a video, a PowerPoint presentation, a Photoshop file and a lot more. All you need to do is make sure that you have signed up for an account before utilizing the tool. Follow the simple guide below to send videos of more than 16MB on WhatsApp.
Open Dropbox on your device.
Sign into your account, tap the "+" icon and choose the video you want to share.
After that, tap the "three dots" right next to the video. Tap "Share".

When a window shows up, create a downloadable link of the file and then copy the link.

Lastly, open WhatsApp and the conversation of the contact with whom you want to share your video. Afterwards, paste the link of the video.
Apowersoft Online File Compressor
If you want to try another method to send full video on WhatsApp, you can also use Apowersoft Online File Compressor. This program can reduce the file size of videos from a number of formats like MP4, AVI, MOV, MTS, WMV and a lot more. In addition, it supports two video compression type: size and quality. Also, users can compress a video without any limitations on the number of files, total file size and compression times. Below we have produced a step-by-step procedure for how to use it.
Simply visit the official website of the program via the browser on your device.
Next, tap the "Click to Add File" button, then choose the video you wish to compress.
After that, select the compression type and output format you prefer, then hit "Compress".

Once the compression is finished, download the video.
Run WhatsApp and share the compressed video with your friends.
Conclusion
As we have noted above, it is easy to send large files on WhatsApp. You just need to use the right tool. Both Google Drive and Dropbox allow you to send large files by creating a link to the file for sharing on WhatsApp. If you intend to send a video which exceeds 16MB directly on WhatsApp, you can use Apowersoft Online File Compressor. This program can help you reduce your video to a smaller size on the devices running Windows, Mac, Android and iOS systems.