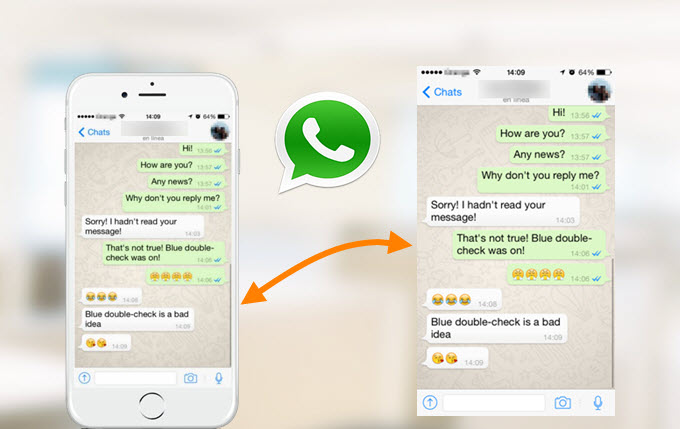 WhatsApp Messenger is one of the most popular messaging apps for smartphones. It enables you to make calls, send text/audio messages, images and videos to others by using the Internet instead of standard cellular mobile numbers. It receives more and more popularity year after year. In the use of this app, you may find that taking screenshot of it is one of most necessary tricks. Screenshots enables you to share funny conversations, save interesting images or tell others how to use one of its particular functions. Therefore, this article provides several ways on how to take screenshot in WhatsApp on iOS, Android, Windows and BlackBerry phones.
I. Snapshot WhatsApp on Android
III. Snapshot WhatsApp on Windows and BlackBerry
I
Screen Capture WhatsApp on Android
1. Make use of Apowersoft Screenshot

Apowersoft Screenshot is one of the best apps you can use to take screenshot on Android. It is free and doesn't require you to root your phone. It offers you two ways to take screenshot. One is pressing the "Power" + "Volume down/Home" buttons at the same time for two seconds and the other one is tapping on its overlay icon (for Android 5.0 and higher). In addition to taking screenshots, this app also provides image editing tools. You can crop and annotate the screenshot with lines, texts, arrows, mosaics, etc. What's more, this app also gives you options to directly upload the screenshot to free cloud space provided by the developer or share it via other apps on your phone.
To screenshot WhatsApp with this app, just follow the steps below.
Open it and tap on the "Start" button on its starter interface.
Display WhatsApp contents that you want to capture on the screen.
Press the "Power" + "Volume down/Home" simultaneously for 2 seconds, or you can also just tap on the blue overlay icon if you're using Android 5.0 or higher.
After that, the screenshot will be automatically loaded into the image editor of this app. You can edit the screenshot as you like.
Lastly, tap "Done" > "Save" on the top left to keep the screenshot on your phone. Alternatively, you can also choose to send it directly to other apps by tapping on the share icon on the top right.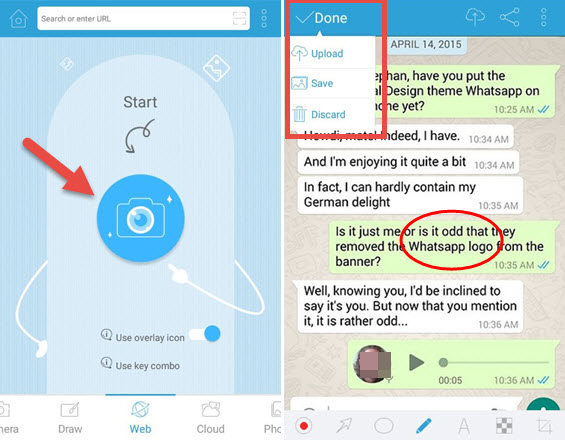 2. Default Android Screenshot Key Combo
Of course, you can take screenshot of anything on any Android phones by pressing "Power" + "Volume down/Home" buttons at the same time. It is also applicable to WhatsApp. However, it has some shortages. For example, you have no annotation options which can help you mark up some important parts or cover private information on the screenshot.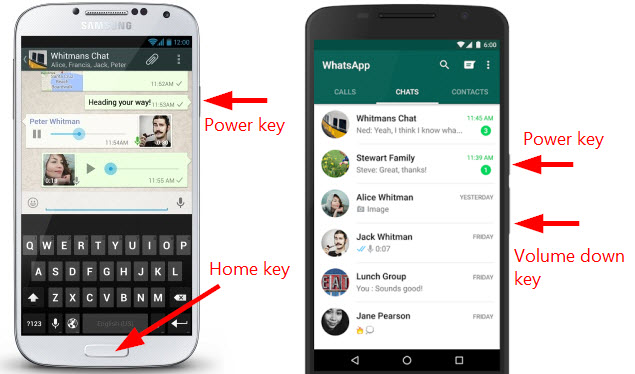 II
Capture WhatsApp Screenshot on iPhone
To take screenshot of WhatsApp on iPhone, you just need to press the "Power" + "Home" buttons at the same time. There will be a shutter sound and a flash on the screen, indicating that a screenshot is successfully taken. Then you can check the screenshot in the "Screenshots" folder under "Photos" app. You can crop the screenshot with iPhone's built-in image editing function. But if you need to cover some parts on the screenshot, you have to download another image editing app to do that.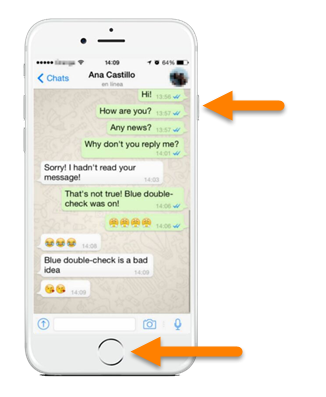 III
Screen Capture WhatsApp on Windows and BlackBerry
1. Windows Way
If you are using Windows 8.1 phones, then, you can take a screenshot of WhatsApp by pressing the "Power" + "Volume up" keys at the same time. You will also hear a shutter sound and you can find the screenshot in the "Screenshots" album in "Photos hub". If you want more editing options, you can also get other apps like Phototastic Collage and Picture Perfect.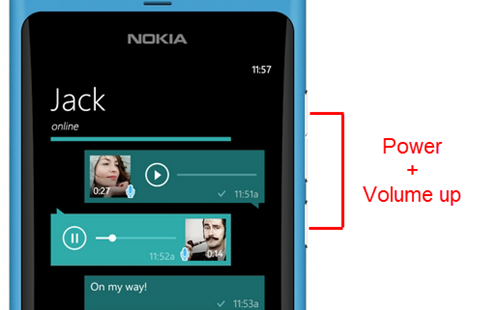 2. BlackBerry Way
On BlackBerry 10 devices, you can screenshot WhatsApp by pressing the "Volume up" + "Volume down" keys simultaneously. And you can find it in the "Recents" section under "Pictures" app.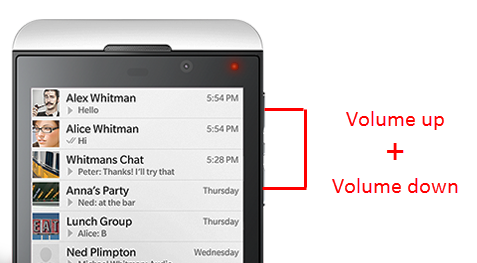 But on BlackBerry Curve or Bold, you need to download a screenshot app in the first place. Among various screenshot apps for BlackBerry, Screen Muncher is the best. It has a classic munch sound effect and vibrate every time you capture a screenshot. Once it's installed, display WhatsApp contents on the screen and press the BlackBerry menu button and tap on "Munch Screen" > "Save". You can check the screenshot in "Pictures" > "Picture Folders" > "Screen Munches".
Conclusion
Those are the ways on how to take screenshot of WhatsApp on different operating systems. You can do it according to your phone. But, for Android phones, it's highly recommended that you use Apowersoft Screenshot for its useful and convenient functions like image editing, uploading and sharing.