With more than 600 million registered users, Skype has quickly become the well-received communication tool for making long-distance calls and having video chats on computer. While having video chat conversation on Skype, you may desire to take a screenshot on it for keeping or sharing what you have seen on PC.
In case you are using Windows, the easiest thing to make screenshot s on Skype is to click on the "PrntScn" button and the screenshot of the screen will then be saved on the clipboard. After that, open "Paint" and press "Ctrl+ V" together to paste the image on the clipboard (in case you are not familiar with the shortcut, just simply right click on Paint and click "Paste"). You can then save the file in your computer. If you're using Mac computer, how to take screenshot on Skype in default mode is a bit different since it has no "PrntScr" key. The simplest way to grab Skype on Mac is to press the "Apple key ⌘ + Shift + 3″ all at the same time. The captured image will then be saved automatically in the desktop.
The above methods are easy to do and do not require any other third party tool. However, these easy methods have their own disadvantages they can only be used for basic snipping. Both of which needs a third party editing tool, cannot capture a specific part of the screen and more. Luckily, you don't have to deal with these disadvantages anymore as there are several applications that work way better than these methods. Check them out after the jump
I.Best Way to Screenshot Skype on PC
II. How to Screenshot Skype on Android and iOS Devices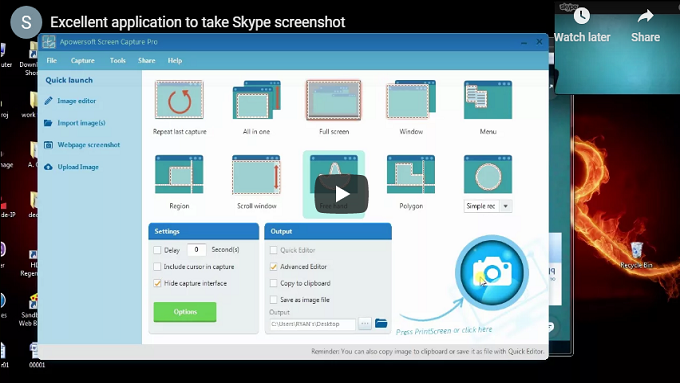 I. Best Way to Screenshot Skype on PC
Apowersoft Free Screen Capture is a small nifty application that can capture any image depicted on your desktop. It works with both Windows and Mac computer and you don't need to install it just to start doing skype snapshot. The Apowersoft Free Screen Capture is a web-based application that comes absolutely free with no viruses, malwares or adware. What makes it different from other applications offering the same kind of service is that it features flexible screenshot modes from full screen, customized region, application window, delayed capture and many more. It equally comes with a built-in direct image editor where you can place texts, arrows, shapes or add additional images on the captured snapshot.
Using this tool to snapshot skype is very easy, all you need to do is:
Go to the webpage of this free screenshot tool, then lick the "Launch application" button and allow the java notification pop up.
When you're ready to grab Skype stills, just press the camera icon or screenshot hotkey.
You can then save the captured image or edit it using the same software.
Press the diskette icon to save the Skype screenshot. You can also directly share it to your social networks or upload it to the free space provided by the developer.
This Tool also has a pro version which contains more functions, including 10 screenshot modes, a robust image editor with multiple annotation options and effects. You are able to screenshot in a delay time, too. What's more, this pro version even allows you to record short video clips. Just click the button below to get all those benefits.
II. How to Screenshot Skype on Android and iOS Devices
It is also possible to snapshot skype directly on your mobile device. For Android users, just press the "volume down button + power button" simultaneously. On the other hand, iPhone users should press the "Home + sleep/wake buttons" instead. Some Android handsets can even take screenshots using specially designed tools or actions. Just like with Samsung smartphones, swiping your palm across the screen would initiate a screenshot. However, not all Samsung devices are equipped with this functionality.
Using the general method of pressing the lock screen and volume rockers should suffice your need to take screenshot on skype. Though, better be warned that not all of the time this technique is proven to be effective. For users having a hard time taking screenshots on their mobile device or those with non-working power/volume rocker buttons, it is advised that you look for good alternatives such as using the Apowersoft Phone Manager.
Apowersoft Phone Manager is a one-stop phone management application capable of transferring files from phone to pc and pc to phone. It can also manage multimedia contents, do file backups and perform data restoration. On top of these things, this software is likewise equipped with two more features that users will truly enjoy. First is the ability to project mobile screen directly on pc in real time and the power to take mobile screenshots straight from the computer or desktop. Additionally, it supports both Android and iOS handsets.
It is easy to use this free application to screenshot skype, after downloading and installing it on your computer just: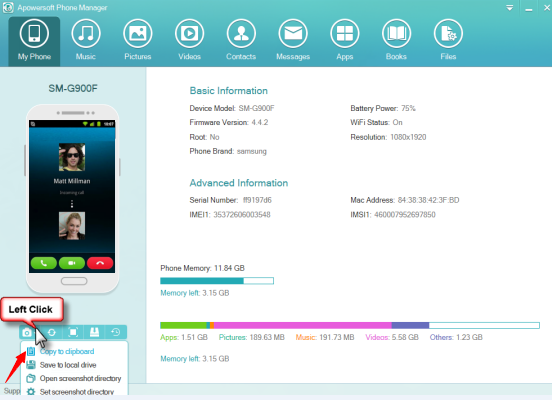 Connect your phone to PC via USB cable.
After automatic device recognition, on the left panel of the interface just below your phone you will see a list of functional shortcuts.
Log-in to Skype and when you're ready.
Simply click the camera icon to do a skype snapshot on your mobile.
There are many ways on how to take a screenshot on skype. Whether you want to use your Windows PC, Mac computer, Android handset or iPhone, using third party applications such as the Apowersoft Free Screen Capture and Phone Manager are proven to be more efficient and convenient. These software are fully functional, equipped with other features, comes with no limitation, device flexible and best of all 100% free.