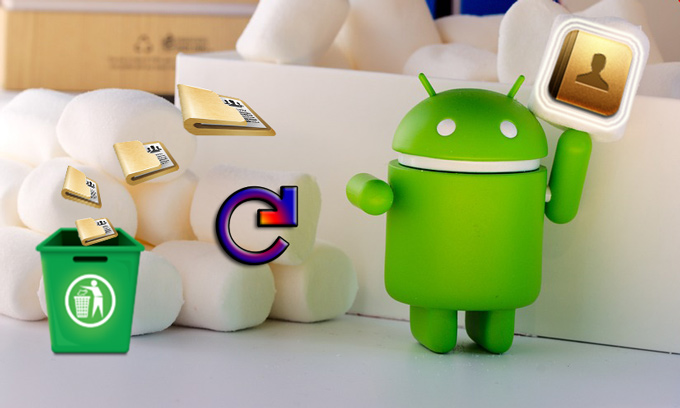 For some reason, you may delete some or all the important contacts stored in your Android phones like Samsung Galaxy S4, Motorola XT910, HTC one, etc accidentally. When this happens, you would be eager to know how to retrieve contacts from Android, right? Can these deleted data be retrieved seamlessly? Actually, just like you can use some data recovery software to retrieve deleted data from the computer or recycle bin, there is a lightweight but effective Android Data Recovery.
Note: When you notice that you have deleted contacts on your Android, please don't add new data to overwritten the previous ones. If you can keep the spot where you deleted the data intact, you definitely have a chance to retrieve deleted contacts from Android.
What can Android Data Recovery do for you?
It is the world's first Android Data Recovery and praised by thousands of customers since its launch. It allows you to retrieve deleted contacts, photos, videos, SMS text messages, audio files and other documents on SD card in Android device or the phones. Before recovery, you can choose to preview all the data in different items and then single out some to recover selectively. This application supports multiple Android handsets including HTC, Samsung, Huawei, ZET, Sony, LG, Motorola, etc. Based on its easy-to-use interface, both the newbies and professionals can handle it without a hitch. Retrieving deleted contacts from Android mobile can be finished as easy as step 1, 2, 3.
How to retrieve deleted contacts from Android
Step 1: Download, install and run Android Data Recovery on your computer. Connect your phone to PC using the matched USB cable.
Step 2: Before moving to step 2, please be sure that your smartphone has more than 20% battery. Click "Start" button showed on the window. As scanning your device may take you some time, please be patient.
Step 3: When it finishes scanning contacts, it will remind you. Now you can choose to stop by clicking "Stop" or "Pause" button to check the scanned results. Click "Contacts", all the contact information including names, phone numbers, email addresses, job titles, company, etc can be previewed on the window. Tick the checkbox and hit "Recover" to retrieve lost contacts on Android.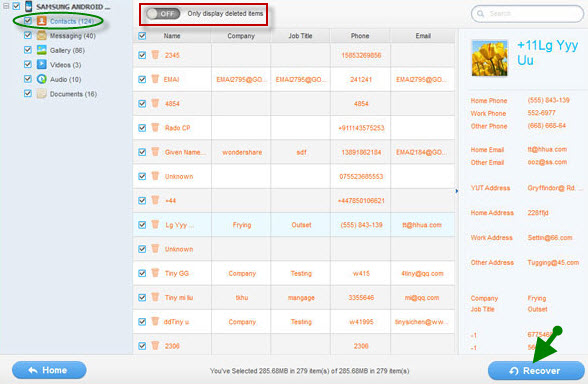 Note: Both the deleted and existing contacts can be found, but they are in two different colors. If you want to display the deleted ones, simply slide "Only display deleted items" button to "ON". It is also available to retrieve videos, audios and other data files from your Android device.
In order to avoid losing data the next time, it's advisable to keep a backup for them. Here we have two ways for you to backup Android files with safety.
How to back up contacts with Android phone:
Open "Contacts" icon on your Android and press "Menu" > "Import/Export". Proceed to click "Export to SD card" and "Export to SIM card" buttons.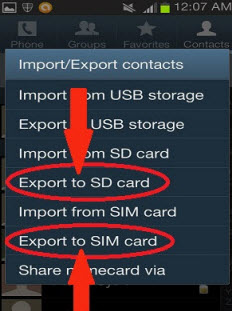 Sync your contacts from Android phone to Google Gmail:
Open your computer and log in your Gmail account. After logging in, find the Contact icon on the screen and click it. Once you are directed to the contact management place, hit the "+" icon to add a new contact. Input all the information related to the contact and click "save link". To add more contacts, repeat this process.
Log in the Gmail account stored contacts on your Android device. Tap on the "Contact" icon on the device's main menu. Drop down the checkbox and select your Gmail account from the options. Check "Sync Contacts" option. Now all your contacts are synced with the Gmail account, so you don't need to worry about losing the contacts even if your Android is crashed down or stolen.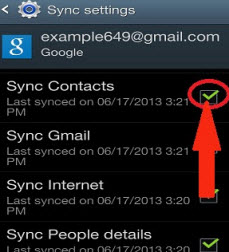 Again, if you are afraid of losing precious photos, audios, videos and more data, the best secure way is to back up them regularly. However, if you delete the files but don't do the backup in time, the Android Data Recovery will be your ideal solution. Just refer to how to retrieve contacts from Android phone process to recover your data.