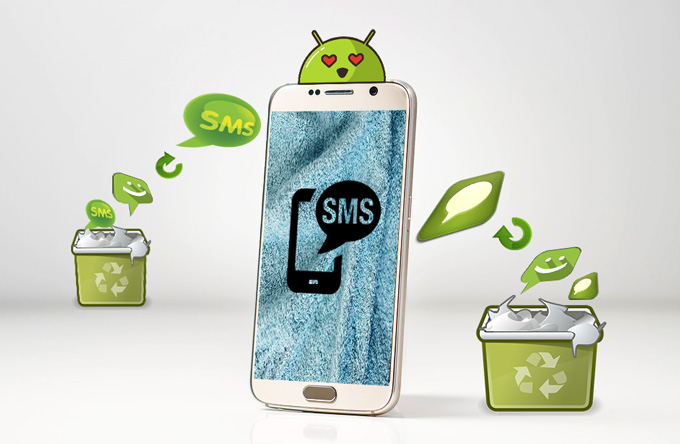 In Microsoft Windows, deleting a document or file doesn't cause too much trouble. Why? Because there are ways on how you can recover them fast such as using the control + Z keyboard shortcut or restoring your PC to an earlier state. Dedicated undo buttons are likewise accessible. However with Android, there is no dedicated restoration program or undo buttons that will help you recover deleted files. Same thing goes to undelete Android SMS – it is simply impossible using built-in applications.
Gladly, there are recovery software tools available on the market today that can restore accidentally deleted files with just few clicks and taps. They are like your system restore or undo Windows buttons, only they are specifically made for Android smartphones and tablets. These Android recovery methods are safe to use, reliable, trusted and sometimes even free, discover them below.
Data Recovery for Android
This Android Data Recovery Tool gives you tons of useful benefits more than just the function to undelete Android text messages. With this program, you can restore lost contacts/SMS from most Android phones, retrieve photos/videos/music from your internal storage or SD card, create backup files on PC, preview recovered files before actual restoring, and keep private data confidential even after restoration.
One of the best features of this Android recovery software is that it can retrieve lost files from formatted phones and SD cards. This means that even if you have formatted your phone or SD card, you can still recover those precious messages as well as media documents. Moreover, most Android smartphones are supported, including Galaxy SII, SIII, Galaxy Tab, Galaxy Note, HTC M4, HTC One, Sony, ZTE, LG, and more. Using the Data Recovery for Android is simple, follow the steps below:
Download and install the latest version of the software. Make sure that your phone and PC OS are compatible.

Warm Prompt: Make certain that your smartphone is charged. At least 20% of battery is needed to performing undelete SMS for Android.

Run the program and connect your Android phone using the supplied USB cable.
Enable USB debugging on your device. Go to Settings, Applications, Development then USB Debugging.

Wait for your device to be recognized. And click "Start" to performance analyzing of data.
After data has been analyzed, a window prompt will appear on your phone and hit "Allow" as well as "Remember".

Go back to your PC and click "Start" button.
The program will automatically generate retrieved messages, photos, contacts and more.
Use the left column on the window for easy categorization.
The "Preview" tab will show you the exact content of the file. This includes number, date, time, sent and received info.
Mark the items you want to restore and click the "Recover" button below.
With this Data Recovery for Android, you can retrieve lost messages and other files no matter how you delete them. Whether you accidentally erased them, damaged from wrong SD card usage or cleared of private data caches together with other reasons, this software will help you recover them all. Furthermore, it will not collect any of your private data so no need to worry about confidentiality.
Two Free Android SMS Recovery Apps Alternative
SMS Recovery DEMO
For those who want to undelete SMS from Android phone, take a look at the SMS Recovery DEMO app available in Google play store. Though, bear in mind that this is not a 100% free application. You can use it to see whether your deleted SMS conversations could be restored but the actual retrieval needs a premium account.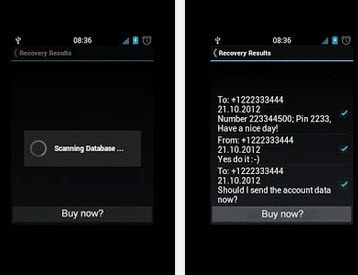 It needs root access, SMS read and contact permissions. Again, your phone needs to be fully rooted for you to be able to use this application. Also, deleted messages through factory resets and reformats are impossible to restore. You can give it a try and see for yourself if it can undelete your lost messages.
SMS Recovery FREE VERSION
If you want to undelete SMS Android free, visit Google Play and look for SMS Recovery Free Version. Specifically designed for Samsung Galaxy Mobile Phones, it enables you to recover deleted messages directly on your device. For the free version you can retrieve up to three messages while the PRO version lifts this restriction.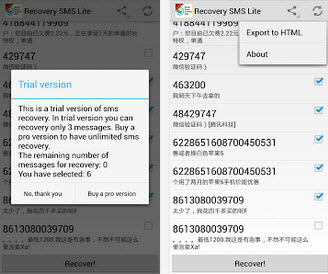 For the second time, your phone needs to be fully rooted to enjoy these services. The current version of this application is 1.0 and it requires Android platforms 2.3 and above. It has a small footprint of just 1.1MB. This software is recommended for those who want to restore limited SMS only. But if you find it good, buying the app will give you unlimited SMS restoration feature.
To restore deleted SMS messages is truly a painstaking moment since most smartphones of today still doesn't have the restore option and undo buttons of Windows. But with these effective Android recovery tools, you can now retrieve lost SMS directly on your phone or via computer. Android Data Recovery can do more than just SMS restoration, which is actually more cost efficient since you can do tons of things rather than solitary retrieving of text messages.