7 Useful Resume Photo Makers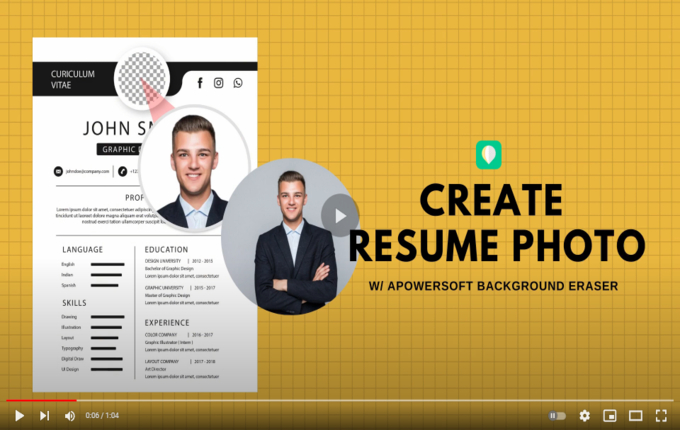 Apowersoft Background Eraser (Android & iOS)
Apowersoft Background Eraser is the first and useful resume photo app for a beginner who does not require any photo editing skills. With its Al feature, you'll be able to remove the background automatically just in a few seconds, and lets you crop it with the required size.
The process is simple that we can summarize them in five simple steps:
Tap the "Remove Person Background" tab to import your photo.

Then you'll see that your background is removed instantly.

Hit the "Crop" > "ID Photo" then choose the first photo size (51*51mm/600*600px).

Go back to the editing section and tap "Background" to apply a solid color background.

Then save it by tapping the "Save HD" button.
Pros:
Has a size for resume photo.
Provides a built-in plain color background.
Eliminate photo backgrounds with ease.
Maintain original quality.
User-friendly interface.
Cons:
Note:
To get 100 images giveaway, make sure to visit its web version page.
Resume Star: Pro CV Maker (iOS)
This is one of the famous resume editing apps that help you to create a professional resume using its standard fonts and templates/formats. This app also allows you to create your own templates. Just add the information needed, including your previous job experience/s, personal information, and this app will let you preview and see how it looks. Besides that, this resume photo maker enables you to customize font, margin sizes, and other parts which you think will help you create a perfect resume.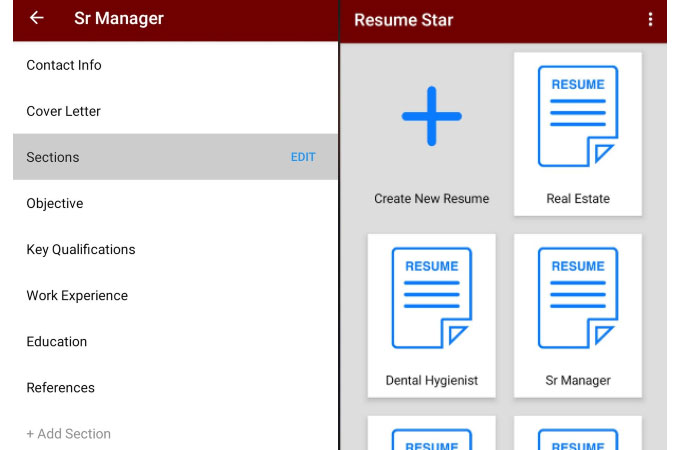 Pros:
With built-in templates, data samples, and cover letter creators.
It lets you convert your file to PDF.
Cons:
Beginners should be familiarized with functions.
It does not support Word format.
Resume Builder, Resume Creator (iOS)
With its clean and packed updated resume available within Resume Builder, the result of creating a resume surely makes it great and looks professional. The only thing you need to do is to enter your information and then select a template. Furthermore, this resume photo app allows you to email or print your well-designed resume.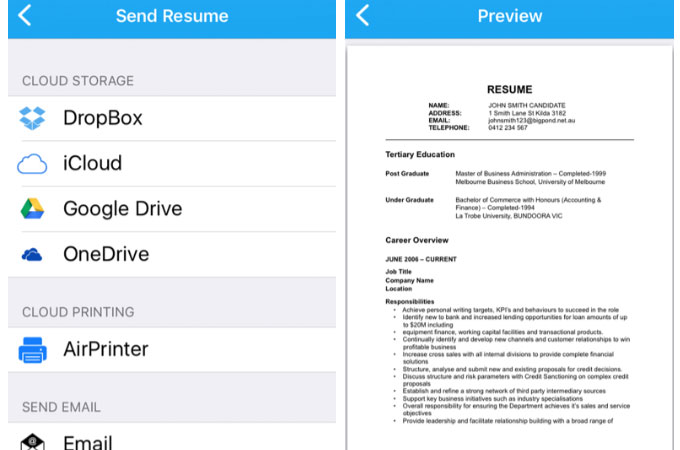 Pros:
It comes with professional templates to get you started.
Easy to edit and upload a resume.
Cons:
Limited for customization for the templates.
Resume Designer 3 (iOS)
If you want to create, maintain, and send your resume using your iOS device, you have to pick Resume Designer 3. It comes with easy-to-use features with a simple interface that can help you update your resume using your smartphone. Needless to say, after you edit your resume, this app lets you email it to anyone in no time.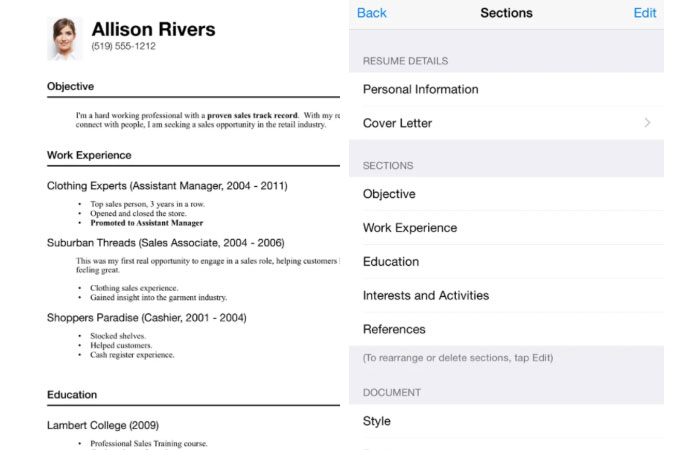 Pros:
It provides customization tools.
Quick and intuitive resume photo maker.
Cons:
It lets you manually design or edit your resume.
Some important designs or sections require editing skills.
CV Maker with Photo – Resume Maker pdf (Android)
An Android app known as CV Maker provides a ready-to-use professional resume format or templates for you to save time. Aside from an intuitive interface, this resume photo app offers you different resume formats and languages. With the help of this, you can create a resume that makes sure to stand out.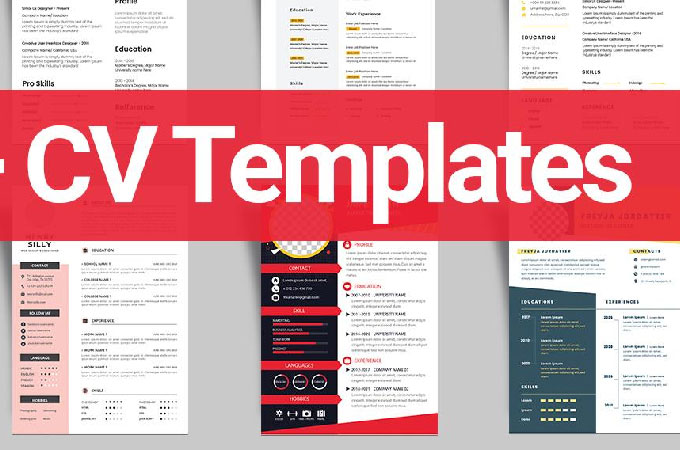 Pros:
It lets you use a variety of formats and versions.
Cons:
It does not support editing features for resume photo.
Passport Photo AiD: Booth | Maker | Id Photo Print (Android)
Passport Photo is your other Android app option that not only works for creating a passport, but also for editing your resume photo. With this app, you can update the photo that you will attach for your resume. Just get the photo in your Gallery and let this app work on your picture.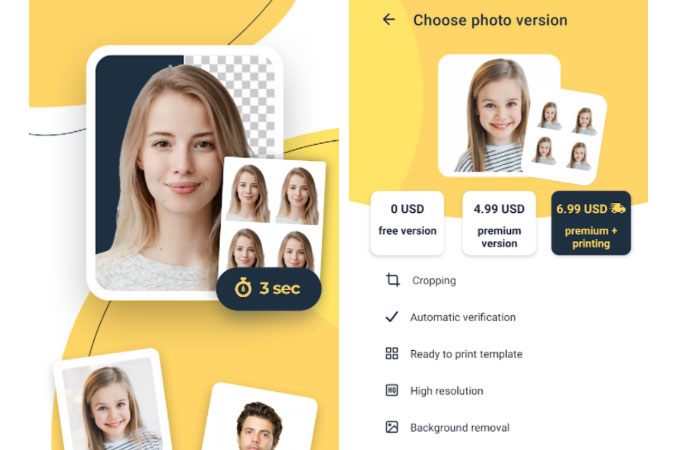 Pros:
A lot of sizes available within the app that is acceptable for resume photos.
Provides tons of photo editing features.
Cons:
Not all its features are free.
Need to register for you to get started with a resume photo app.
Resume Builder App Free (Android)
To complete our list, here is the best app called Resume Builder. This app allows you to get a professional-looking resume in just a mere instant. Just like other apps, this will let you save it as a PDF file. Only choose your desired template and complete all the needed information and then save it on your device.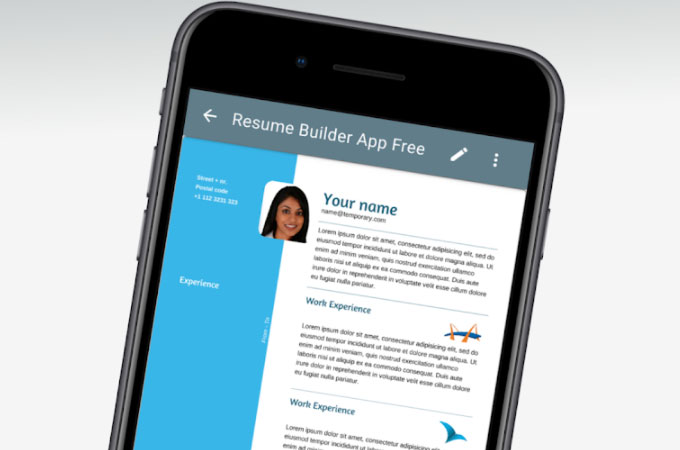 Pros:
Free from Ads.
No watermark.
Cons:
Experience a minimal lag.
Conclusion
Those are the useful resume photo apps that you can use. Choosing the right editing app is an important part if you would like to have a professional-looking photo. If you achieve a formal background, then Apowersoft Background Eraser is the best choice. For updated resume templates, you can test the rest editing apps.