Top 5 Quick and Easy Ways to Remove Watermark from Photo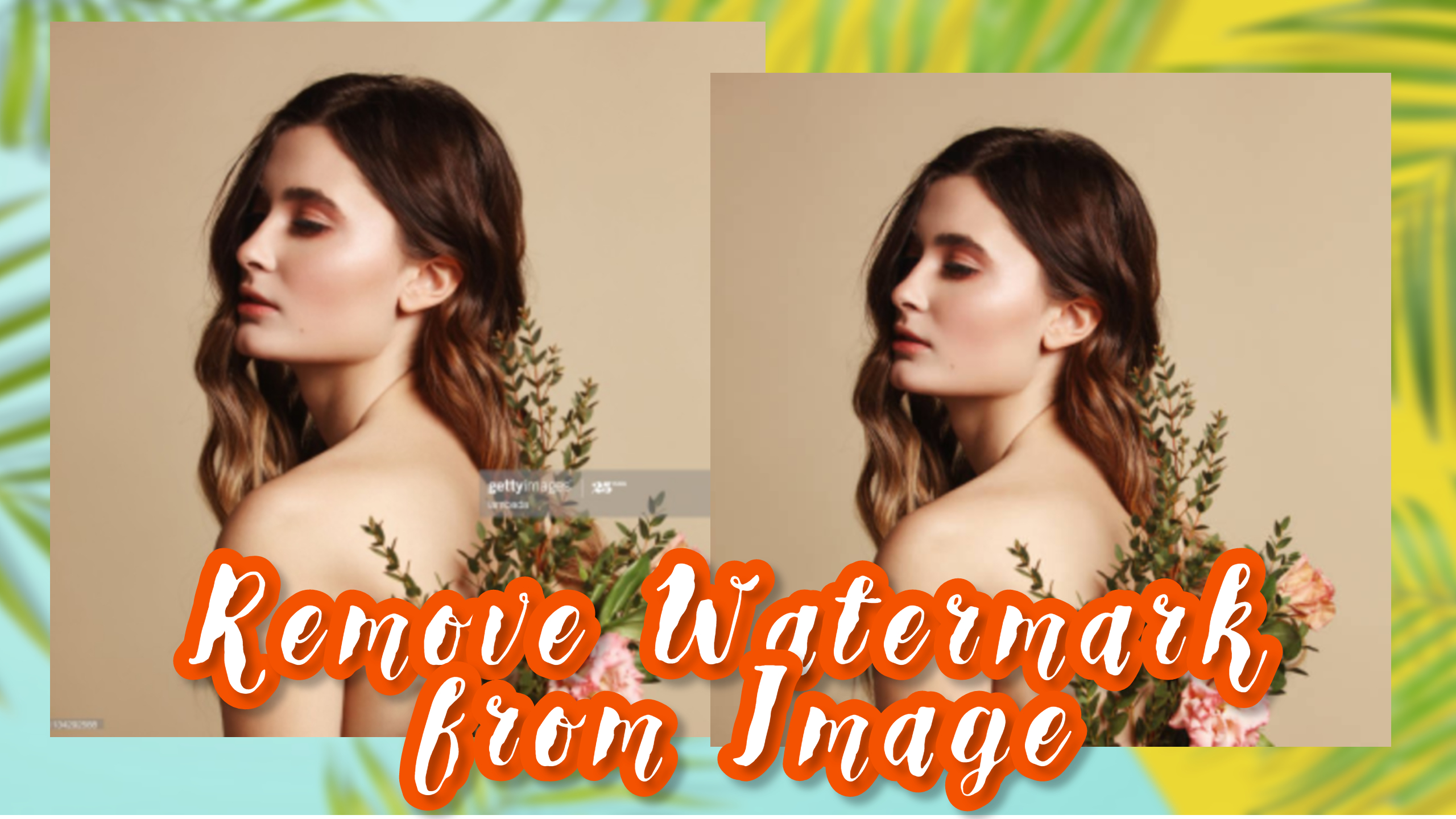 PicWish
Picwish is an online platform that specializes in removing watermarks from images. It offers a user-friendly interface, allowing users to easily upload their images and initiate the watermark removal process. The platform utilizes advanced algorithms and image processing techniques to effectively remove watermarks from images, saving users time and effort. Moreover, it can also be accessed from any device with an internet connection, providing convenience and accessibility. Overall, Picwish is a valuable tool for individuals or businesses looking to remove watermarks from their images and enhance their visual appeal. Here are the simple steps how to remove watermark using PicWish.
Get the app by clicking the button below.
Pros:
Easy to Use
Efficient Watermark Removal
Preview Functionality
Quality Considerations
Online Accessibility
Cons:
Limited editing features.
WebinPaint
As its name implies, Webinpaint is an application that allows you to remove watermark from photo online. Apart from watermarks, it can also help to delete unwanted people, erase wires and power lines that appear on your photographs. Since it's an online service, you don't need to download or install anything on your computer. Once you open the page on your browser, you can start to process your photos.
Click the "Upload Image" button to upload your photos into this web service. The photo will be opened in a new window.
After that, mark the watermark on the image with your mouse. If you need to adjust the size of the marker, you can drag its slider based on your needs.
Hit the "Erase" button at the upper right corner to remove watermark from image.


Click the "Download" button to save the processed photos to your computer. If you haven't had an account on this site, you will be asked to sign up and pay for the downloads.
Pros:
Simple to use without installing anything on the computer.
Useful zoom in and zoom out feature for big and small pictures
Cons:
Limited to JPG and PNG images
Maximum file size is limited to 10MB
Paid service
Photo Stamp Remover
Photo Stamp Remover is a photo correction tool designed to remove watermark from image. It can also delete date stamps, logos and other undesired objects from the photos. As it has a user-friendly interface, it is very easy to start your removing watermarks. This software enables the processing of hundreds of pictures simultaneously.
Open the software, click the "Add File(s)" button or directly do the drag-and-drop to import your photos into the software.


After that, you can select the watermark that you want to remove from your image. It has several options for the selection which you can find on the top toolbar.
Click the "Remove" button and it will take several minutes to process your photos. If you want to compare the effects before and after processing, you can click the "Original Image" option to check it.

Pros:
Provides lots of options for selecting the watermarks
Batch mode available for processing multiple photos at the same time
Cons:
Paid software
Not suitable for beginners
Unwanted Object Remover – Remove Object from Photo (Android)
If you are using an Android device, you can install Remove Object from Photo. This app is very easy to use when it comes to remove watermark from photo. This can also help you erase any object, date stamp, and logo. If you install it, you can see a simple interface which is perfect for beginners. Follow the simple steps below to know how to remove watermark from photo using this app.
Go to Play Store and install the app on your device.
Open the app and tap "Object remove" to go to images on your mobile device. Then select photo you want to edit.
Select the area of watermark by using its main tools such as brush and lasso tool.
To process, tap the "Check" mark to see the result of your edited photo.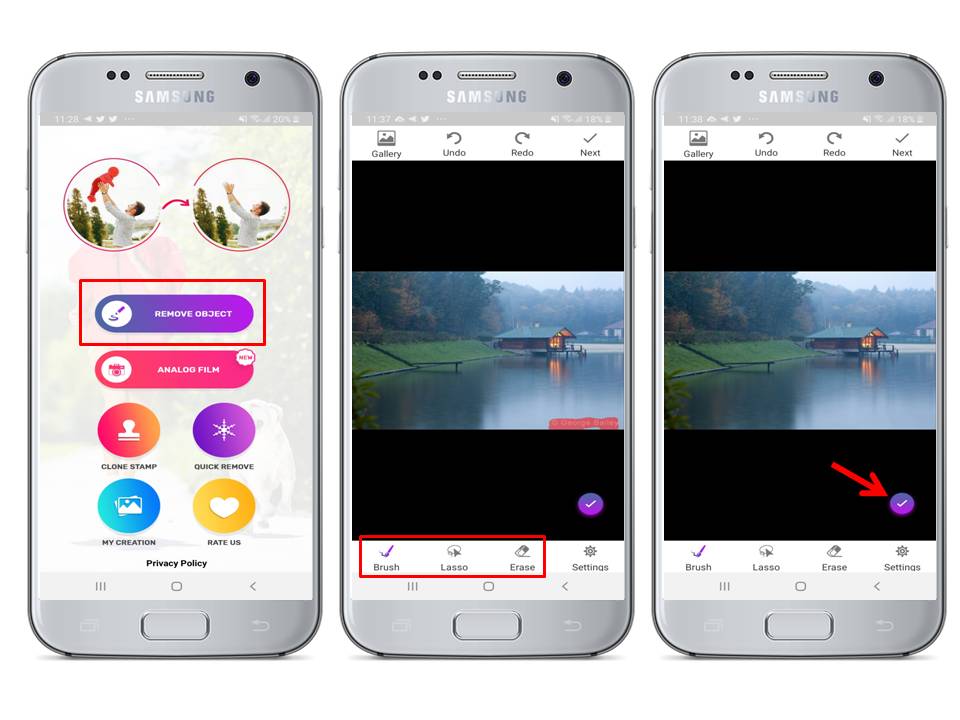 Pros:
It offer easy to use app.
It has basic features.
Cons:
Photo Eraser – Remover Logo (iOS)
The last tool that enables users to remove watermark from image is called Photo Eraser – Remover Logo. This app is well designed for iOS users to easily erase watermark from photo. This can also help you add and edit watermark. It offers a user-friendly interface that even beginners can easily navigate it. With a simple steps, you can now remove watermark from image. Follow the quick steps below.
Go to the App Store to download and install the app on your device.
Tap the "Remove Watermark" tab to add a photo from your library. Drag the rectangle shape from watermark area.
Lastly, tap the check mark icon and wait for the photo to be processed. Tap "Save Image" tab to find your photo at the bottom of the screen.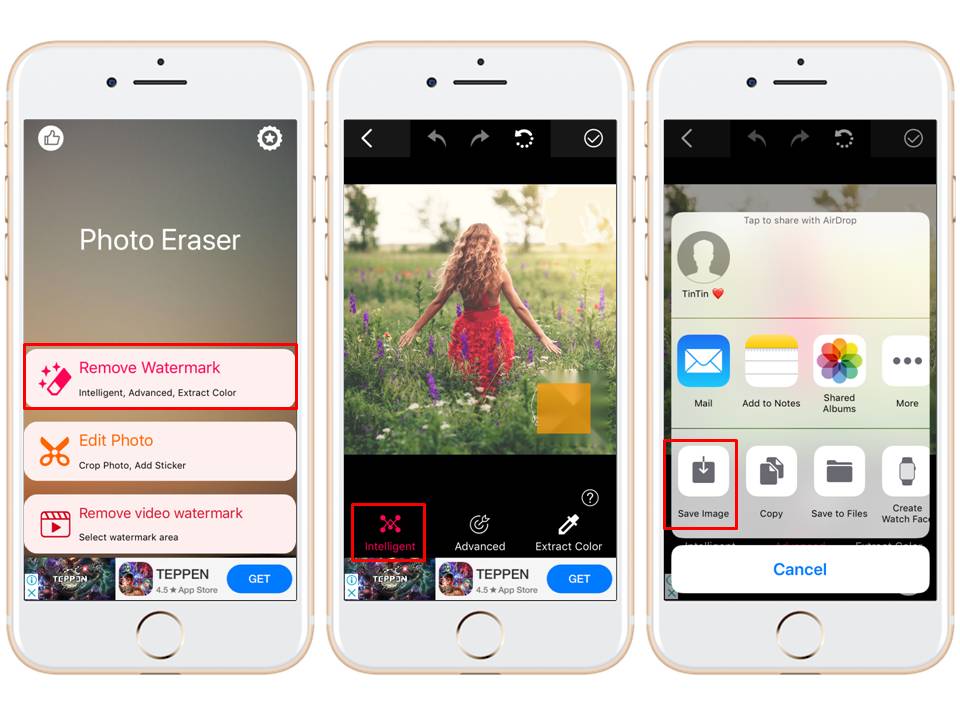 Pros:
It offers a simple interface.
It is free.
Cons:
Bottom Line
That's it. With the help of these tools, you can create an image without watermarks. From all the tools listed above Apowersoft Watermark Remover is the most recommended one because of its simple interface. Do you have other suggestions for removing watermark from photo? Leave your comment here to let us know.