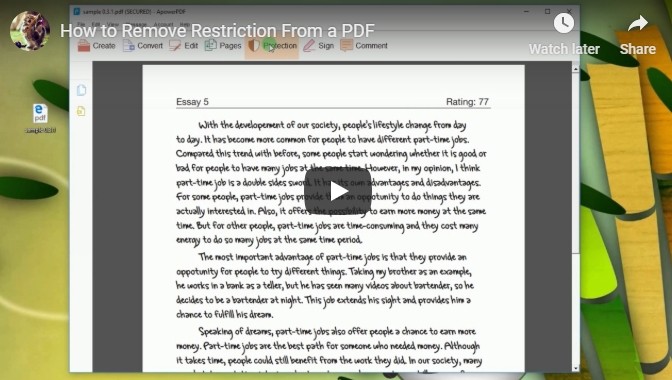 What Can PDF Password Remover Do?
Removes copying, editing and printing restrictions
Removes open password with the use of user password
With a password cracker, you can easily and quickly remove restrictions from PDF files. You will be able to copy text from protected documents as well as edit and print them.
Helpful PDF Restriction Remover Tools
How to Remove Restriction from PDF with ApowerPDF?
Download and install the program on your computer.
Once installed, launch the software then hit the "Open Files" button to add the PDF that you wish to remove the restriction then enter the password.

From there, click the "Protection" tab at the top toolbar and select "Remove Security" from the right side of the software.

After that, a window will pop up and you will ask if you are sure to remove the security of the document. Hit "OK" then save the file.
The PDF file is now unprotected.
What is ApowerPDF?
ApowerPDF is a powerful software that offers top-notch features to help you remove PDF print restrictions and more, which utilizes an advanced decryption function to crack passwords at lightning speed. You'll find the interface easy to familiarize with, even if you're a beginner user. Aside from unlocking protected documents, it serves as a standalone tool that runs without the use of Adobe Reader or any other PDF reader.
Other Ways to Remove Restriction
PDFdu Free Online PDF Restriction Remover
PDFdu is a free tool that can help you to enable PDF rights and get rid of restrictions. Once you unlock the protected file, you can use copying, editing, printing and commenting functions. It requires the network to work and you have to provide an open password if the uploaded PDF file is encrypted with an open password.

To know how this PDF restriction remover operates, please follow the simple steps below.
Upload your PDF file by clicking "Choose File".
Click "Remove Restriction".
Once the process is done, you can open file directly or download the unlocked PDF.
However, there might be cases that you fail to unlock your document successfully using this tool. And some users complain that there are many advertisements that appear on the page.
CrackMyPDF
Another free PDF web application that can remove PDF restriction is CrackMyPDF. It supports all versions of Adobe Acrobat. It works on files that are standard password-protected, including 128-bit AES decryption, 128-bit RC4 decryption and 40-bit RC4 encryption.

This is a very basic and simple tool on how to remove restriction from PDF. However, keep in mind that it's not capable of automatically finding or removing user/open password, removing other types of protection like DRM, or enabling Acrobat Reader to allow putting digital signatures, adding comments or saving forms locally. To remove PDF restrictions, please follow these two simple steps:
Click "Choose File" and upload your file.
Hit the "Unlock" button to go ahead.
Comparison of the Three PDF Password Removing Tools
PDFdu and CrackMyPDF are simple and straightforward web applications with no other advanced functions. It requires network for using. You can utilize these tools if you'd like to remove PDF restriction online.
On the other hand, ApowerPDF is best recommended for anyone who needs a comprehensive and efficient way to remove restriction from PDF that quickly gets rid of owner password as well as user password before opening and editing a PDF.