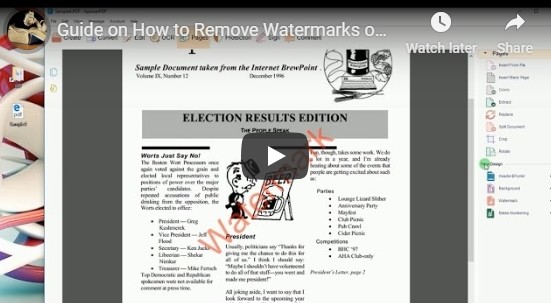 Three Simple Ways to Remove Watermark from PDF
LightPDF
With LightPDF, you just need one click, and can remove all watermarks from a PDF. It has a very neat and simple-to-use layout, so it won't be a struggle to find the tools you need.
To know more details about how this PDF editor works for removing PDF watermark, you can follow the steps below.
To get started, please have this editor installed from below.
Open the file with the program, navigate to "Tools" and find the "Watermark" option.
Click on the little downward arrow of "Watermark", it will bring up three options: "Add watermark", "Update watermark" and "Remove watermark".

Select "Remove watermark", confirm your decision, and you can successfully remove PDF watermark.

Remember to save the changes, so the watermark won't show up in your document anymore.
Additionally, LightPDF offers some other stunning features such as adding PDF watermarks, editing PDF content, cropping its pages, signing documents, converting PDFs, creating PDF forms, and many more.
Google Drive
Google Drive, which is commonly known as cloud space for storing documents, images, videos online, allows users to access those files easily from computer, smartphones or tablets. Unexpectedly, it can also be used to remove watermark. It is a fairly simple process, please refer to the detailed guide below to remove watermark in PDF file for free with Google Drive.
Upload the PDF file in Google Drive. After uploading, just right click it and select "Open with…" – "Google Docs".
Then you will find that watermark is on a separate layer from the rest of the document, and you can easily select it and delete it.
After removing watermark, you can click "File" – "Download as" – "PDF document" to change it back to a PDF.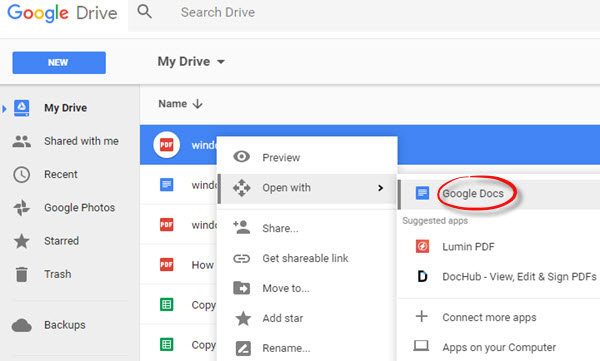 Though Google Drive is good to use, if the watermark is displayed in many pages, it's a little bit time-consuming to remove text watermark from PDF one by one manually. And this solution is not available on your mobile devices.
Remove PDF watermark in Adobe Acrobat
Adobe Acrobat DC is a well-known professional PDF editor, which is able to edit PDF documents, create PDF forms, as well as remove and add watermarks. Now, let's check its solution for removing PDF watermarks.
Load your PDF in Acrobat and then go to the top menu bar.
Click on "Tools", then choose "Edit PDF" from its menu.
Next, hit "Watermark" icon located on the top of the toolbar, a list of three options will then come up at the side, and you can select "Remove" from the bottom remove watermark from PDF.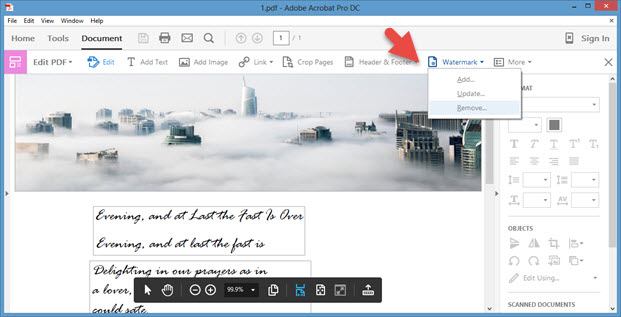 Simple and effective, as long as you already have it installed on your PC. However, it costs is expensive when comparing to other similar programs.
Comparison
Using Google Docs is a perfectly acceptable method to remove watermarks from PDF if you only ever expect to need to remove one watermark. If your document contains many watermarks, you would get very tired quickly in removing watermark one by one and repeating uploading and downloading process.
Adobe Acrobat is a very good method as well, but it's quite expensive and more suitable for professionals. In comparison, with LightPDF's smooth design and intuitive user interface, it's the most versatile and easy-to-use option.