Top 4 Tools to Remove Item from Photo
Apowersoft Watermark Remover
Apowersoft Watermark Remover is a stunning program that you can rely on if you need to remove an item from a picture. It provides simple removal tools that you can use including a lasso tool, marquee tool, and brush tool. Aside from those tools, this program has two methods such as "Regular Watermark Removal" and "Al Watermark Removal" that can be used to achieve good results. It does not require any photo editing skills as it offers a very intuitive interface and self-explanatory features. What's more, it allows you to edit your images in batch without impacting the original quality of your file.
Here is a step-by-step guide on how to remove items from photos using this program.
Get it on your computer by clicking the "Download" button below.
When the installation finished, open it and choose the "Remove watermark from image" option for your method.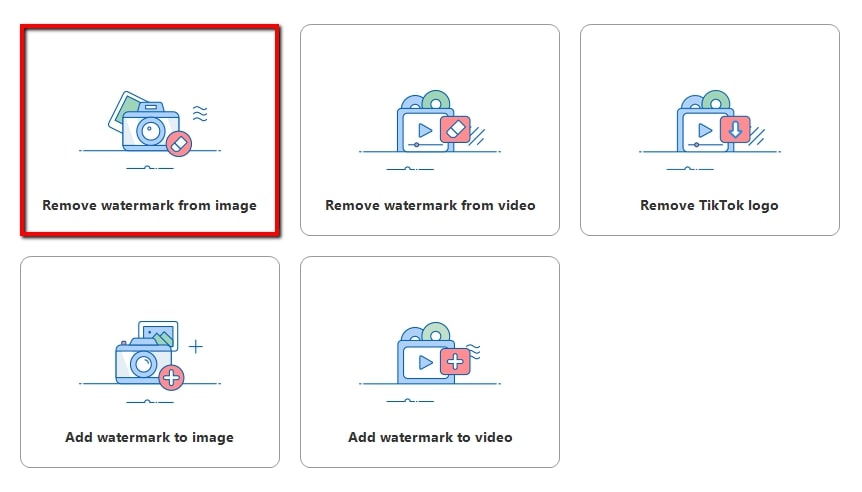 Click the "Plus" sign icon on the interface to import the photo you need to edit.
After that, choose the method and tools to highlight the item on your photo you wish to delete.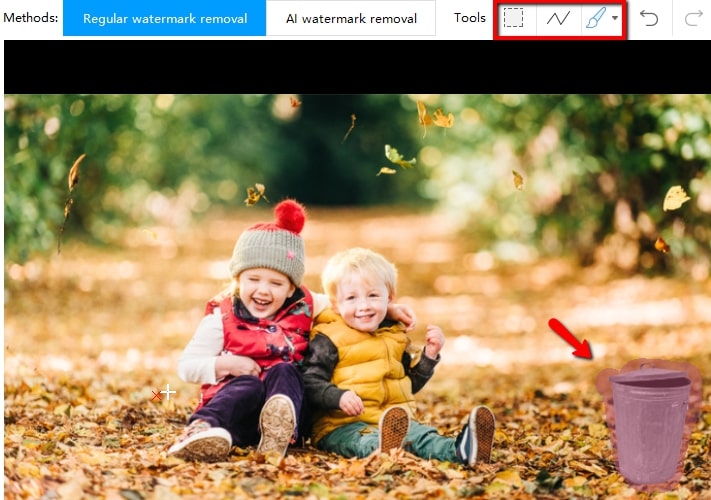 Save it by clicking the "Convert" button and the box will then will appear that says the conversion process is finished.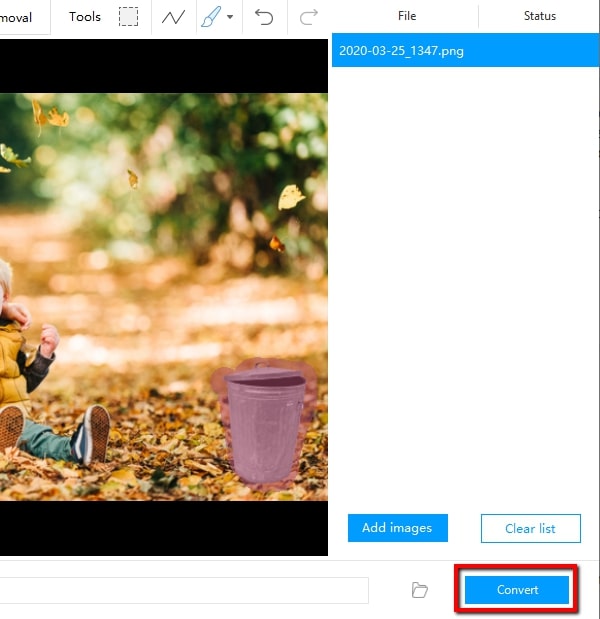 Remove Unwanted Object
If you are looking for an Android app to remove item from image, Remove Unwanted Object is one of the best option for you. This application provides brush and lasso tools that you can use to select any items in your image. It will help you process your image quickly, effectively, and easily.
Here are the simple instructions you can rely on.
Go to your Google Play Store to install the app.
Once installed, click the "Gallery" button and choose the image that you want.
Next, click the "Brush" icon and highlight the area of the item and hit "Process" to delete it.
To save it on your device, select the diskette-like button on the upper right corner interface.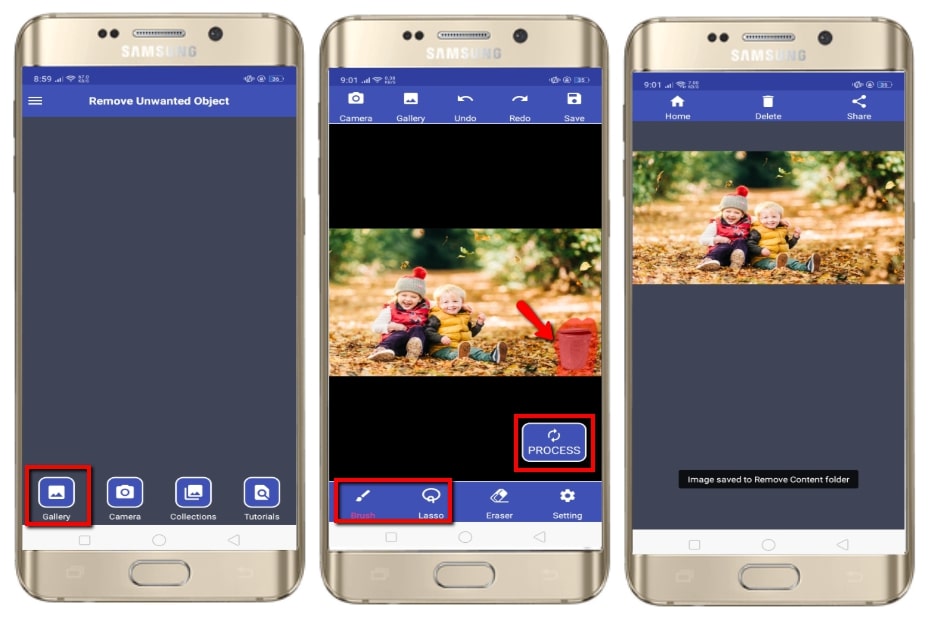 Photo Retouch- Blemish Remover
Another straightforward app to remove item from photo is Photo Retouch. This app offers two simple features that you can use to delete unwanted items including "Object Removal" and "Quick Repair". However, the app is quite expensive if you want to use its other features. But it offers a simple interface that's perfect for removing unnecessary objects from your photos.
In order to do that, refer to the steps below.
Get it installed on your device from the App Store and choose the "Free Trial" to start editing.
Next, tap the "Plus" sign icon to import the photo you want to edit. You can crop your photo and then tap the "Check" icon.
From the editing section, apply the "Object Removal" tool for the item you want to remove.
Tap the "Go" button to process the image or you can use the "Alter" button if you are not satisfied with the first result.
Finally, tap the "Save" icon to save it on your device. Or, you can share it directly to your favorite social media accounts.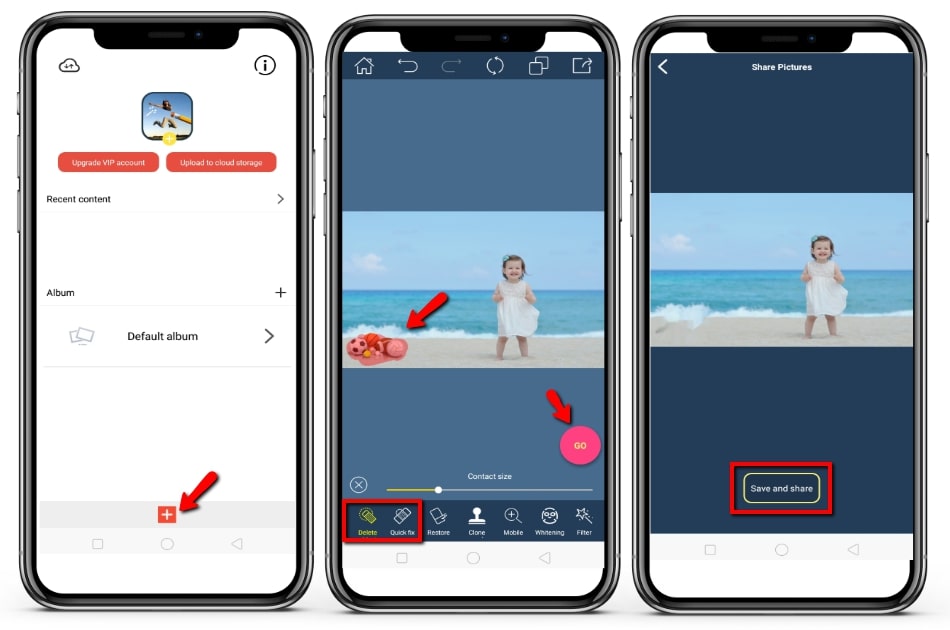 Inpaint
If you have a good internet connection, a reliable online tool called Inpaint is another well-recommended option. Because of its intuitive interface, you can easily remove items from photos. The only drawback is that you have to purchase it first before you can download or save a high quality image.
Follow the steps below to remove the item from your photo.
Head to your favorite web browser to open the official homepage.
From there, click the "Upload Image" button to upload the photo from your computer you want to edit.
Once done, select the areas of items from your image you want to remove or need to be rectified.
Next, click the "Erase" button to process the image.
If you are good with the result, save it by clicking the "Download" button.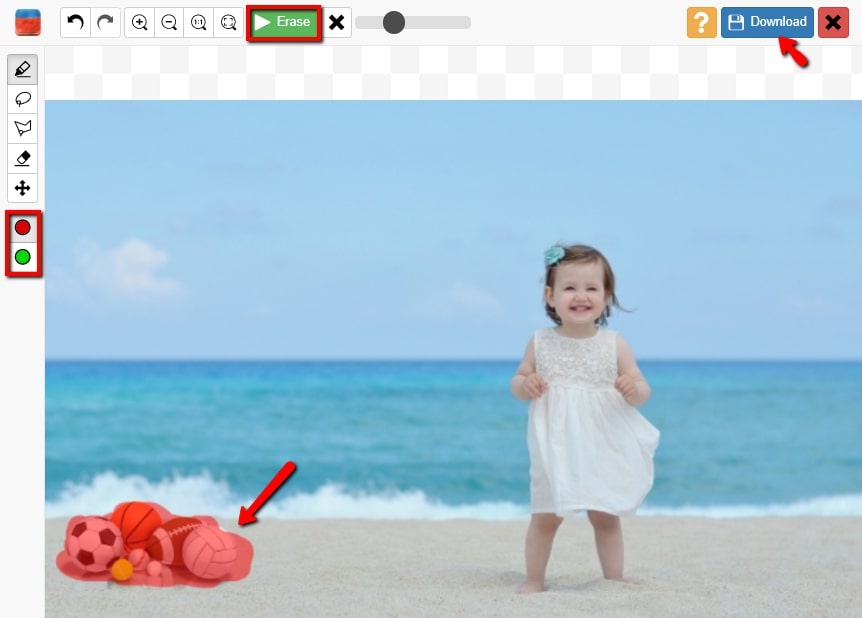 Conclusion
Those are the tools that you can use to remove items from pictures easily. The aforementioned tools are some of the best tools that we want to share with you to save your time and effort removing unnecessary items from your images. Just choose one of the photo editors above to get started.