When it comes to video editing, Filmora is one of the well-known and reliable tools that usually comes to people's minds. It allows you to combine, cut, trim, split, rotate, and other useful features. Unfortunately, a filmora watermark will be attached from your video because upgrading a free version into a pro version is required wherein you need to purchase for it. Otherwise, it will leave a big watermark on your video which will make your file useless. For that reason, we come up with this list of tools that will help you out in removing Filmora Watermark on your videos.
Easy Ways to Remove Filmora Watermark from Your Video
With Apowersoft Online Watermark Remover
If you want a straightforward way to remove filmora watermark for free, Apowersoft Online Watermark Remover is the recommended tool for you.
Go to its official page.
From there, choose the "Remove Watermark from Video" tab and get the video that you need.

Once uploaded, place the selection box on the filmora watermark.
Then, hit the "Erase" button.

Once completed, click the "Download" blue button to save your video.
Pros:
Free
Available for removing the watermark in a certain period.
Keep the original quality of the file.
Easy to use with a simple interface.
Supports both image and video file formats.
No need for the installation process.
Cons:
50MB maximum for uploaded video.
Why I Highly Recommend This Program?
With this simple yet professional online tool, you cannot only remove Filmora watermark from video but also any unwanted text, logo, person, or things on it, and also it applies the same features with images. Its intuitive function interface make this processs easy and efficient. If you just want to remove the watermark and don't do more editing, just try this free online tool.
Note:
This online tool is also available on Windows. If you get used to desktop software, follow the simple steps below to achieve a watermark-free video.
Download and install the software on your computer.
When installation finished, launch it and choose the "Remove watermark from video" and upload the video.

Click the "Plus" button to import videos or drag and drop them from your computer to the program.

Once done, click the "Selection Tool" then highlight the filmora watermarks of your video you need to remove.

Finally click the "Convert" button to process and save it on your computer.
Other Solutions
Remove & Add Watermark (Android)
Aside from useful software, you can also rely on an android app called Remove & Add Watermark to help you remove filmora watermark from video. It provides lasso and rectangle tools to select areas of watermark that your video has and remove it once selected. To use this app, see the steps below.
Open the app then choose the "Select Video" > "Remove Watermark" to import the video you have to edit.
Choose either from the selection tools to select the filmora watermark in your video you need to remove.
Finally, click the "Save" button at the top right corner of the screen to save the video into your phone.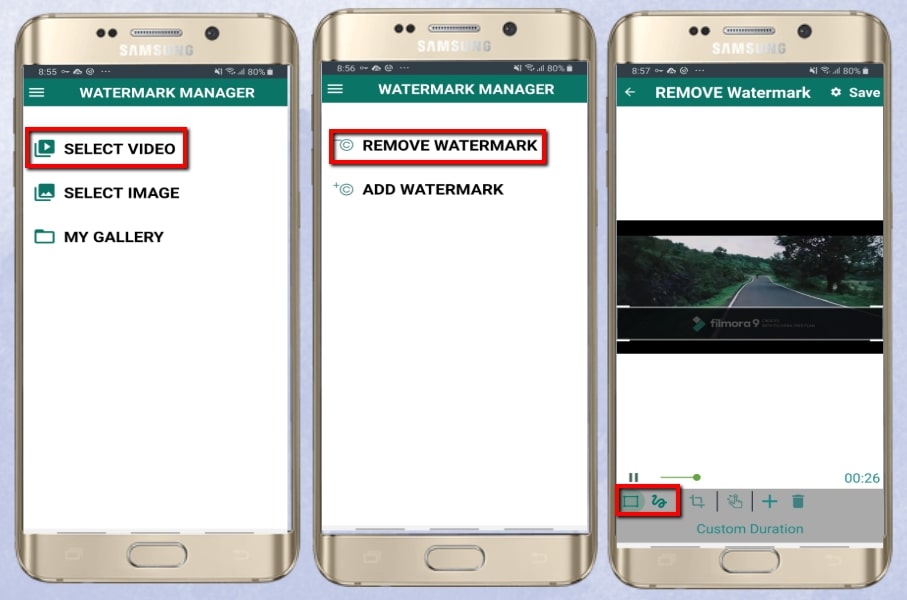 Video Eraser – Remove Logo (iOS)
Another useful app to get rid of filmora watermark is Video Eraser – Remove Logo. This app offers a rectangle tool that can be used to remove any watermarks from your video. However, just like other apps, annoying ads often appear which can distract you while editing your video. But it's still a good app to try. Here are the steps listed below to instruct you to remove filmora watermark.
Open the app, tap the "More" option then choose the "Crop video to remove watermark" option to import the video you need to edit.
After you choose your video, place the rectangle tool into the watermark in the video.
Wait for the video to be processed and tap the "Save" button to save it into your Library.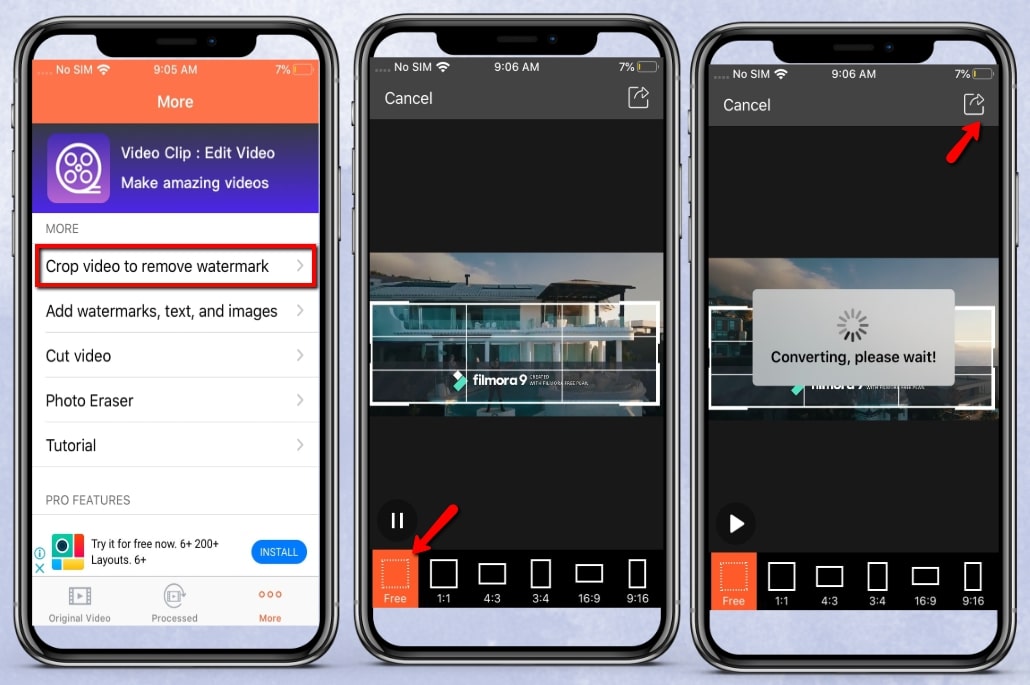 Conclusion
If you are looking for a user-friendly and efficient way to remove filmora watermark from video, Apowersoft Watermark Remover is highly recommended. Not only of the self-explanatory features it has, but it offers simple selection tools to get rid of filmora watermarks. Let us know in the comments below if you've used other tools to get rid of filmora watermark from video.