When it comes to video editing, Filmora is one of the well-known and reliable tools that usually comes to people's minds. It allows you to combine, cut, trim, split, rotate, and other useful features. Unfortunately, a filmora watermark will be attached from your video because upgrading a free version into a pro version is required wherein you need to purchase for it. Otherwise, it will leave a big watermark on your video which will make your file useless. For that reason, we come up with this list of tools that will help you out in removing Filmora Watermark on your videos.
Easy Ways to Remove Filmora Watermark from Your Video
PicWish
Picwish is an online image editing platform that allows users to enhance and modify their photos. However, when it comes to removing watermarks from videos such as Filmora, Picwish is one of the most suitable tools. To try, check the following steps below.
Get the app using the download button below.
Upload the video then click start.

Select the area of the watermark to remove then click Save All.
Pros:
Easy to Use
Effective Removal
Batch Processing
Retains Image Quality
Wide Compatibility
Cons:
Why I Highly Recommend This Program?
There are several reasons why Picwish Remove watermark from the video is highly recommended. Firstly, its user-friendly interface makes it accessible to users of all technical backgrounds. Secondly, it efficiently removes watermarks from images through advanced algorithms, ensuring a seamless result. Additionally, the app supports batch processing, saving users time when removing watermarks from multiple images. The app also preserves the original quality of the images, maintaining their resolution and clarity.
Other Solutions
Remove & Add Watermark (Android)
Aside from useful software, you can also rely on an Android app called Remove & Add Watermark to help you remove the Filmora watermark from the video. It provides lasso and rectangle tools to select areas of watermark that your video has and remove it once selected. To use this app, see the steps below.
Open the app then choose the "Select Video" > "Remove Watermark" to import the video you have to edit.
Choose either from the selection tools to select the Filmora watermark in your video that you need to remove.
Finally, click the "Save" button at the top right corner of the screen to save the video to your phone.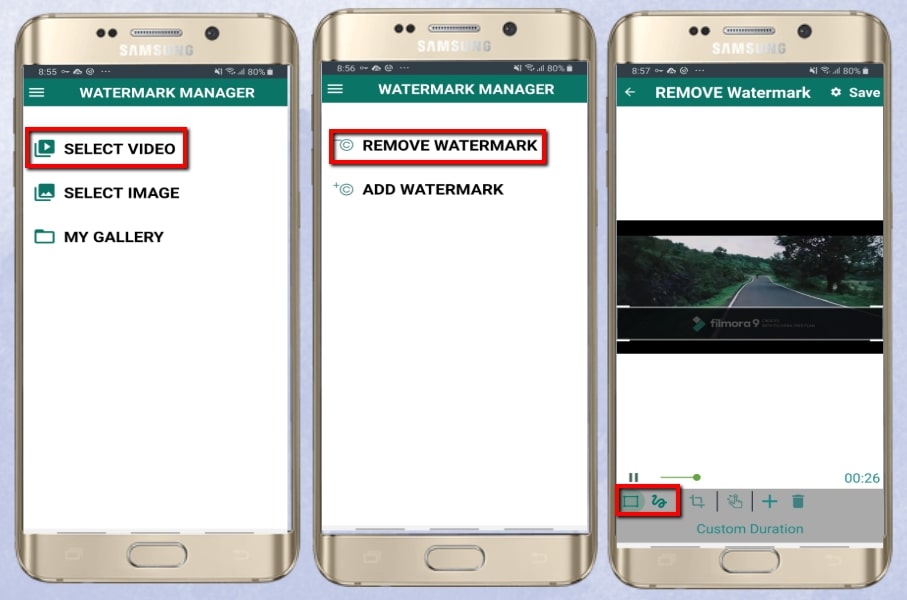 Video Eraser – Remove Logo (iOS)
Another useful app to get rid of Filmora watermark is Video Eraser – Remove Logo. This app offers a rectangle tool that can be used to remove any watermarks from your video. However, just like other apps, annoying ads often appear which can distract you while editing your video. But it's still a good app to try. Here are the steps listed below to instruct you to remove Filmora watermark.
Open the app, tap the "More" option then choose the "Crop video to remove watermark" option to import the video you need to edit.
After you choose your video, place the rectangle tool into the watermark in the video.
Wait for the video to be processed and tap the "Save" button to save it into your Library.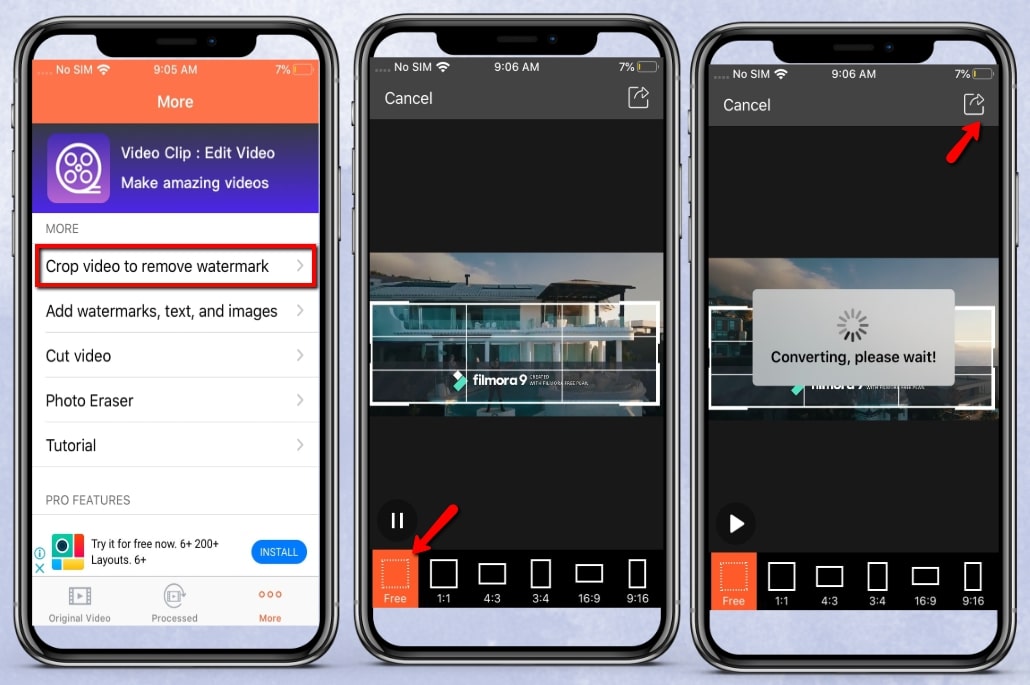 Conclusion
If you are looking for a user-friendly and efficient way to remove Filmora watermark from a video, Apowersoft Watermark Remover is highly recommended. Not only of the self-explanatory features it has, but it offers simple selection tools to get rid of Filmora watermarks. Let us know in the comments below if you've used other tools to get rid of Filmora watermark from the video.