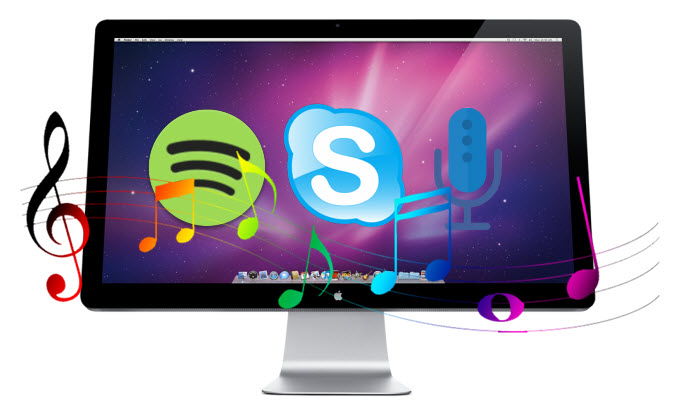 On Windows PC, it is very easy to record audio files. You can use the built-in Sound Recorder Application and there are tons of free recording programs widely available online. However, on Mac computers choices are pretty limited not to mention super expensive should you find a good trusty one. On top of this, most free applications can only record mic voice and not the audio through system sound card. So how can you record sound on Mac without spending a dime? Well you can use Apple's very own media application which is the QuickTime.
Although, better be warned that QuickTime is not a professional audio recording tool. While it can capture sounds playing on your computer, expect it to be low in quality. Frequent errors and bugs can also affect your recording making the whole process a bit problematic for some. If you wish to get some simple yet powerful tool, check out this article and discover them.
Workable Free Sound Recorder for Mac
Apowersoft Free Online Audio Recorder
If you want to record high quality audio on your Mac computer without installing extra applications, then the Apowersoft Free Online Audio Recorder is what you need best. This web-based app needs not to be installed on your computer, but instead it uses internet connection to capture both system sound and external audios such as those on microphone. To run it smoothly, you just need to install a light launcher for the first time, then the tool can work for you instantly. Now, let's check the concrete guide for recording sound on a Mac.
Visit the app's website and click the "Start Recording" button.
Enable the launcher, then the tool will display on your screen.
Before recording any sound, choose the appropriate "Audio source".
Play the audio file that needs to be recorded and click the red record button to start the process.
You can pause and stop when needed.
Go to the "Library" and check your recorded audio.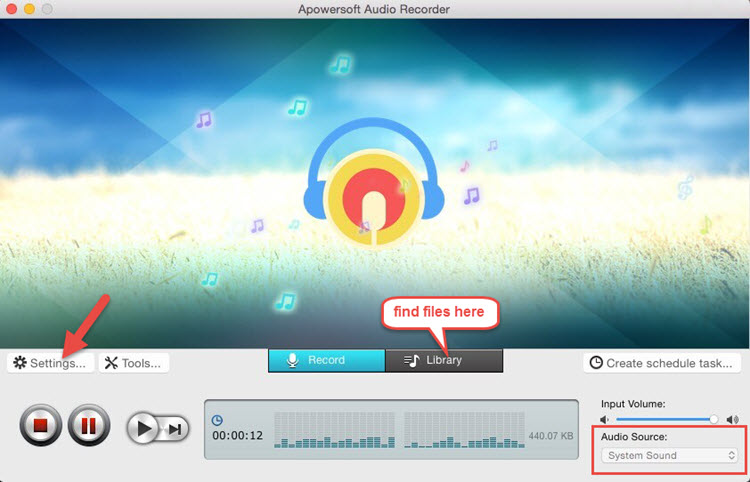 Aside from high quality audio grabbing, you could likewise use this tool to edit ID3 tags for better organization of your audio files. There's also a built-in player that allows to play audio files continuously. What makes the Apowersoft Free Online Audio Recorder unique amongst other applications is that you can make scheduled recordings which let you save a precious amount of time and effort.
Garageband
Another free software which empowers you to record sound from Mac free is called Garageband. Compared to the above mentioned application, Garageband is not an online app but rather a desktop program that have been pre-installed on your Mac. It is mainly used for sound editing and music producing, but the included recording feature is sufficient enough to grab audio playing from your PC.
Open the program and start a new project by clicking "Create new podcast episode".
Name your project, then click "Create" to continue.
If you just wish to capture a playing sound, simply get the file ready for recording.
When everything is set, click the red round button on the bottom of interface. And when you're done, press the button again.
In order to save the recorded file in MP3 format, please click "Share" – "Export Song to Disk", then choose a folder for placing the file.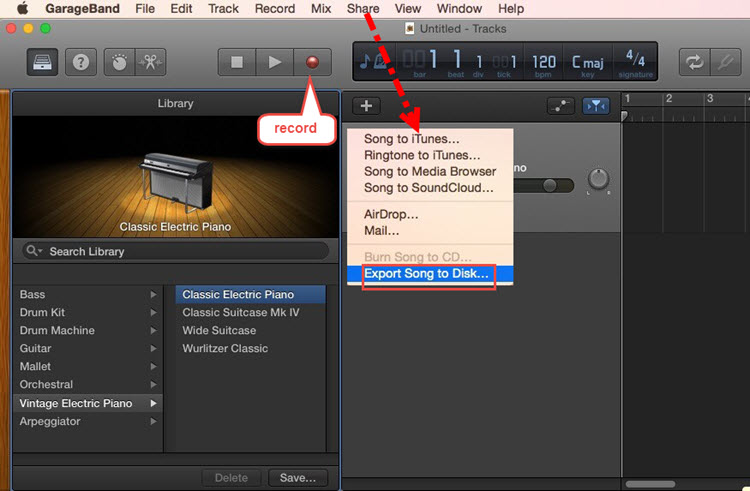 After you record the sound, you also could utilize the software to add effects and edit the file at will.
Piezo
The last option we would like to mention here is Piezo. This tool allows you to record voice from microphone or other external audio devices and capture online audio. It requires little to no configuration at all making it handy for users with very little technical knowledge. You can use Piezo to record streaming audios from your browser, skype conversations, DVD audio, sound coming from external devices, audios from music and many more.
In order to record sound on Mac successfully, just follow these steps:
Open the application and choose the appropriate audio source like "Chrome", "Skype" or others.
Prepare the audio that needs to be captured then click the "Record" button.
Hit "Stop" to end the recording process, then the file will be stored to the target folder automatically.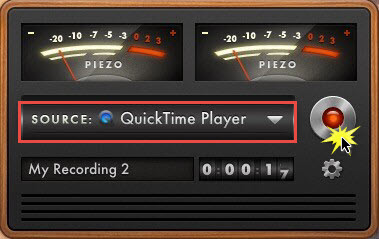 Although Piezo is very simple to use, bear in mind that this software is not 100% free but only free-to-try. The free version will only allow up to 10 minutes of recording and beyond the time limitation, an overlaid noise can be heard. The full version with unrestricted functions will set you back at $19 for a single user license key.
Final Thoughts
Recording sound on a Mac is quite convenient with the help of the above tools, you can just do it stress-free. However, when choosing the right software, always read the fine print along with limitations of use which is very common on freeware recording applications. Garageband comes free but the paramount features make it too technical for simple audio recording. Piezo on the other hand is easy to use but sadly limited until you purchase the license. For best audio recording that is free, no-installation needed, simple to operate, the Apowersoft Free Online Audio Recorder is indeed worth it to try.