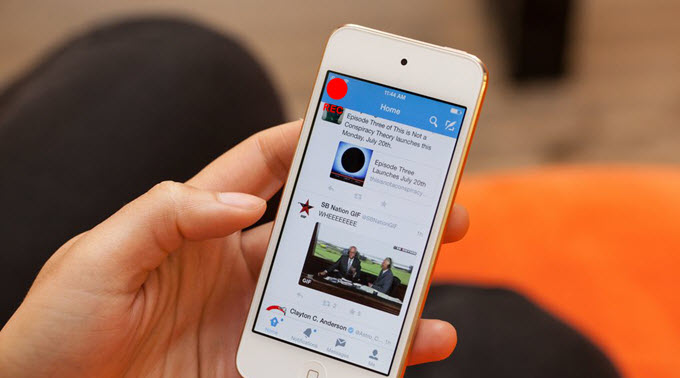 Designed and manufactured by Apple Inc., iPod is categorized as a portable media player and a multi-functional pocket walkman as well. The features of this device are similar to other iOS devices. It can also download applications and games from App store. Users can listen to the music, watch movies and enjoy many other recreational issues on this device. To record iPod screen is essential for it comes into handy when making tutorials, or simply for personal safe keeping. If you are an iPod user and don't know how to record its screen, then some of the best methods will be provided as the post continues.
Recommended ways to record iPod screen
I. Utilize Apowersoft Screen Recorder Pro
In recording the screen of iPod, the best way to do it is by using an outstanding app called Apowersoft Screen Recorder. This program supports multiple formats for output video, and a real time editor and video uploader are also available. Plus, various recording modes are available in this application, which allow you to record any area on screen. You can also record desired audio input along with screen recording. Besides, it comes with a screenshot tool and task scheduler which can record your screen even at your absence.
To record iPod screen with this recorder here are the steps to follow.
First of all, you should project your iPod touch screen on computer. To do this task you can use Apowersoft Phone Manager. Go to its site then click "Launch Application" to activate the web-based program. Next, connect to your device on computer via USB cable. Once your iPod touch screen has been projected on PC screen, you can do as follow to capture iPod touch screen.
Download and install Apowersoft Screen Recorder Pro by clicking the button above.
Open screen recorder and make some necessary settings like choosing video format and customizing hotkey, output folder, etc. in "Options".
Resume to Phone Manager and click "Display in full screen" button. Next, simply hit the hotkey that you've set to start recording and click "OK". The recording will then start automatically.
Once done recording, simply press the "Stop" button on the control bar and the file will be saved on the output folder that is set.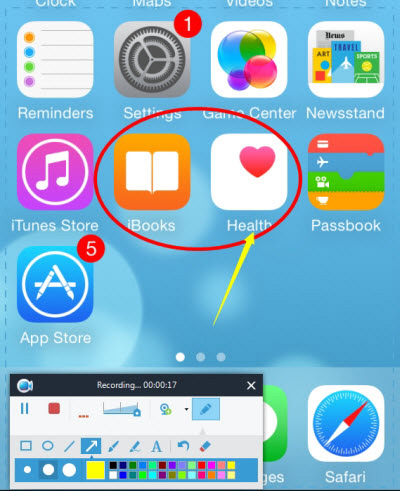 It's recommended to use Apowersoft Screen Recorder Pro to record screen on iPod, because it's equipped with some smart tools that will come in handy, such as making real time editing on screen and uploading video to YouTube and FTP server, etc.
Furthermore, this recorder also has an online version named Apowersoft Free Online Screen Recorder. It's very convenient to use for this application can be launched on webpage directly. Absolutely, the online version also works great in capturing screen on iPod.
II. Record iPod screen with QuickTime
If you are looking for ways on how to record screen on iPod touch with Mac application, then you can utilize QuickTime player. This is an easy solution to use if you have a Mac device. QuickTime is basically a media player, yet it also has a function to record your iPod screen on your computer. By using this method, you must firstly connect your iPod to your Mac device via USB cable. Once connected, open QuickTime player click "File", then hit "New Movie Recording". A recording window will appear soon, then click the drop down menu located beside the "Record" button, and select your iPod. To begin with the recording, simply press the "Record" button, and to end the recording click "Stop".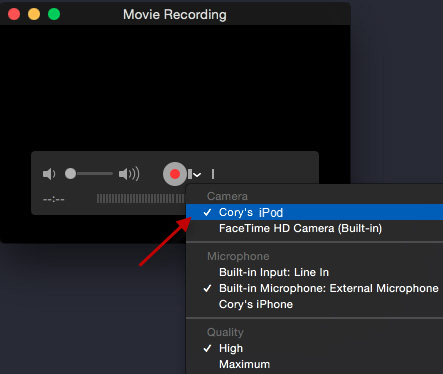 Although this way works nicely in recording iPod touch screen, this method falls short in generating videos in other formats. That makes it inconvenient to export video to other devices. Also, it's limited for choose other recording modes and settings.
III. Make use of recording app
If you wish to use a screen recorder for iPod touch without connecting your device to computer, then you can make use of an app called iRec. This app is created by an independent provider so you can only get it by visiting Emu4ios.net. Even if it is not available on Apps Store this tool is stable enough to record your iPod screen efficiently.
To use this app simply follow these steps.
Open Safari from your iPod and search for Emu4ios.net.
Upon the site, search iRec and click "Get" to download it.
A pop out message will appear that says "emu4ios.net would like to install iRec", and then"Install".
When the app is installed, you can start recording the screen of your iPod by keying in the name of the video and then tap "Start Recording". The recording will then start instantly.
To stop the recording open back iRec and tap "Stop Recording". You can then view the recorded video under the "Recordings".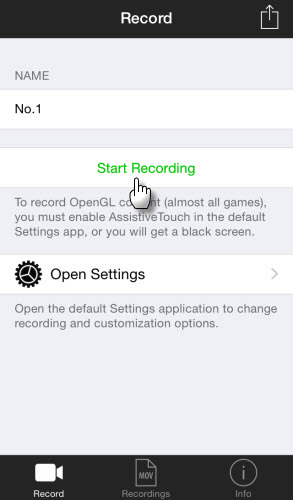 Tips: In recording gameplay using this recorder it is advisable to enable "Assistive touch", on the device settings.
Conclusion:
Those are the finest ways to record the iPod screen using different recording applications. Each iPod screen recorder is unique with each other, so choosing the tool depends on the preference of the users. But for better recording experience it is advisable to use the first method for it is a well-rounded app perfectly made for recording screen.