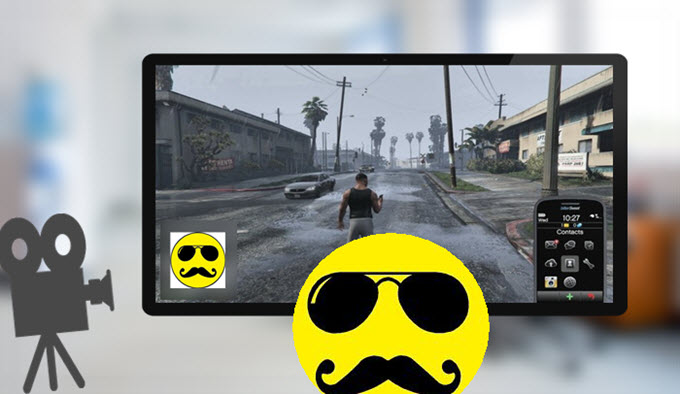 With the rapid development of technology, Internet plays much more important roles in netizens' working, studying, and entertainment. Many people are obsessed with making nice tutorial videos, creating funny videos, capturing game videos to share with friends. There is even a trend of putting their own face into a video to make it vivid and attractive. On this occasion, a few companies and dot-coms are emerging to offer proper software to accomplish video tasks. There are many ways to put your face in a video. I think we should just focus on ones that are the most user-friendly.
Two ways to put yourself in a video
Way 1: Free software for Windows(Simple)
Way 2: Online website (Comprehensive)
Way 3: Mac solution to put face in video
1. Apowersoft Free Online Screen Recorder – Easiest way to add face into video free
The first method involves a picture-in-picture viewing mode. This allows for you to conduct video tutorials for course material, a video game walk-through, you can even provide a commentary for your favorite cooking video or recipe. The easiest user-friendly site to use for this type of video is Apowersoft Free Online Screen Recorder. Just use their online tutorial, or follow these few easy directions.
Just go to the official site of this free online screen recorder and launch application by clicking on the button. If you visit site for the first time, it will ask you to download and install a launcher to activate the tool. On doing that, you can open the tool on webpage and use it without hassle.

On seeing its clean user interface, you can customize some settings such as recording hotkeys in the options menu. Choose one audio input source such as "system sound and microphone".
Next open up any program on desktop and start recording a video. Adjust the blue rectangular frame to be suitable for screen capturing and click on the "REC" button. During recording process, click on webcam icon to add your face into the recorded video.

When you put yourself in a video, you can select the edit button to give the video your own written comments, add your own graphics, or use arrows to help identify a specific points of interest on the screen during playback.
To finish recording, click on pause button and then tick the check icon to go ahead. Just click on the "save as video" button and your video will be saved in the output folder automatically.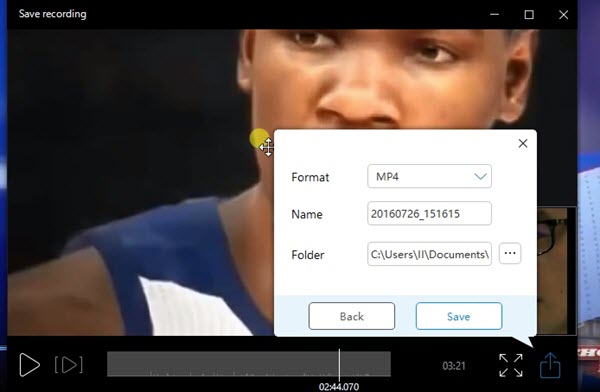 2. JibJab – Online website to put your image into given videos
The second method is put your face in a funny video, like a music/dance video, or a funny e-card to send to your friends and family. Just superimpose your face onto the character and let the laughter begin. It is simple to do using JibJab, there are only a few simple steps to making your video and making everyone laugh.
1
Select the themed videos from the website, choose the options in the videos to make it unique to your interests.
2
Select your character, and select one image want to use (either from one of your galleries or use the webcam to take a new photo).
3
Use the cutout and get your face sized correctly. Set the eyes on the line, zoom the image in/out, and use the points around the outline to shape cutout.
4
Use the mouth cutout to align the points with the lips of the photo (this is to animate the singing of your photo). Press the "Animate" button to see if the movement is right, readjust until you get it how you want it.
5
Repeat the steps 1-4 for all of the characters in the video… then just watch and share.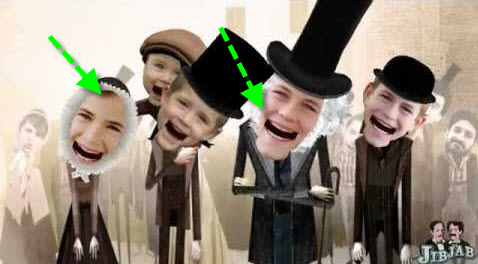 Suggestions for adding your face into video:
Make sure the image you are uploading is either a JPEG or PNG file and lower than 8MB in file szie.
One new window should be appearing when you click the "Upload Image" button. Pop-up blocker must be off.
3. Mac OS: Put yourself in a game video
Gamers, not matter they are Windows users or Mac users, are always preferable to post their gameplay videos to YouTube in order to display cool skills and tricks of every race, level or victory. And it's more creative and attractive to stream the gameplay with themselves in the video. However, many people can find a solution for Windows but there seem very few tools are available for Mac OS computer. Here I recommend Apowersoft Mac Screen Recorder and it can works on Mac perfectly.
Moreover, it was simple to add yourself into a video. Just like the windows version, you simply need to click the "camera" icon on the task tool bar when you choose "Region" mode to record. Compared with other ones, it is much safe and steady to use.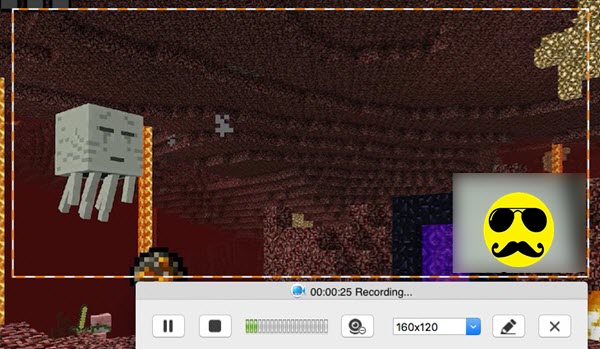 If you want to put one image to a funny video, you can take a photo and make use of it on JibJab. But if you are looking to make a tutorial or record yourself during game-play, use Apowersoft Free Online Screen Recorder to put yourself in a game video. Try them both, they are a lot of fun. That's it! watch, share, convert, and laugh!