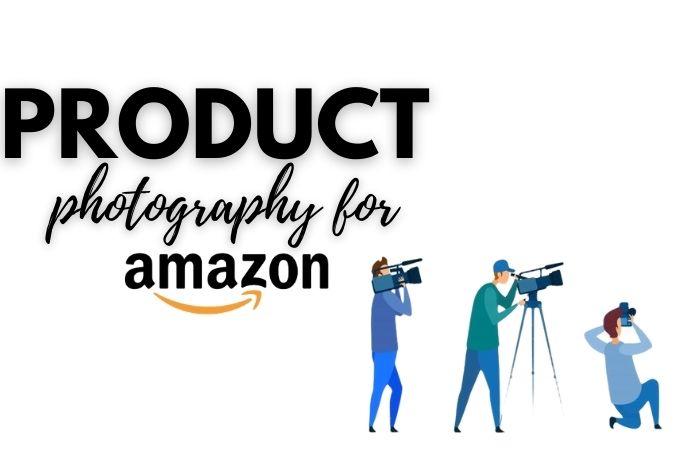 Product photography for Amazon plays a crucial role in generating sales. The photo is the customer's first impression of your Amazon selection. If they aren't interested, they'll search elsewhere. This is why most sellers need to have better product photography. If you are one of them, simply check some of the practical and useful guides we listed below for you.
Guides for Better Product Photography for Amazon
Requirements of Product Photography for Amazon
When you want to publish a new product on Amazon, you need to meet the site's product image standards. Refer to the following requirements listed below to familiarize yourself with the standards.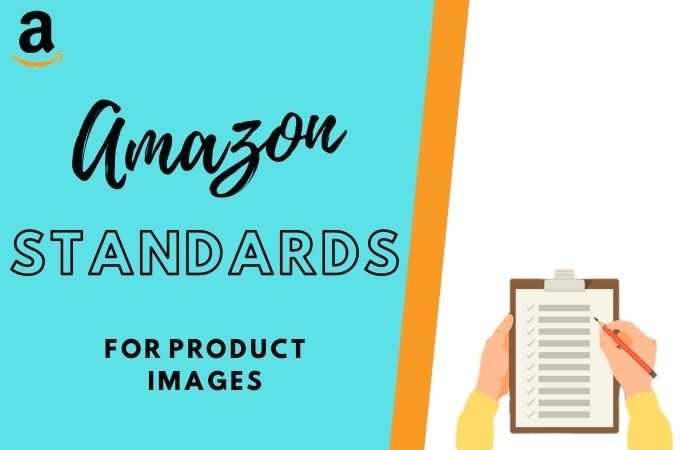 Image size must be at least 1000 pixels (width or height).
All background color should have a clear and white background.
Upload JPEG, PNG, GIF, or TIFF files for file format.
Avoid adding text, borders, logos, and watermarks in your photo.
How to Take Product Photos for Amazon with your Phone
Use a Natural Light and Turn your Camera into Portrait Mode
If the only equipment you have at home to take a product photo is a smartphone, you should use natural light and portrait mode from your camera. This is a good example of the best Amazon product photography especially if you have no budget. Basically, natural light refers to any light made by sunlight that can produce great photos with the help of portrait mode. But using too much light may produce an undesired color distortion and might ruin the entire product image. Portrait mode keeps the subject in focus and the background out of focus.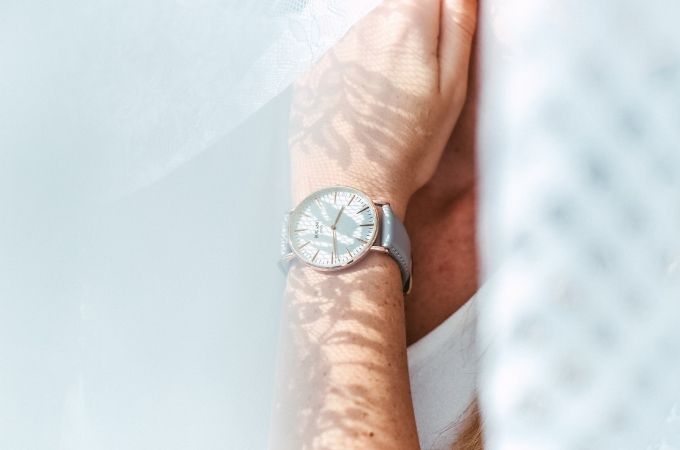 Use a Whiteboard to Achieve Consistent Look
Using a whiteboard is one of the easiest ways on how to take product photos for Amazon. It's a simple way to achieve a consistent, clean look. Get a whiteboard from any local shop or even Amazon. Besides that, you'll need a level surface to place your product and start shooting your photos.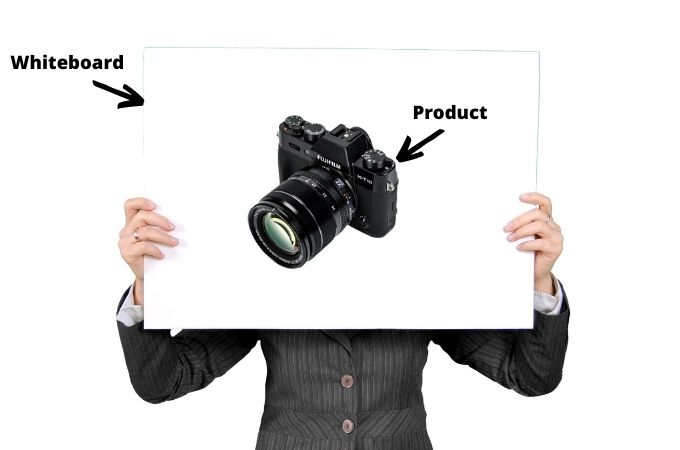 Apply Camera Angles
There are several angles that work well for product photography for Amazon. This includes eye level, high angle, low angle, bird's eye, and slanted. And all these angles allow you to emphasize the features of your product and make it more engaging for your customers. Of course, to take a perfect shot for your brand, you should use them properly and familiarize yourself with the details of each.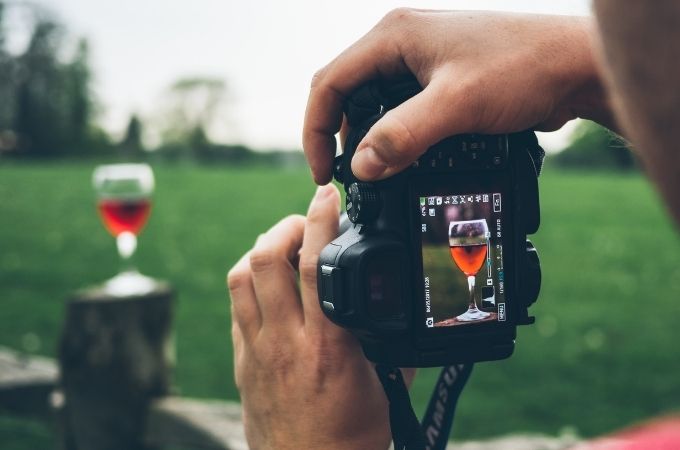 Take a Basic Photo Editing Class
It is important to learn basic photo editing tips to succeed as a seller on Amazon. You can watch free tutorials on any social sharing sites such as YouTube and Facebook that will guide you on how to take product photos for Amazon. Some of them will teach you to crop and clean up your photos, adjust white balance, adjust exposure and contrast, and sharpen images.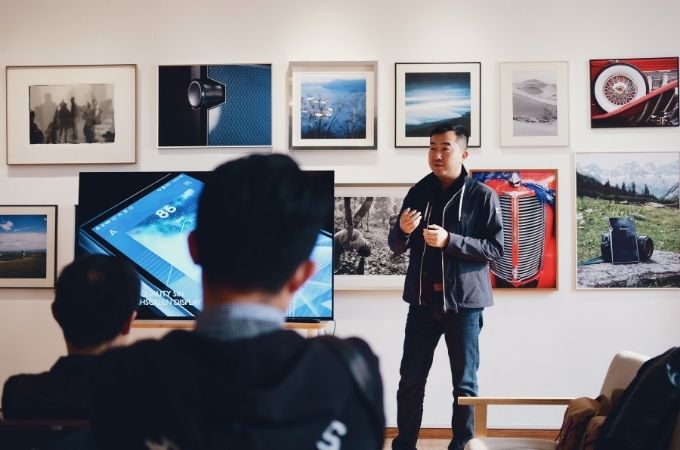 Free Guide: How to Edit Pictures with Apowersoft Background Eraser
Like we stated above, you need to prepare a flat surface, a whiteboard, good lighting, and of course a camera to get started with your product photography. Next, you'll need to edit your photo to improve the quality. One way is using a photo editing app called Apowersoft Background Eraser. It is the best option for product photography for Amazon. This app helps you change your background with a plain color or a custom background to acquire clear background and natural lighting. Also, it works well both on Android and iOS devices and lets you crop, resizes, duplicate, and flip your image.
To learn how to edit product photo, follow the steps below.
Open it to choose product recognition.
Then your background will be removed instantly.
To enhance your photo, tap the "Beautify" tab to adjust the brightness and saturation.
Then to add a white background, tap the "Background" tab then choose the color white.
Finally, hit the "Save HD" button to process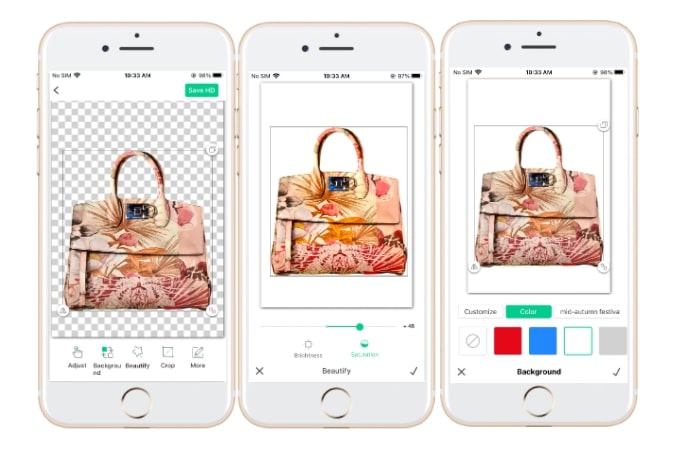 Conclusion
Whether you are an expert or beginner, an important aspect of improving your sales is product photography for Amazon. And this is the first step in gaining the interest of your customers and making them want to purchase your product. Therefore, in order to obtain the best result, follow the steps outlined above.