8 Best Photo Editors for iPhone
Apowersoft Background Eraser
Apowersoft Background Erase is the best and simplest background photo editor that will help your creativity and efficiency in the field of photo editing. You can use it from individual photo editing, eCommerce presentation, to marketing design. With the use of its clever AI technology, it will be easier for you to remove/ change the background, make blurry photos clear, remove unwanted objects, and more. Also, you can do batch processing to save time and effort with this best photo editing apps for iPhone.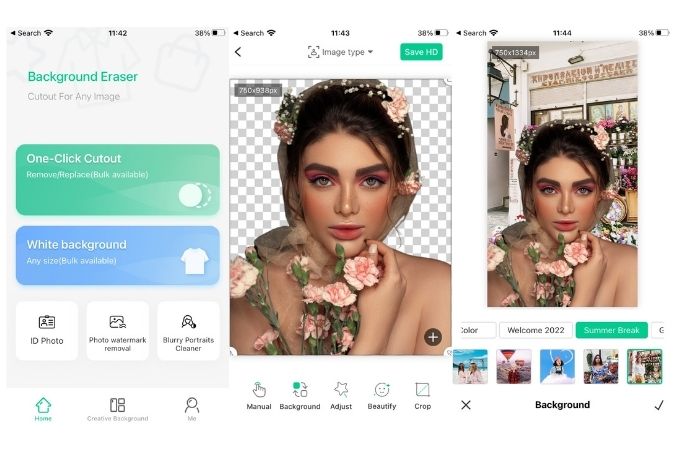 Pros:
It is powered by AI technology for good output result.
Remove multiple background at once.
Make blurry photos clear
Create ID photos
Basic photo editing features: crop, flip, duplicate, adjust brightness and saturation
Cons:
It is free but with in app-purchases
Snapseed
Snapseed is one of the most used photo editors that you may have on your iPhone. It almost has useful features for the advanced and the basic ones. These pro-level editing tools will help you out in turning any effect with precision, adjusting white balance, and more. This another best free iPhone photo editor will surely make your photo editing life simple.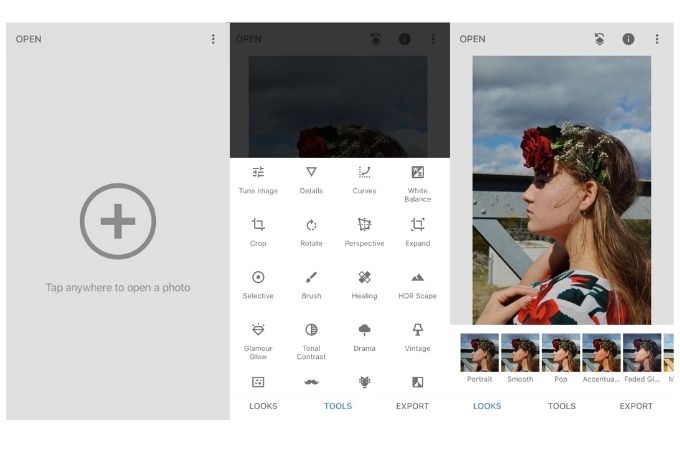 Pros:
It consists 29 photo editing tools.
Accepts JPG and RAW files
Offers tutorial cards that will guide you about Snapseed
Seamless photo editor
Cons:
It doesn't support other photo formats.
PhotoLeaf
A full-featured photo editor that you can install on your iOS phone is PhotoLeaf. This layer-based photo editing app will let you do some adjustments and advanced editing on your photo. With just the use of your finger touch, you can create an amazing multi-layered file. Try this best photo editor for iPhone that will definitely enhance your photo 10x.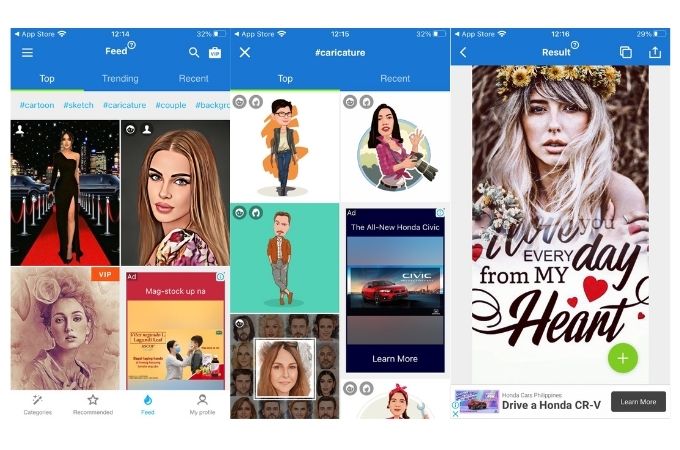 Pros:
It will let you do some color correction.
Adjust light adjustments
It offers color splash photo effects
Offers standard editing features
Cons:
Need for subscription for unlimited access.
Afterlight
Afterlight is one of the most high-quality photo editor apps, yet can create the most complete and easy-to-use photo enhancer app. With its continuous expanding filter library. Also, it has different emulation techniques like shifting RBG channels with our color shift tool. With Afterlight, you can have the best photo editing apps for iPhone that you will ever experience.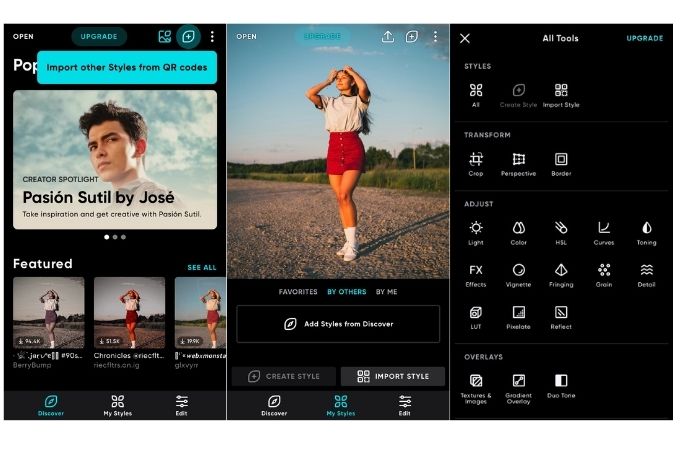 Pros:
Provides 130 plus unique filters
Edit photos with 20 plus advanced tools
60 + pre-set textures and overlays
Customize photos with unlimited color options and more.
Cons:
Subscribe for full access to all features.
Polarr
Another iOS app that can easily beautify your photos instantly is called Polarr. It has an advanced overlay, AI segmentation tools that can make any effects you want for your work. With this app, you can use endless filters and styles. After that, you can directly share your edited work on different social media accounts. Have this best free iPhone photo editor by just getting it on App Store.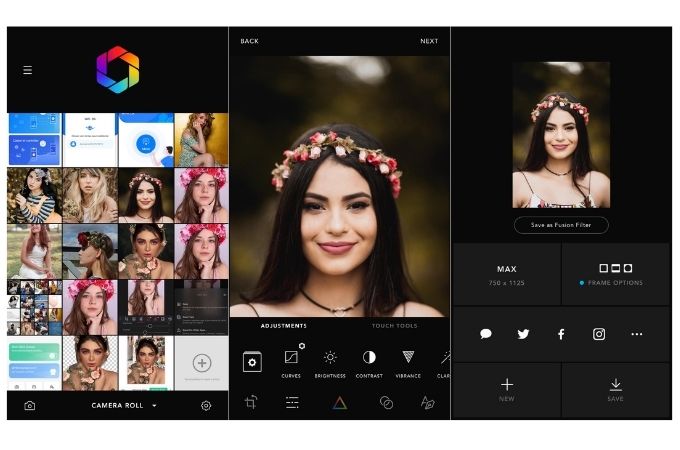 Pros:
It updates weekly for new styles and looks
Create and share your own styles using QR codes
Advances overlay, A.I. segmentation tools, and more
Cons:
Annoying Ads often pop-up
Photo Lab
Get your images to another level with this amazing app which is known as Photo Lab. If you want to have realistic effects and stylish filters, Photo Lab is the right choice for you. This best photo editor for iPhone will let you do basic photo editing features which include crop, rotate, adjust color, lighting, sharpness, and more. Then, you can easily share your work on different social media sites such as Facebook, Twitter, and Instagram.
Pros:
It contains 1000 awesome effects
Photo montages with automatic face detection
Offers ready-to-use filters
Can make collages for multiple photos
Cons:
Pay $4.99 per month (with 3-day trial)
Darkroom
Darkroom is not only a video editor but also a reliable photo editor. Almost all the photo editing tools that you need are offered here. This best free iPhone photo editor can create your own filters and can make your portrait photo into the level. Moreover, you can do RAW editing and batch editing in an instant.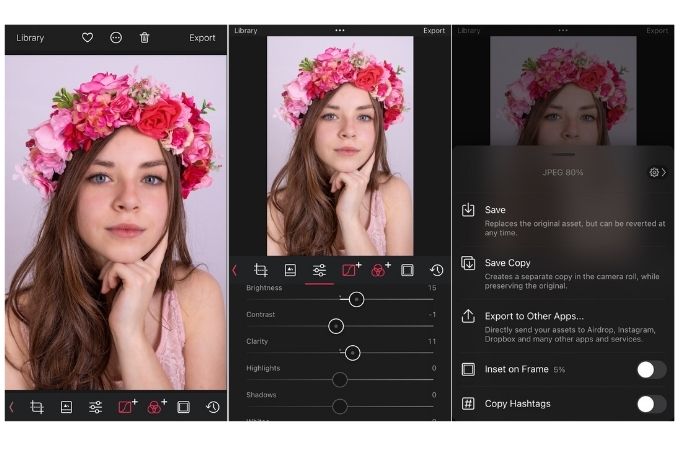 Pros:
Universal and free photo editor
Will let you edit RAW photos at their full resolution
Offers built-in premium filters
Apply edits and filters to many photos at once.
Cons:
It can be expensive for some non-professional editors
Prisma
Prisma is another superb photo editor that you can experience on your iOS device. This photo editor can unleash the artist within you from a simple photo to mesmerizing ones. Prisma offers a lot of features both for general to selfie photo editing. With these best photo editing apps for iPhone, you don't need to worry about making it extra wonderful.
Pros:
Extensive library of styles
Top-notch functionality
Offers 500 + creative ready-to-use filters
Basic photo light adjusment
Cons:
It needs to add some of the basic photo editing features.
Conclusion
Here are the top 8 photo editor apps that you may have on your iPhone. All these apps are amazing and can manage to give you a satisfying result. However, among these apps, Apowersoft Background Eraser offers the most convenient way to beautify your photos. But it is still up to you which one will be the best photo editor for iPhone that you will use. Share your chosen app in the comment section below.