Feasible Solution on How to Password Protect PDF
ApowerPDF
ApowerPDF is the first solution to protect your PDF with a password. This is an all-in-one PDF software which can help you encrypt PDF files with password. It comes with two kinds of passwords that can be used; the document open password and the permission password. A document open password is needed when opening a PDF file only. While the permission password is needed when copying, editing, printing, and even signing PDF files.
Download and install the software on your computer.
Launch the software once installed. After that, upload the PDF file that you want to add a password.

From there, click the "Protection" tab then "Encrypt with Password".

Next, enter your desired password protection for your PDF.

Your PDF is now password protected.
Advantages
Encrypt password on PDF file easily.
Straight-forward users interface.
It has two kinds of password protection.
hipdf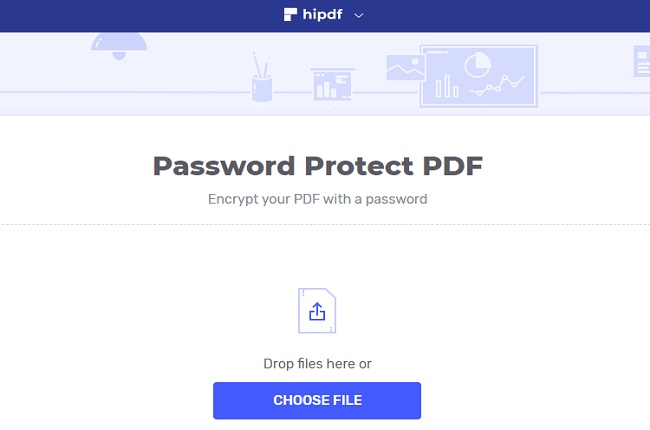 If you want an online tool that can help get PDF protected, try hipdf. This tool offers a different PDF function that includes PDF protection. With it, users can easily encrypt their PDF files with a password. Moreover, set up PDF passwords using this tool are secured since they are transmitted using a secure connection.
Advantages
It can protect PDF files without any cost.
Users can protect PDF files using their desktop versions.
iLovePDF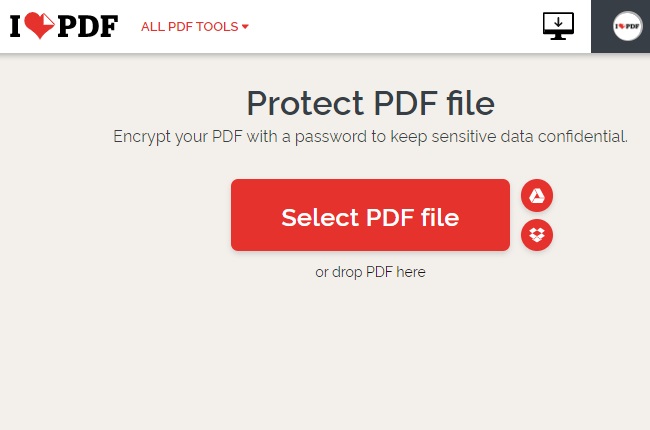 Another is iLovePDF. This tool offers every PDF tool that you need in just one place. It enables you to protect PDF files to prevent unauthorized access. Furthermore, the program made sure that they are not copying any of the processed files. By using this tool, users can ensure that only authorized persons can manage the PDF file.
Advantages
It can protect PDF files using its mobile version.
Adding protection using its free desktop version is possible.
Sejda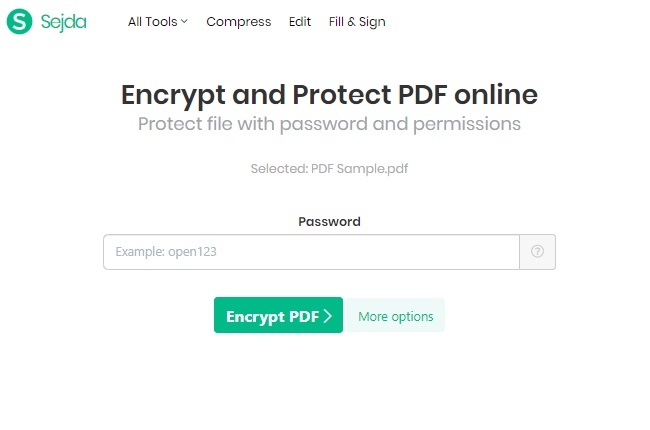 Next on the list is the Sejda. This is a web-based PDF tool that can password-protect PDFs for free. Users are not required to install any software or sign up to add protection to PDF files. In addition to that, you may choose if you want to permit or restrict modifying, copying, printing, filling forms, commenting and editing.
Advantages
Can protect PDF files with Windows, Mac and Linux.
It has a clean interface to protect PDF with no trouble.
PDFill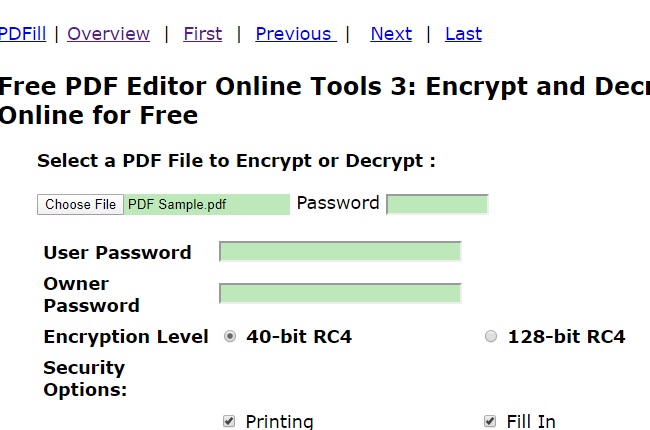 An alternative solution is PDFill. This is an online PDF editor that allows you to encrypt PDF files with passwords by preventing an unauthorized persons to print, fill up, copy, extract, merge and so on. Furthermore, you can set an owner password and user password wherein the owner password can change its security settings while the user password can only open the PDF documents.
Advantages
It supports Adobe Standard and Advanced encryption.
There are security options to choose from.
PDF.io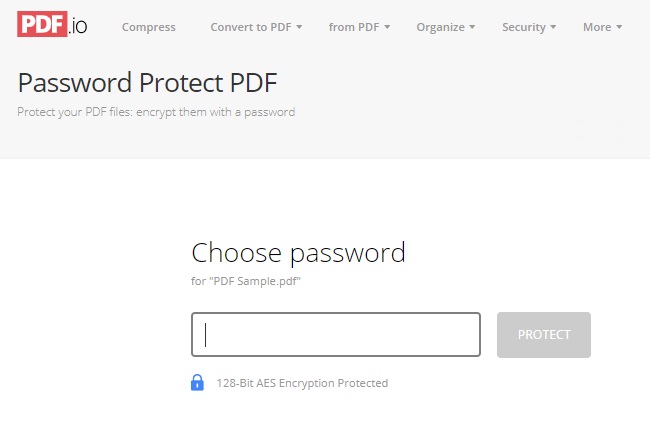 PDF.io is an essential tools available on the internet. It has a simple and clean user interface that new users will surely like. Moreover, users can simply drag and drop the file to the tool and it directly asks you the password for your PDF file. In that case, protecting PDF with a password in this tool is easy as 1-2-3.
Advantages
It can import PDF files from the cloud for protection.
It can protect PDF files by all users conveniently.
PDF Protect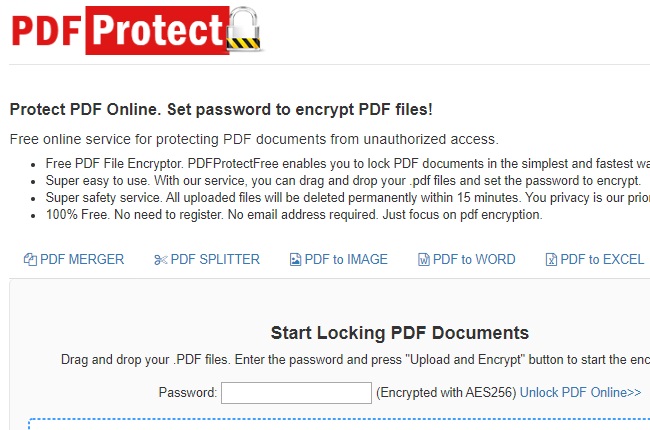 The last solution is called PDF Protect. As the name implies, this tool can protect PDF documents from revealing the private content of files. It is capable of protecting PDF files extremely quickly. Besides, it is a totally free online service that is super easy to use and your privacy is their top priority.
Advantages
It has a trusted PDF protection service.
It allows you to add a password on your PDF file even without signing up.
Table of Comparison
| | | | | | | | |
| --- | --- | --- | --- | --- | --- | --- | --- |
| Functions | ApowerPDF | hipdf | iLovePDF | Sejda | PDFill | PDF.io | PDF Protect |
| Clean and Easy to Use Interface | ✔ | ✔ | ✔ | ✔ | ✘ | ✔ | ✔ |
| Add Password Quick and Easy | ✔ | ✔ | ✔ | ✔ | ✔ | ✔ | ✔ |
| Password Protect PDF for Free | ✘ | ✔ | ✔ | ✔ | ✔ | ✔ | ✔ |
| Password Options | ✔ | ✘ | ✘ | ✔ | ✔ | ✘ | ✘ |
| No limits in protecting PDF files | ✔ | ✔ | ✔ | ✘ | ✔ | ✔ | ✔ |
Conclusion
Now that you have an idea on how to password protect a PDF, you can protect your PDF file from preventing any leakage using these tools. On the other hand, if you are used to a desktop version and don't want any delay, use ApowerPDF. While, use hipdf, iLovePDF, Sejda, PDFill, PDF.io and PDF Protect if you don't want to install software or don't have enough storage space on your computer. However, if you will look at the tools closely, ApowerPDF shines out among them since it has the most advanced PDF functions.