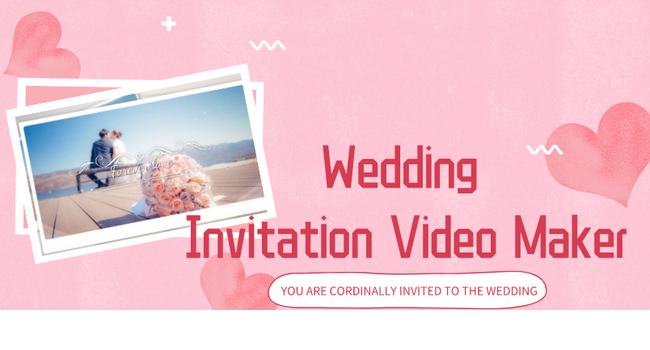 A wedding is the most awaited ceremony of a couple in their life. Furthermore, a wedding is celebrated differently across the world depending on the culture, religion, etc. Since a wedding is a symbolic ceremony, couples want to make it memorable by creating a captivating wedding card or wedding video invitation. However, there are only limited online tools that enable you to create high-quality wedding cards and video invitations. Fortunately, we've collected the best online wedding card makers and video invitation makers available for different browsers. Besides that, we'll also listsome unique wedding video templates and a guide for how to produce a wedding invitation.
Top Online Wedding Card Maker and Templates for Wedding Invitation
LightMV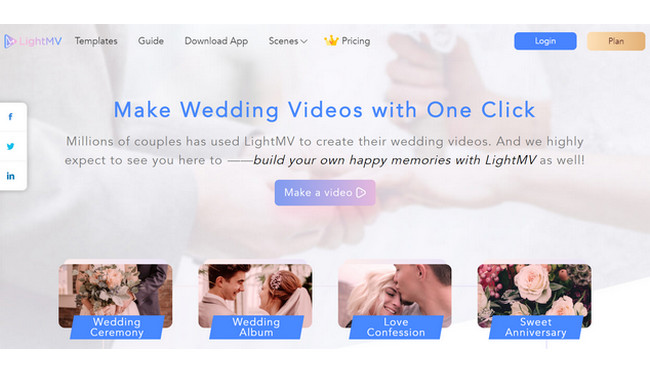 LightMV is an impressive online video maker that lets first-time users create stunning videos with great ease. Not to mention, it provides an extensive collection of colorful video templates from different categories. Moreover, this tool release and update the templates regularly to maintain the videos on-trend and fresh. Meanwhile, using this wedding invitation maker enables you to create a high-quality invitation in just 3 simple steps. One other good thing about this tool is it's also accessible on both Windows and Mac platforms via web browsers.
Features:
App and software version for iOS, Android, and Windows.
It has a smart and intuitive user interface.
Provides professionally-made video templates.
It can export the file in Full HD quality.
Capable of sharing the videos to Facebook and Twitter directly.
Greetings Island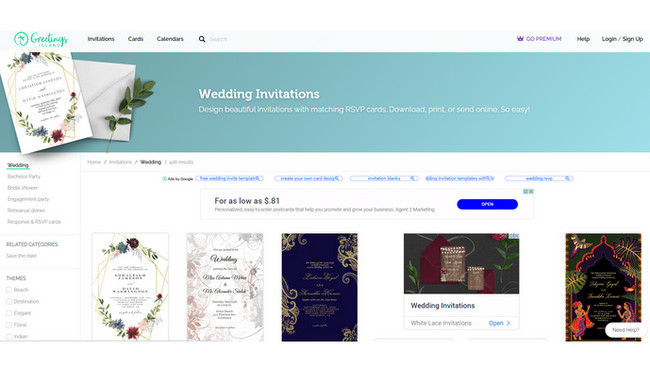 If you're looking for another wedding invitation card maker, here is Greetings Island. This web-based program also enables you to create invitation cards for different occasions like baptism, birthday, and many more. Furthermore, there are various color schemes available for every template that you can use to produce an elegant invitation. Besides that, wedding card invitations can also be saved in different orientations like vertical, horizontal, and square. Meanwhile, you can download the invitation card in JPG and PDF format or print from your browser directly.
Features:
Provides advanced pre-made themes with different styles.
Wide-range of font styles.
It offers free stickers from different categories.
Capable of sharing the invitation card through e-mail and text messages.
Canva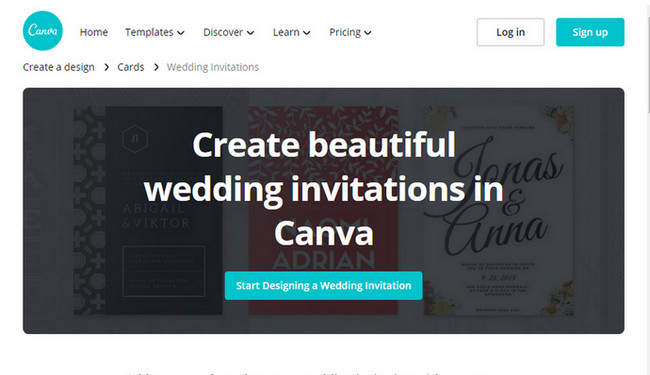 Lastly, we have Canva. It is a free wedding invitation maker that you can rely on for customizing invitation cards for your celebration. Furthermore, it has a library that provides glamorous invitation templates that are perfect for your special day. Apart from this, you can improve the invitation by adding multiple elements like shapes, frames, stickers, characters, and many more. In addition, it allows you to publish the wedding invitation straight to Facebook Groups, Google Drive, and Dropbox.
Features:
High-end editing functions.
Drag and drop editor.
Thousands of royalty-free stock images and backgrounds.Numerous text layouts with different color schemes.
6 Templates
If you're celebrating your silver or gold wedding anniversary, Pink Wedding Record Album is the perfect template to use in creating wedding invitations. This enables you to create a timeline video instantly with your most adorable photos from your wedding. In addition, it can transform the raw pictures with pink background and smooth transitions.

Tips: Click the picture below to watch this wedding template.

Reveal your special day with your partner by creating an invitation video using the I Love You My Baby template. Moreover, this template is a newly released template by the best online wedding card maker. With this, you can amaze them by adding text, sweet background music, and other multimedia files.

Tips: Click the picture below to watch this wedding template.

Make your wedding day celebration unforgettable by using the Eternal Love template to make an impressive wedding invitation. You can convert your prenuptial photos and footage into a captivating invitation video for your wedding with this template instantly. Aside from its free background music, you can also include your wedding songs in the invitation.

Tips: Click the picture below to watch this wedding template.

Do you want to surprise your family, relatives, and friends about your wedding? Give it a shot with this elegant video template named Pure Love. You can customize the video by uploading countless multimedia files and text. Besides that, you can enhance it by inserting various filters to the video with the best online wedding card maker.

Tips: Click the picture below to watch this wedding template.

Since it's your special day, you also need to make a special invitation for your wedding celebration. You Make Me Happy is a wedding video invitation template in a vertical ratio that is perfect for mobile devices. Finally, choose the romantic multimedia files you want to include in the invitation and share with your friends directly.

Tips: Click the picture below to watch this wedding template.

Are you tired of boring wedding invitations? Make an appealing video invitation with the Declaration of My Love For You template right-away. Include a heart-warming message to video by uploading multiple files like photos and videos. After that, you can share it immediately with some popular social media platforms like Facebook and Twitter.

Tips: Click the picture below to watch this wedding template.
How to Make a Beautiful Wedding Invitation Video on LightMV
So if you're wondering how to make a wedding invitation video with LightMV, you can check the detailed guide below.
First, head on to its official website using any web browser on your computer. Then, click the "Get Started" button to preview all the available templates on its website.

Second, go to the "Wedding" category to select your preferred template for your wedding invitation.

Third, click the "+" icon to upload the files you want to include in the wedding invitation video. After that, click the "T" icon below the uploaded files to insert the text you want to add in the video.

Fourth, go to the "Change Music" option on the upper right part of the tool. From here, click the "Add Music" button to import the background music you want to use.

Finally, click the "Produce" button below to process the video. Once it is successfully processed, click the "Download" button to save the invitation video on your computer.

Conclusion

To sum it up, these tools mentioned above are the best online wedding card maker with photo. Aside from that, we also introduced 6 templates that you can use to create wedding invitations. With all these tools, LightMV is the most highly recommended because of its intuitive interface that also allows users to design wedding video invitations immediately. Furthermore, this online tool is also accessible across different devices and operating systems. For more suggestions, feel free to comment down below.