With the strict requirements in applying for a passport, you need to know the proper photo guidelines before you take photos. Here we listed the standard requirements of passport photo.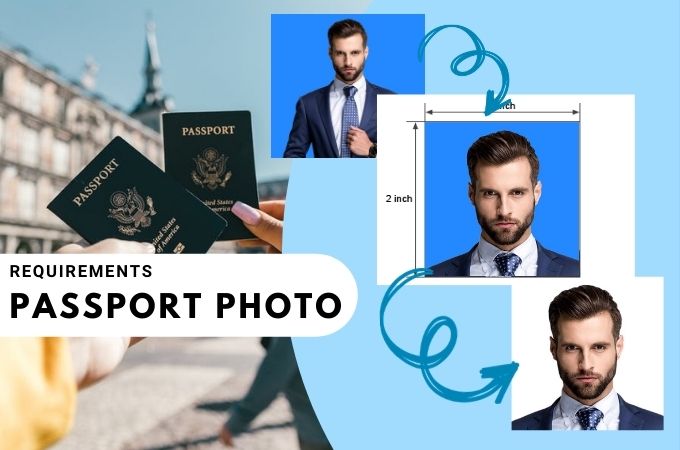 Clear HD quality color prints.
The photo must be taken in the last 6 months.
Focused subject with no "red-eye", face-centered and looking at the direction of the camera.
Hair off the subject face, for the visibility of its whole face features.
Eyes open and no showing of teeth (Neutral expression)
Use a plain white background.
Photo size must be 2 inches wide and high.
Top 8 Free Online Passport Photo Makers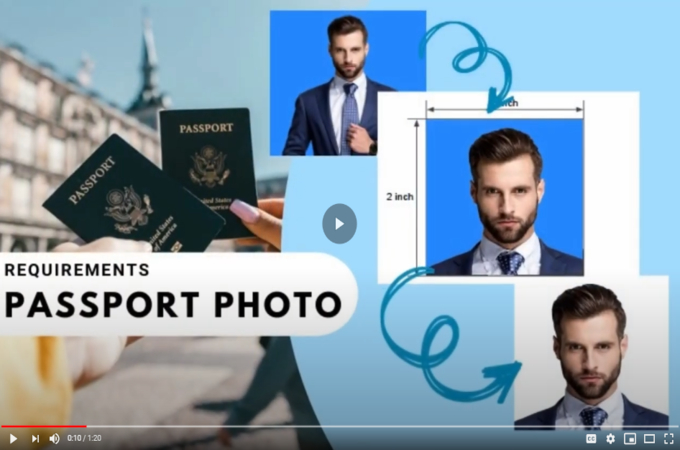 PicWish (100% Free)
PicWish is a powerful and professional online passport photo maker which helps the user make their passport photo freely and easily. Importantly, PicWish is created by a team of trained developers, and thus brings you to an intuitive and free-of-use platform. The process is simple and we can list them in three simple steps.
Go to "https://picwish.com/crop-image" and hit the "Upload Image" button to upload the photo.

Then, click the custom crop option and choose "Passport photo (2 x 2in)".

Hit the "Download" button to save it.
To get the required background color for your photo, follow the two steps below.
Visit this page "https://picwish.com/" and click the "Upload Image" button.

Then pick a color needed for your passport photo.
Apowersoft Online Background Eraser
You can have the best online passport photo maker with this tool called Apowersoft Online Background Eraser. This free web-service tool cannot only remove background from photos automatically but also can make a passport photo for you.
Main Features:
Get rid of the background in one click.
Massive collections of solid colors and templates.
Offers ready-to-use aspect ratios for Passport and different IDs.
Preview results in real-time.
How to make a passport photo online for free with Apowersoft Online Background Eraser:
Visit its official site and hit the first "Upload Image" button.

Next, you'll get a precise cut-out instantly.
Click the "Edit" button and "Crop" tool then pick 3:2 or 2:3.

To change the background color, click the "Change Background" tool to select the color you need.
Pros:
Free
Remove background automatically.
Present a clean cut out of the subject.
Keep the original quality.
Cons:
It takes time to process a large-size photo sometimes.
Why do I recommend this tool?
Apowersoft Online Background Eraser will allow you to do some basic editing features like changing background, choose from its ready-to-use solid colors and backdrop templates. Also, you may freely crop your photo by selecting among the photo aspect ratio that it offers or customizing it with your own preference. With this online tool, you can do some basic photo editing such as duplicate, flip, zoom in and out, and more. Not unlike any other online tools, Apowersoft Online Background Eraser will delete the file automatically within 24 hours.
Note:
Apowersoft Background Eraser is also available on desktop and mobile devices. If you get used to them, just click the "Download" button below to experience.
Make Passport
Make Passport is the next free online passport photo maker that you may rely on. This professional photo passport editor will give you strict biometric rules and verification process that will surely give you the passport photo format that you need. You can manually edit it by just setting the position of your photo on its passport photo generator. On the other hand, If you pay for the service it will create your passport photo within 30 seconds, completely correcting its background, alignment, and its size. Also, you can either directly order for the print outs or download with your own.
Go to the Make Passport official website.
To upload the picture you can drag and drop or browse it from your desktop.

Once uploaded, click the "Next" button located at the lower left of the screen.

A new interface will show up, giving you the processed passport photo.
Finally, you may purchase for the photo to download it without watermarks.
PersoFoto
Make a passport photo online free with this photo passport editor called PersoFoto. If you need a photo for your passport, driving license, id cards, health cards, or any kind of ID this online tool is the best for you. It will let you choose to avail of the premium quality or the free service wherein you need to manually set the photo. It will let you adjust, align, and crop your photo with its passport photo generator. Surely, with PersoFoto you can create your passport photo in an instant.
On your browser, look for the PersoFoto official page.
Then, choose a photo from your computer gallery by clicking the "Select Image" button or take your photo using the webcam.

Adjust your photo to the given format, then click the "Next" button afterward.

Hit the "Complete" button for you to download the passport photo for free or buy it for high-quality prints.
Online Passport Photo
Get your passport photo online with this free passport photo maker tool. Online Passport Photo is a versatile web-service tool that offers almost all the photo passport format all over the world. You just need to place your photo by following the frame format. Other than that, you may directly save your passport photo or send it via email address.
Search for the Online Passport Photo website on your favorite browser.
Then, hit the "Start immediately" button to choose what is your desired picture format and click the "Validate this parameter" button.
Next, get your picture from your PC library by clicking the "Choose File" button.

Crop your picture to the area that it requires.

Once done cropping, you may download your passport picture by hitting the "Download the File" button.
IDPhotoDIY
Another online passport photo maker that you may visit is IDPhotoDIY. This tool offers over 50 templates that you may use to crop your photo according to the passport photo size that you need. Besides, not only passport photo that you can edit but also visa and certificate of identity and registration. However, this tool doesn't have any basic photo editing features to enhance your passport photo because it works automatically.
Head on to the IDPhotoDIY official site.
From its interface, choose the country where you are from and hit the "Create Your Photo Now" button.
Click the "Browse" button to import your photo, then crop it by moving the box to your face.

Hit "Next" and another interface will come out showing you a lot of results. Choose one and you will be given the printable results.
After all, click "Download printable photo" to save and print your file.
AutoClipping
Auto Clipping is originally a photo background remover but can work as a free online passport photo maker. You can make your own passport picture here using its useful features. You can manually resize your picture and change its background by choosing among the solid colors that it offers. Moreover, you can rotate, adjust shadows and edges to achieve the passport photo format that your country needs. Likewise, Auto Clipping has a full guide on how to use this online tool for all the beginners out there.
Open your browser and look for the official site of Auto Clipping.
To start, click the "Upload" button to get the photo that you will use.

The AutoClipping will automatically remove the background giving you a transparent result.
Edit your photo by cropping and changing the background color.

Lastly, you can save your edited passport photo by clicking the "Download" button.
Clipping Magic
The last online tool that you may rely on to be your free passport photo maker is Clipping Magic. You can freely edit your photo with the use of Clipping Magic. It has a simple interface that you may understand easily and straightforward functions. It will delete the background from your photo instantly giving you a clean cut of your subject. Then you can start editing it by replacing its background among the solid colors that it offers. Moreover, you can resize the photo by cropping and adjusting the size to get the right format for your passport photo.
Look for the Clipping Magic webpage.
Once you are on the site, click the "Upload Image to Start!" button to import a picture.

Edit your picture using some of the tools that the online tool offers.
Once done making your passport picture, click the "Import" icon located at the upper part of the screen.
Conclusion
Indeed, photo is an important part of a passport. To save time and money, you can create your own with the help of these free online passport photo maker tools. I highly recommend Apowersoft Online Background Eraser for it has a simple interface and intelligent AI technology, which is suitable for both professionals and amateur. Yet, it is still up to you choosing one. Leave a comment below on which one of these online tools you like the most.