Reliable Ways to Mirror iPhone to Sony TV
ApowerMirror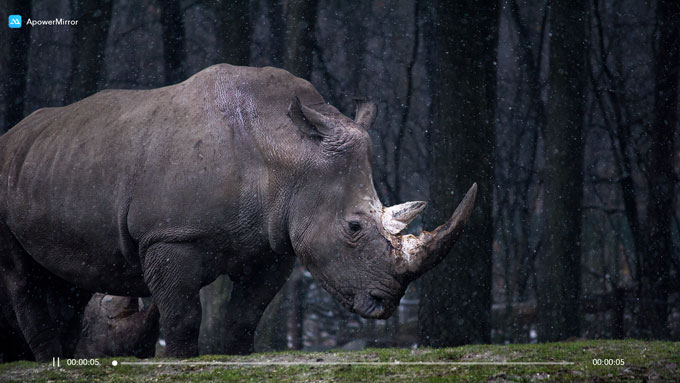 ApowerMirror is a screen mirroring program that allows you to mirror Android or iPhone to PC and TV. It supports most of the iPhone models and lets you control Android phones via keyboard and mouse. Furthermore, it enables you to watch movies, play games, or stream online content while mirroring. Here is the detailed way to mirror iPhone/iPad to Sony TV using this great tool:
Download ApowerMirror app on your iPhone. Also, download it from Google Play Store on TV.
Then you need to make sure your iPhone and TV are connected to the same WiFi.

Open the app on your iPhone and then tap the blue "M" button. Wait for the app to detect your TV, and then select your TV on the list.

On your iPhone, open Control Center and tap "Screen Mirroring" and choose the name of "Apowersoft". Then your phone screen will be successfully displayed on Sony TV.
LetsView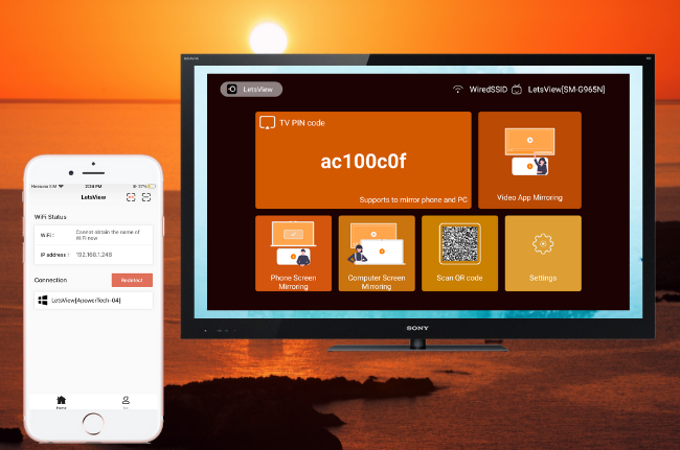 LetsView is a screen sharing platform that has a wireless function that is commonly suitable on Sony TV. It allows users to connect through Wi-Fi, so you will be able to see all your media on your TV without using any cables, and even if your iPhone is not jailbroken. All you have to do is to connect your phone to the Sony TV using Wi-Fi directly. This is a free yet effective way to stream iPhone/iPad to Sony TV. Check the guidelines for detailed steps.
Download and install the app on your phone. Use the buttons below to make it easier for you.
Connect your phone to the same Wi-Fi where TV is connected to.
Now launch the app on your TV and your phone.
On your iPhone, enter the "PIN" you are seeing on your TV screen then tap "start mirroring.
Once your iPhone is connected, swipe up to reveal your control center and tap "screen mirroring" then tap the name of your PC. The mirroring will then begin.
Dixim Digital TV
You may also consider using Dixim Digital TV. It is third-party software for your iOS mobile devices. It allows you to mirror the screen of your iPhone, iPad, and iPod touch(9.3 OS and above). In this program, all your files are categorized into folders. For instance, your photos are arranged in albums or by the date they are taken. And you may also customize them by choosing from the List or Grid options. Not only it can mirror your media, but it can also display the activity of your iPhone screen right onto Sony TV. Now to demonstrate how you can screen mirror iPhone/iPad to Sony TV, you may refer to the following guide.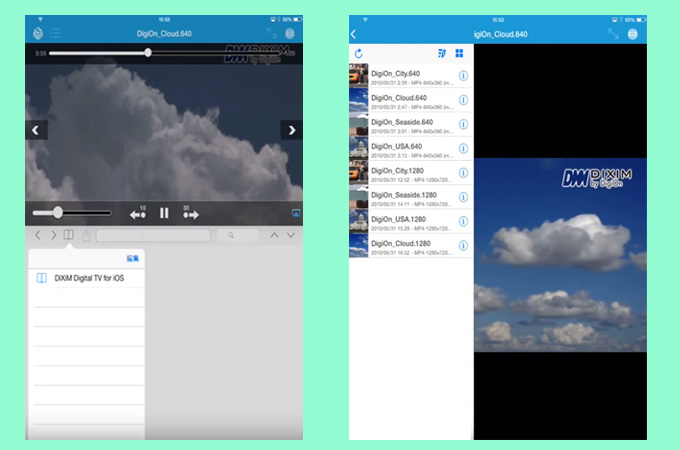 Get the Dixim Digital TV app from the App Store. Install it afterwards.
Next, connect your iPhone to Sony TV via WiFi Direct.
On your iPhone, launch the program and you will see a list of available devices. Select the name of your Sony TV to connect.
Now click the "Shared" button from the bottom of the screen. There are all the media you can stream from your iPhone to your Sony TV.
Select the type of media and from that section, choose the item you want to be viewed on the TV screen. Then, tap "Play" to begin streaming media.
Conclusion
These are some of the best methods that you can utilize to project your iPhone screen onto your Sony TV. If your primary purpose is simply to mirror iPhone/iPad to TV, go with Wi-Fi Direct. However, if you are considering the features offered by the Dixim Digital TV, then this app is for you. ApowerMirror will be your best choice if you want to mirror iPhone to Sony TV with ease.