Most Android devices have a built in Application Manager that lets you manage the applications on them. By management is meant deleting, moving or analyzing the apps present on your phone. It's a necessity to manage files when your Android phone starts to slow down as a result of the bloatware and unnecessary apps and files that start accumulating in its internal storage.
Most devices' application manager does not come with convenient management functions,so that it can become quite cumbersome to use if you have lots of apps installed. All apps (legacy, downloaded and system) will be jumbled in one list which will make it hard for you to decide which one to remove and which one not too. By default, the phone screen will make it difficult to navigate the list so taking care of all unnecessary apps may take a long time.
Fortunately, there is some PC based software that lets users manage Android apps from PC. The standard mouse/keyboard controls coupled with the faster performance and increased freedom of the Windows platform makes this software much more efficient at performing application management as compared to Android app managers.
1. Apowersoft Phone Manager
A video demo for how to manage Android apps on PC via Apowersoft Phone Manager: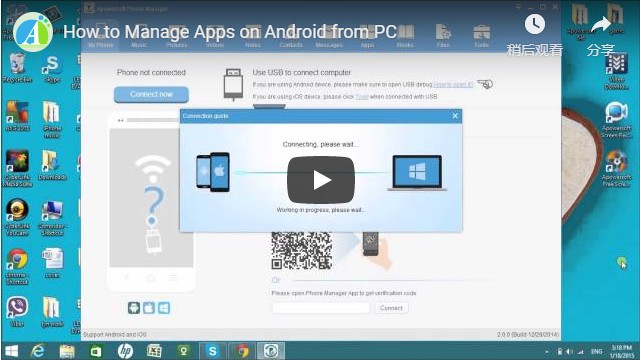 Overview:
Apowersoft Phone Manager is one of the most complete mobile management utilities available for the PC. Supporting both Android and iOS devices, it isn't just an Android app manager for PC; it lets you manage, view, restore, transfer, backup files present on your mobile/tablet device. The files include messages, contacts, images, music, videos, and of course, applications.
How to connect:
The first time you connect your phone, this software automatically detects its model and all information associated with it. You can establish the connection by 3 ways.
You can choose to connect via USB. This way requires you turn on the USB debugging mode and then connect the phone to your PC with a USB cable.
If this doesn't suit you, you can connect over a WiFi link, which will require you to enter a verification code on the PC.
And there is also an option to connect by scanning QR code from the PC screen.
Here is how you manage applications on Android from PC using this software:
Refer to the tutorials above to connect your device to computer.
Click on the "Apps" button to enter the apps management panel. You will now see a list of the apps installed on your device along with their details such as size, location and status. These apps are categorized in "Installed", "System" and "Library" designations for your convenience.
Select the app you want to manage. Note that you can also select multiple applications to perform management operations on them in one go instead of individually. It's beneficial for boosting its performance.
If you want to install apps on your phone, you can click on the "Install" button and follow the prompts. As the software is linked to Google Play, it lets you easily download .apk files to your phone.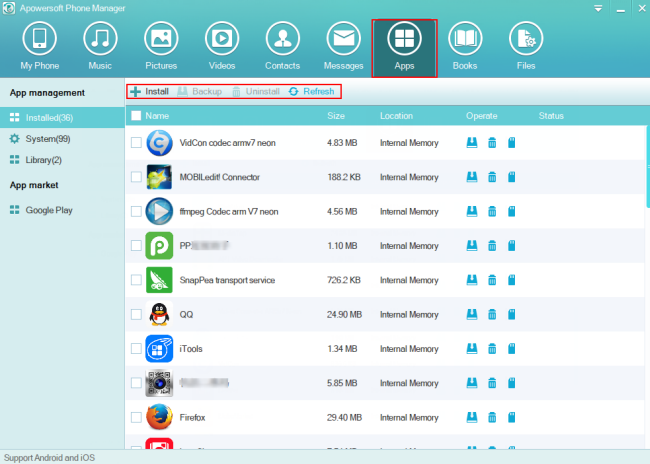 2. Mobogenie
Overview:
This is another software utility that lets you manage apps in Android through computer. Featuring a very large personalized app store containing hundreds of thousands of Android apps, it lets you download and install applications to your phone from your computer. You are also given the option to back up, delete and move apps, besides installing them.
How to connect:
This software requires a USB connection between your Android device and your PC, but remember to enable USB debugging first. The latest version of the software also adds WiFi connection support.
How to manage apps on Android via PC:
Download Mobogenie from its official website.
Connect the phone to your computer (after starting up Mobogenie on Windows).
Access the "My Apps" from the left panel.
You will be presented with a list of installed apps, system apps and updates. Select the apps you want to manage and choose the action you want to perform i.e. uninstalling, exporting or updating.
You can also click on "Install Apps" to install fresh applications to your phone, which are readily available from Mobogenie's own app store.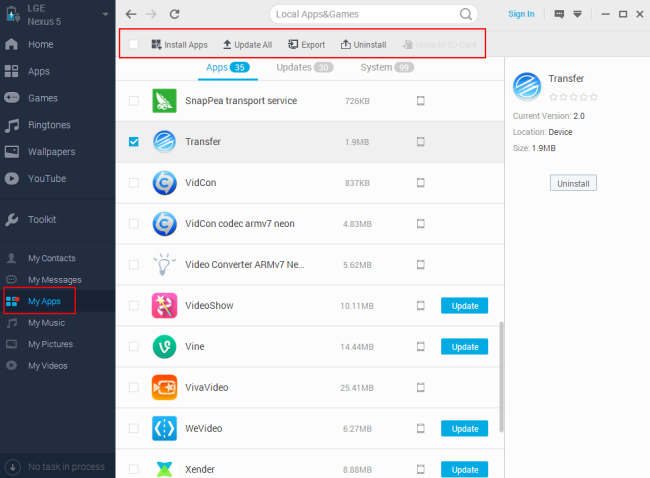 3. MoboRobo
Overview:
MoboRobo is yet another PC based smartphone management software that serves as an Android app manager for PC among other things. Contact transfer, free music, image and app downloading, rapid backup, multi media file management, and text messaging from desktop are the standard features it incorporates to allow you to simplify phone management.
Tutorial:
You can connect your phone to PC via USB cable or WiFi link. The former will require you to enable USB debugging on the device beforehand whereas the latter will require you to enter a validation code in your computer.
Click on the "Apps" icon to enter the app management section.
A list of installed applications (sorted according to "User", "System" and "App Updater" categories) will be displayed.
Select the app(s) you want to manage and choose the operation to perform (install, uninstall, app transfer or export).
You can install new apps from the software's Web Resources as well.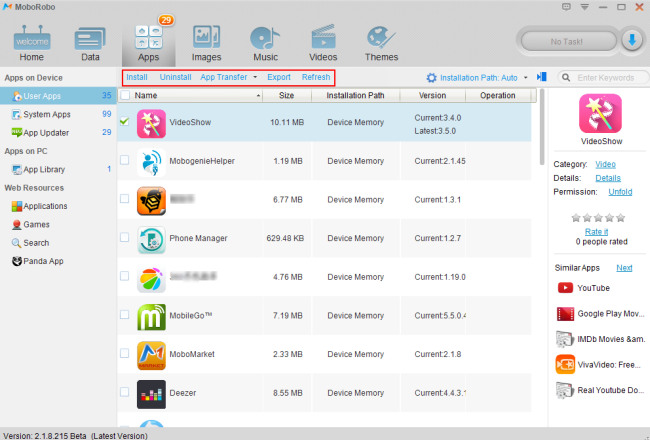 Conclusion:
Comparing these three programs, one can see that Apowersoft Phone Manager comes slightly ahead because of its direct connection to the Google Play store that the other two lack, quick connection, and super functions.