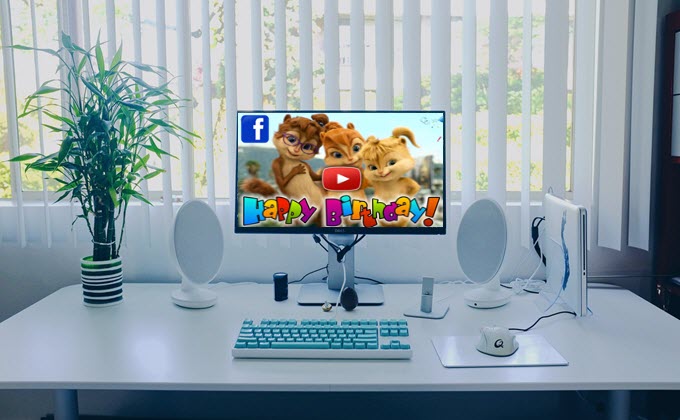 Facebook is a very popular online social media where people can stay connected to their friends, families and share what they care about. When the person who is very important to you has a birthday, you can try to make it special and express your love to him by sharing messages on Facebook. So what kinds of messages are you going to share? Usually, you may like to share messages with texts, photos or videos you shot. In fact, now you have the chance to make a birthday video for Facebook to make the celebration more engaging and meaningful.
How to make a birthday video for Facebook
With LightMV
If you're looking for an online tool that enables you to create a birthday video presentation instantly, here is LightMV. It provides highly-customizable birthday-themed templates that let you create a stunning presentation by uploading photos and short clips. Besides that, you can level up the video presentation by adding filters, text, background music, and many more. Not to mention, this tool updates the templates regularly to have produced multiple contents for different purposes. Meanwhile, you can directly share the Full HD quality video on various social media platforms like Facebook and Twitter.
See the steps below to have an idea on how to make a birthday video presentation using this Facebook birthday video maker:
To get started, visit the official website of LightMV. Then, click the "Get Started" to access all the templates.
Second, click the "birthday" preset below the search bar to choose your desired birthday-themed template.

Tips: Click the picture below to watch this stunning video template.

From its video editing functions, click the "+" icon to upload the photos and clips you want to include in the birthday video presentation.

Then, click the "T" icon below the uploaded files to add a message to the video.

Once done, click the "Produce" button below to process the video. After rendering, click the "Download" button to save the birthday video presentation on your computer. And that is the easiest way on how to make a birthday video for Facebook.
With ApowerShow
If you have taken lots of photos, you can use ApowerShow to make a unique photo slideshow presentation. With ApowerShow, you can make vivid and fashionable videos by using your photos. Without setting the transitions between pictures, you only need to choose an appropriate theme. It has many kinds of unique and custom themes. Moreover, it comes with a split-screen feature which allows you to make before & after video effortlessly. You might also add various filters including black & white, sepia, vertigo, vignette, RGB noise, etc. to the video to enhance your video effect.
Here are the specific steps on how to make a birthday video for Facebook via this tool:
Visit ApowerShow and click the "Launch Online" button if you want to use it online. To get a desktop version of the program, simply click the "Download" button below.Download
When you open the program, you can see there are three tabs including Theme, Music and Export under the "MV" function. Go to preview all the themes under "Theme" and choose the one you like most.
Click the "Add files" button, select the photos from your hard disk and then click "Open" to import them. Click the "Play" button on the left to watch the slideshows. You can change the theme to another if you find it is not suitable for your photos.
Each theme of this tool has a background song. If you don't like the music, just click the "Music" tab and the "Add music" button to import the song you like. Click the "Play" button to preview the MV you created. Click the "Export" tab and "Export" button to output your work.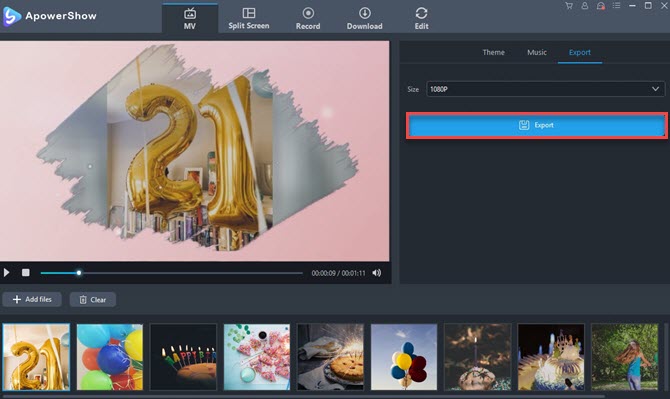 With ApowerEdit
Supposing you have shot videos for a birthday party? You can use ApowerEdit to make them more funny and entertaining. ApowerEdit is a very professional but easy-to-use video editor which offers you lots of functions. It provides you with a wide range of texts, filters, overlays, transitions and elements. It supports drag and drop, PIP effect, splitting, cropping, zooming, mosaic, setting duration, changing speed, rotating, flipping and many more. All in all, it nearly has all the features that you need to use for making a high-quality movie. It is no exaggeration to say that this tool could be your optimal choice for a Facebook birthday video maker.
How to use ApowerEdit to create birthday video for sharing on Facebook:
Go to download and install the program on your computer.Download
Launch it and import your video by clicking "Import" > "Import file". Drag the video file to the video track. Select the video file by left-click, click "Edit" icon, and then you can start to edit it by changing contrast, hue, saturation, brightness and speed. You can also add zooming, mosaic effect to your video.
If you need to add filter, text, overlay, element, etc. to you video, drag their templates to the right tracks. It allows you to design the text by editing its fonts, size, type, align, color, style and motion. The text will last for 4 seconds by default. To adjust the duration of text, click the "Set duration" icon and go to set the "Start time" and "Duration".
Click the "Play" button in Preview area to preview your whole video effect. If you are satisfied with the result, you can click the "Export" icon to output your masterpiece.
How to Add A Friend's Birthday Story on Facebook
At this part, we will show you how to add a friend's birthday story on Facebook. Check the simple guidelines written down below.
Launch the Facebook app from your iOS and Android mobile devices.
Then, tap the "Create Story" option above your newsfeed to upload the birthday video presentation from your mobile phone.
After uploading, go to its editing function on the upper right corner to insert text, stickers, effects, and draw.
Lastly, tap the "Share to Story" in the bottom right corner to upload your story.
Conclusion
These video editing tools mentioned above are the most reliable programs to create a birthday video for Facebook. You can use these three tools to produce an engaging and cool birthday video presentation for your family, friends, and loved ones. Please note that the first tool is a theme-based video maker, the second tool is a quick slideshow maker, and the last tool is a multi-functional video editor