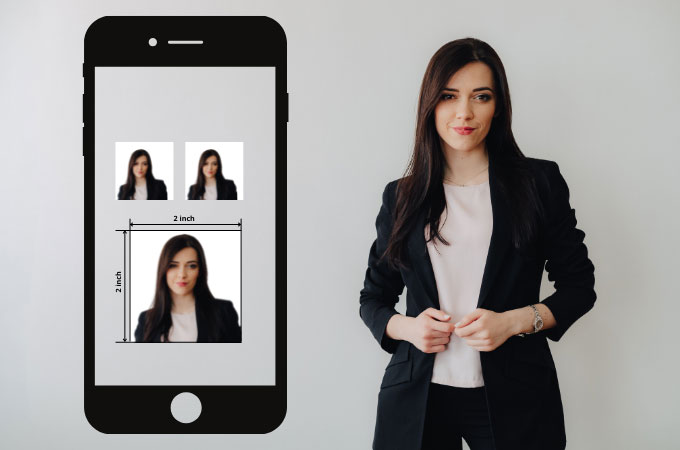 Spending plenty of money to hire a professional photographer only to have a perfect 2×2 photo is not advisable and unnecessary. In fact, iPhone will save you from it especially if you have a powerful and inexpensive app that can help you accomplish the task. Fortunately, Apowersoft Background Eraser is to the rescue. Find out in this post how to make a 2×2 photo on iPhone with the help of this simple yet effective app.
Full Guide: How to Make a 2×2 Photo on iPhone
Templates & Basic Requirements for 2×2 Photo: Budget-Friendly
Don't wear glasses.
Don't cover your head with hats or veils. No headphones and other objects on your head, except worn for religious purposes).
Your camera should be directed to your full face (only a neutral facial expression is acceptable).
Your eyes should be open and clearly visible.
A recent picture is only acceptable (taken within the last 6 months) to present your current look or appearance.
Note: This is an important reminder prior to learning how to make a 2×2 photo on iPhone.
The photo mustn't be in black and white, colored is a must.
Printed paper should be on high quality.
The background must be plain white or white-off.
How to Make a 2×2 Photo on iPhone with Apowersoft Background Eraser
If you need a powerful photo editing app for iPhone that allows you to edit a photo to the correct size, use Apowersoft Background Eraser. It lets you crop your photo or use its ready-to-use photo sizes available within the app. Both are completely free of use. Also, it comes with intuitive editing features, suitable for beginners. To learn how to make a 2×2 passport photo on iPhone, follow the simple steps below.
Install the app by tapping the "Download" button above.
Open it and tap the "ID Photo" > "U.S. Passport" tabs to import your photo.

Next, adjust the picture and choose a background color you need for your image.
Finally, hit the "Save" option to process and save it on your device.
Conclusion
You don't need to be a professional to have the perfect 2×2 photo. Now you know how to make a 2×2 passport photo on iPhone like Apowersoft Background Eraser, you are just a few steps away from getting the picture you need. Install now and let's get started.