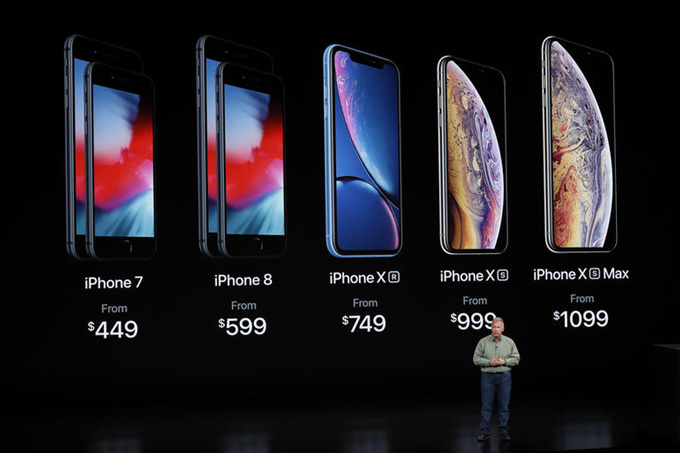 Apple has finally launched the most awaited series iPhones for 2018 and people just can't get enough of the hype of these three. These are the iPhone Xs, iPhone Xs Max, and iPhone XR. If you are not an avid user of iPhone, you probably won't even notice the difference between these iPhones except for their size since they almost have similar core features. However, it's indeed important to know how these differ if you're planning to replace your iPhone or if you really just can't pass the year without adding one to your collections. Therefore, in this article we give you the difference between iPhone Xs vs iPhone Xs Max vs iPhone XR.
iPhone Xs vs Xs Max vs XR: The New iPhones Compared
Size and Weight
Let's start by comparing the three in terms of their size and weight. iPhone Xs is the smallest among them having 5.65in height, 2.79in width, 0.30in depth, and with a 6.24lb weight. However, iPhone Xs Max is 6.20in in height, 3.05in in width, with a maximum depth of .30in and 7.34lb weight, which makes it the largest and the heaviest of them. Finally, iPhone XR has an 5.94in height, 2.98in width, 0.33in depth, and 6.84lb weight.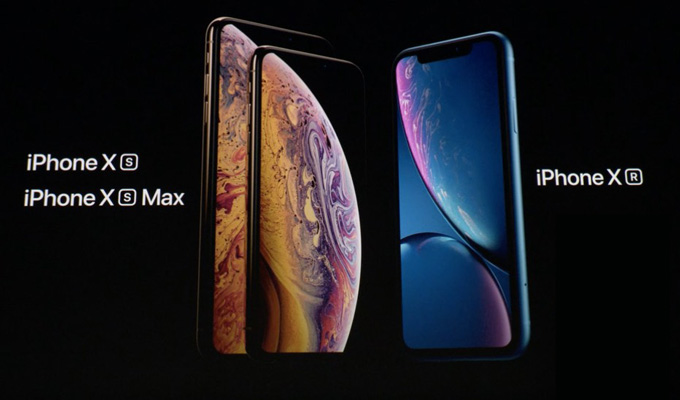 Screen and Design
Next, let's proceed with their screen and design. iPhone Xs has a 5.8-inch OLED display with Super Retina pixel density of 458 ppi. Meanwhile, iPhone Xs Max has a 6.5-inch OLED display, Super Retina pixel density of 458ppi whereas iPhone Xr has a 6.1-inch LCD display and Liquid Retina Display pixel density of 326ppi.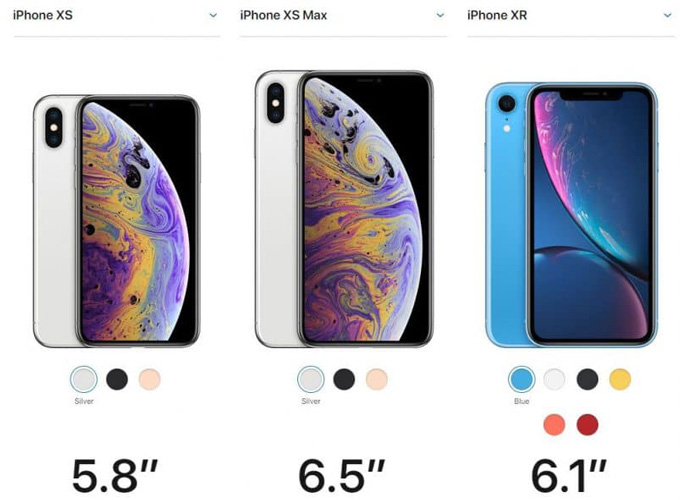 Price
This might be one of the most important aspects that consumers anticipate and the factor which will mostly attract iPhone devotees. So, let's begin with the so-called "least-pricey" among them, the iPhone XR. This one initially starts at $749 (64GB), and then jumps off to $799 (128GB), and $899 (256GB). Now, let's move on to the iPhone XSes. iPhone Xs begins at $999 (64GB), then it increases at $1,149 (256GB) and $1,349 (512GB). On the other hand, iPhone Xs Max's starting price is at $1099 (64GB), $1,249 (256GB), then $1,449 for 512GB. This obviously is the most expensive one not only among these three but also among other iPhones.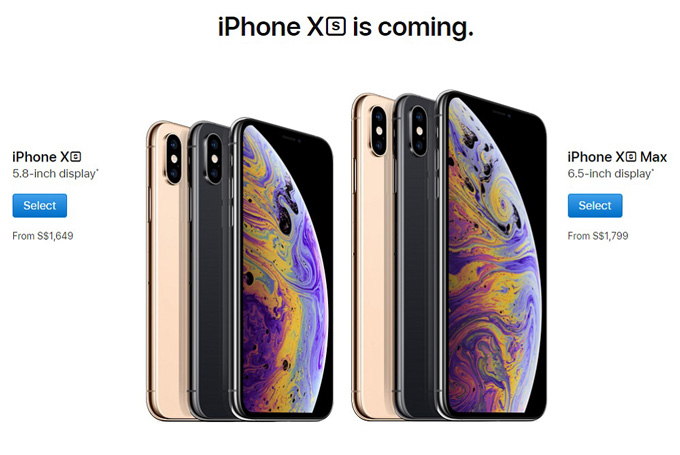 Features
Other than the price, what most users consider are the features that a phone has. So, let's see what these could offer us. Both iPhones XSes feature a faster and better-quality dual camera system which certainly gives us more advanced photos and videos. iPhone Xs and iPhone Xs Max have dual 12-megapixel camera with f 1.8 wide-angle and f2.4 telephoto, 10x digital zoom, and five portrait lighting effects. However, iPhone XR has a single 12-megapixel camera (f1.8), 5X digital zoom, and a three-portrait lighting effects. But generally speaking, iPhone Xs, Xs Max or XR fully support HDR. Other than that, Face ID authentication is of course still present in this series of iPhones to replace the Touch ID authentication from the previous versions of iPhones. In addition, these also features louder and better sounds as they have wider speaker on the top the bottom. Another good thing to know about these iPhones is that, they are water and dust resistant and they fully support IP68, which secures protection in water up to 1.5m deep for half an hour. Dual-SIM capabilities (nano-SIM and e-SIM) is also one interesting feature that's introduced by Apple in this series of iPhones. And finally, all these three support wireless and fast charging for about 50% in 30 min.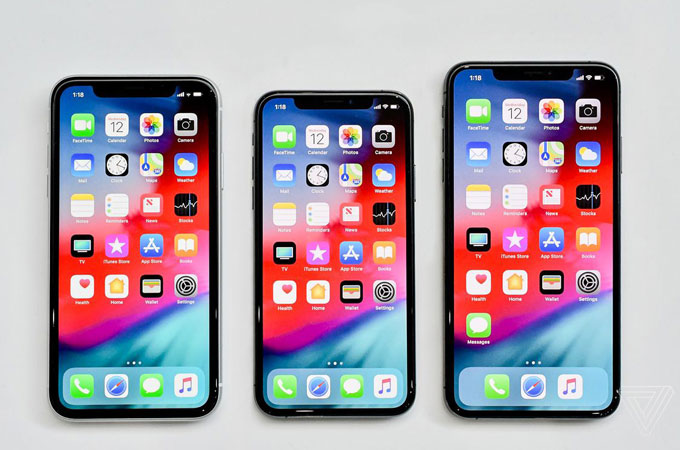 Performance
Apple, as expected, has brought another advanced technology for us. As the newest iPhones, iPhone Xs, Xs Max and XR also run with the very latest iOS, the iOS 12. Apart from that, Apple also introduced the A12 Bionic chip in this series. A12 Bionic chip is by far the smartest and most efficient chip in a mobile device. This features the first ever 7-nanometer chip which provides excellent performance and design to smartphones. That only means that we are anticipating a very smooth and speedy experience for this.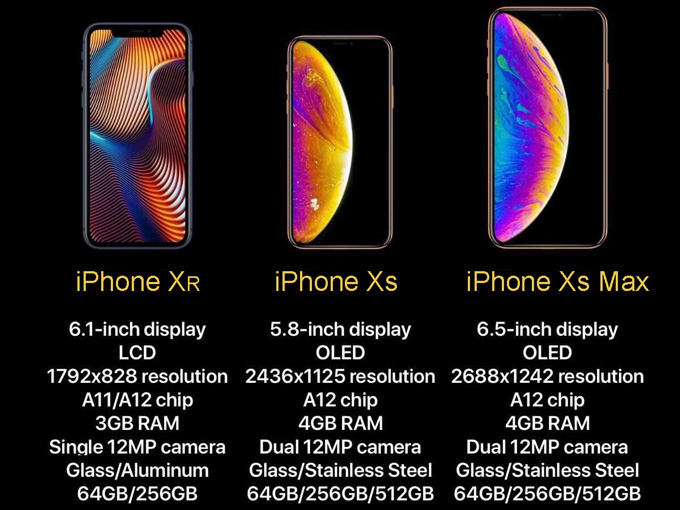 Storage
iPhone Xs has an internal capacity of 64GB, 256GB, or 512GB while iPhone Xs Max has a 64GB, 256GB, or 512GB. However, iPhone XR has a storage of 64GB, 128GB, 256GB.
Battery life
Apple has not yet stated the definite battery capacity of the new iPhones. However, comparing iPhone Xs vs Xs Max vs XR with other iPhone models, iPhone Xs is expected to last 30 minutes longer than iPhone X while iPhone Xs Max is more likely to run 90 minutes or one and a half hours longer than iPhone X. Of course, for iPhone XR, Apple claims that it will last 90 minutes longer that iPhones 8 plus, which is known to have the longest-lasting battery capacity of 2017 for iPhones.
Conclusion:
Now that you know the difference between iPhone Xs, Xs Max and XR, as well as what will best suit your need, you can now decide on what you should purchase. Feel free to share your thoughts below about the newly launched iPhones.