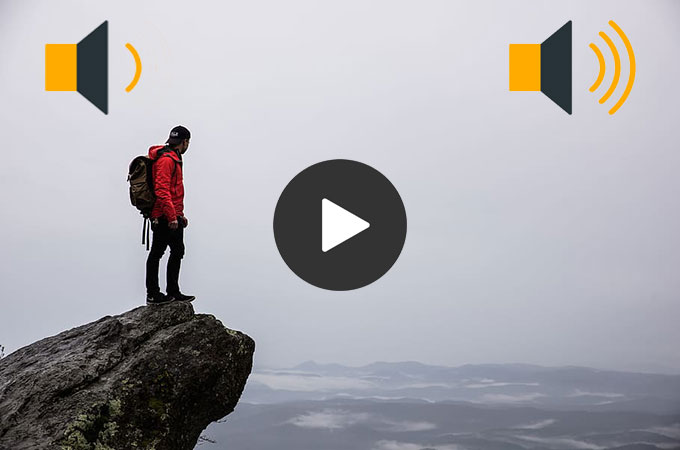 If you are a vlogger, video content maker, product promoter, and small business owner, you often record video and post it on your social media accounts. But what happens when the audio of the recorded video is too quiet and needs to be turned up to hear it? Good thing, we have a guide of useful solutions to increase the volume of a recorded video. Continue reading to reveal the solutions.
Recommended Ways to Increase the Volume of a Recorded Video
BeeCut (Windows)
BeeCut is an easy-to-use online video editing software. This software enables you to increase volume and enhance voice in the recorded video in just a few clicks. Furthermore, it offers fade in and fades out of the audio to add some effects. What's good about this tool is that you can stunning videos without any expertise in the field. To learn more about how to make video volume louder using this software, see the detailed steps below.
Download and install the software on your computer.
After the installation, launch it and choose the desired aspect ratio for your video.
Next, import the video you want to enhance volume from your local drive by clicking the "Import" button.
After that, add it to the work area and double-click the video to show editing functions. Click the "Audio" option and adjust the volume by sliding the cursor. If you want to enhance the voice, simply click the checkmark from the "Voice Enhancement" option.
When you are done, export the video to save it on your computer.
iMovie (Mac)
Next on our list is iMovie. This is a video editing tool developed by Apple Inc. which can help you boost MP4 video volume on your macOS. Moreover, it lets you enhance audio, reduce background noise, and apply an equalizer to the recorded video. In that way, viewers can easily hear and understand the video's audio. To do that, simply follow these steps.
Open the software on your Mac.
Choose recorded video clips that you wish to increase volume.
From here, drag the volume control up or down until you reach the needed volume for the video.
AudioFix (Android)
If you don't have a desktop, AudioFix may help you enhance audio of a recorded video using an Android device. This is a handy volume booster, editor, and enhancer tool for your videos. Furthermore, it lets you instantly increase volume, remove noise, wind, and hiss, and adjust the equalizer. In addition to that, it can automatically boost your video's audio. Below are the simple steps on how this app works.
Get the app from the Google Play Store and launch it.
Choose the video that you wish to adjust the volume. Drag the volume control up to the volume needed.
Save the video.
Video Volume Booster (iOS)
Video Volume Booster is perfect for iOS users who wish to increase the volume of a recorded video. With the use of this app, you can boost the volume of a video beyond the maximum level of 1500%. Apart from boosting video volume, it can also boost background noises to make the audio louder and clearer. To do that, follow the steps below.
Grab the app from the App Store the open it.
Load the video file and choose the amount of boosting the audio of your video.
Lastly, preview and save it.
VideoLouder (Online)
If you don't want to install an app on your device, you can try this online solution called VideoLouder. This is a free program that allows you to fix low sound volume in a recorded video. Furthermore, it supports several video file formats such as AVI, MP4, MPEG, MPG, MOV, and XVID. On the other hand, it can upload video files for up to 500 MB only. Here are the steps to get started.
Visit the official page using your favorite browser.
From here, hit the "Browse" button to upload the video from your local drive. Then, choose action and decibels.
Hit the "Upload File" button and save it.
Meanwhile, if you're looking for a better screen recorder for your product demo or live streaming, these programs may help you.
1. ApowerREC
This is a simple yet professional screen recorder for PC and mobile phones. The mobile version is free.
2. Bandicam
Bandicam is a free screen recording tool that has a free version. It allows users to record the screen of your computer for up to 10 minutes only.
3. iTop Screen Recorder
iTop Screen Recorder is another tool that can capture every moment from your screen. In addition to that, this tool can record audio from inside the background and microphone.
4. Free Cam
As its name implies, FreeCam is a free screen recorder for all users. Recorded videos with this tool can be used for video lessons, product demos, and a lot more.
5. Online Screen Recorder
This tool is compatible with most several browsers such as Chrome, Firefox, Opera, Safari, and so on. Besides, it doesn't require any registration or payment.
Conclusion
Increase the volume of a recorded video is now made easier and possible by these solutions. Check out whichever one you think will support the best. Apart from these, we also introduced useful screen recorders that can record audio. With these, you can conveniently capture the screen of your computer anytime.