5 White Background ID Photo Editor Mobile Apps & Online Tools
Apowersoft Background Eraser
Looking for a tool that will remove unwanted background and change it to the white background on your ID? Apowersoft Background Eraser is the best mobile app that you may rely on both Android and iOS. This app is so good at photo background editing that it can automatically remove the background with its smart AI technology. Not only that, but you may also change your ID photo background to white from its pre-set solid background colors. Indeed, this task is just easy to do with this ID picture white background editor.
Main Features:
Automatically delete background in just 3 seconds.
One tap to change background to white from any images.
Create own any type of ID photos.
Crop photos to an exact size.
Here are the 3 simple steps to replace your ID photo background to white.
Open the app, tap the "ID Photo".

Tap the "Change background color" option and upload your ID picture.

Select the white background and tap "Save" to download your work afterwards.
PhotoRoom
PhotoRoom is an image editing app that will let you edit your ID photos to meet the requirements that you need. This white background id photo editor uses AI technology to automatically cut out the background from your ID and overlay it with solid white background.
Main Features:
Remove and change background from any photos.
Edit the image, apply filters, modify contrast, and more.
Take picture or upload your own from the library.
Follow these steps to change your ID background color to white.
Download and install the app from the Play Store or the App Store.
Run the app, and tap the add sign icon to load your image.
The app will process the file automatically, showing you a transparent result.
From the results, choose the one with white background and hit the download icon.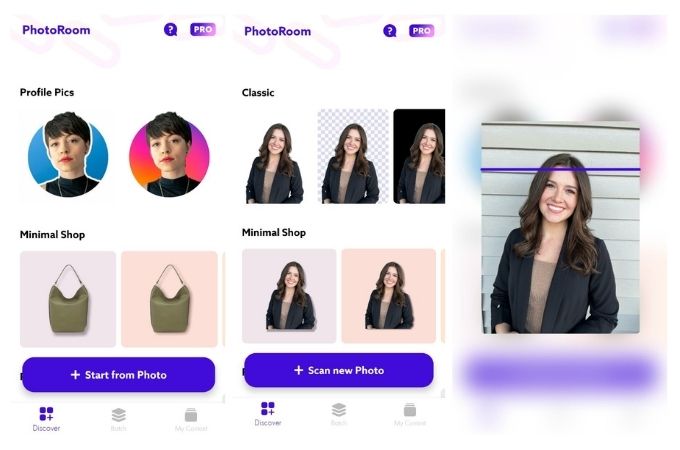 PicWish – 100% FREE
PicWish is an ID picture white background editor online free that will make your photo background editing easier. This is a variety of different graphic editors that will give you the freedom to have your photographs in their best view. One of its features is to remove and change the background color of your ID instantly with its ready-to-use solid background colors.
Main Features:
Get transparent background automatically in just one click.
Pick from its collections of solid colors and pre-designed templates.
Offers various size of ID photos
User-friendly interface and 100% FREE service.
Have this guide to add a white background with this amazing ID picture white background editor.
Go to your favorite browser and click "Start Now" to get the ID photo.

Then, wait for the transparent result and click the "Background" button.

Next, under the "Change Background" option, choose "Colors" and apply the white background.
Once done, hit the "Download" button to save your work.
Cutout.pro
Create your ID photo with white background with Cutout.pro. This web service tool can get rid of the background automatically and replace it with white background. Cutout will give you a clean cut out of your subject and directly present it with white background. Also, this white background id photo editor offers different photo ID sizes that you may need.
Main Features:
Delete background in just one click on photo and video.
Change background into different plain background colors.
Remove unwanted objects.
Face cutout with hair level fine.
Replace ID photo background in just few steps.
Visit the official page of the Cutout.pro on your browser.
To start, click the "Upload Image' button to import the ID picture from your computer gallery.

The online tool will present your photo with white background.
Once OK with the result, hit "Done".
PhotoScissors
You can easily change white background on your photos with the help of this online tool called PhotoScissors. With this ID picture white background editor online free, you can freely do what you want for your ID photos. Remove the background automatically or manually with its removal tools. Then, you may keep the transparent background or change it to any color like the white background that you need with just some simple clicks.
Main Features:
Instantly remove background.
Swap background quickly.
Set solid background colors or templates.
No photo editing skills required.
Swap the old background of your ID white
Open your browser and search for the official page of the tool.
Click "Upload" to get your ID photo.

Then go to the "Background" section.

Choose "Solid Background" and set it to color white.
Once done, hit "Download" .
Conclusion
Id picture white background editors are not difficult to find. You can have them on your mobile photo or while browsing the net. Surely, the tools listed above will help you out on that, just choose which one will meet your preference in photo background editing, Apowersoft Background Eraser is the best that you may have on your mobile phone, while PicWish will make your life easier with is 100% FREE service.