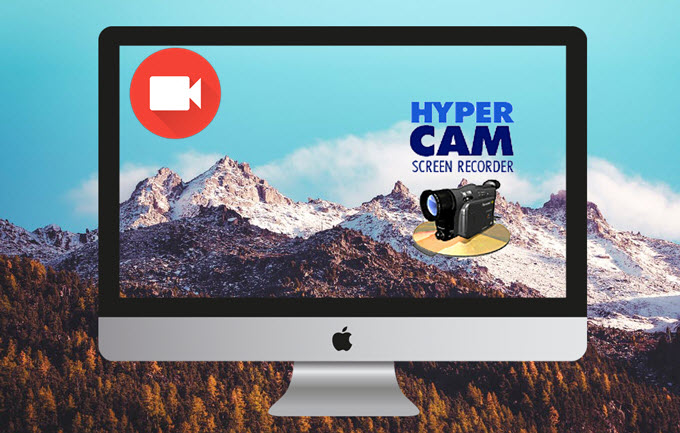 HyperCam's third, being developed by Hyperionics LLC., is available for download/purchase now. It is a rich featured screen recording utility that allows the user to capture screen activity and save it in AVI, ASF, WMV or other formats. You can use this software to record movies and gaming montages as well as Skype calls. It can also be used to make video tutorials, presentations and demonstrations.
HyperCam's latest version has a number of notable advantages:
A slick, user-friendly and intuitive interface.
Built-in video editor.
A command line interface that can handle multiple parameters.
Affordability and compactness.
However, if you're someone who has used HyperCam on the Windows platform but have recently shifted to Mac OS, you will be disappointed to know that it can't run on Macintosh system, because it is Windows exclusive. Or Fortunately, there are several programs for Mac comparable to HyperCam which you can utilize to serve the same purpose as the original software.
Free and Online HyperCam Alternative:
Apowersoft Online Screen Recorder is an online utility that works just like HyperCam, allowing you to capture audio and video, not just on Windows, but on Mac as well. Free, easy to use and rich in features, this software lets you capture all or part of your screen, including webcam output, meaning Skype conversations can also be recorded. This Hypercam for Mac starts capturing your screen with just the push of button, and has no size limitations on the recordings.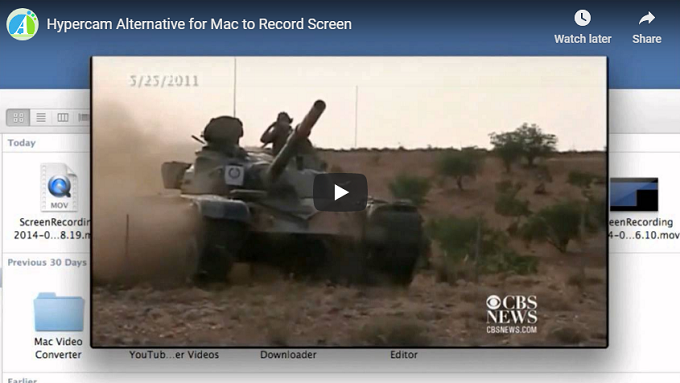 Quick start guide:
To record your computer's screen on Mac OS using this tool, go to the official website of Apowersoft Free Online Screen Recorder and click on the "Start Recording" button.
Depending on your browser's security settings, you may receive a popup asking for confirmation to run a JAVA applet, just allow it to run this program on your computer.
A dashboard will appear on which you can configure the settings – go to "Options" if you want to customize the default settings.
Click on "Record" to begin the recording and drag a region to capture the activity in it. You may also utilize the available editing tools to enhance the video as it is being captured.
Clicking on "Stop" will halt the recording which can save the video to a location of your choice.
An online app that works similar to HyperCam is great, especially since you can access it from anywhere, but you need a working internet connection in order to utilize it. Fortunately, there are some similar utilities that can be installed locally to achieve the same results.
Desktop Alternatives to HyperCam for Mac:
1. Apowersoft Mac Screen Recorder
Apowersoft Mac Screen Recorder is a comprehensive and flexible utility featuring a screen recorder, video converter and editor. It allows you to capture your Mac's screen output activity – the entire screen, a specific region, or just around your mouse cursor. Moreover, you can capture web camera output to develop stylish picture-in-picture recordings. The videos captured by this software are by default in MP4 format, so they can be directly uploaded to YouTube. Morever, it supports to convert video in a batch without loss of quality, to many other formats including AVI, FLV, SWF, MKV and more.
Salient features:
Capture all screen activity on your Macintosh system
Capture screen with audio on Mac OS X Mountain Lion
Capture Webcam video
Free to edit as you record
Schedule tasks to streamline recording process
2. ScreenFlick
ScreenFlick is a reliable video/audio capture desktop utility which provides high performance video capture for the cases of software tutorials, video conversations, demos or gaming sessions. It can capture all screen activity, even in the most demanding computing applications, without adversely affecting performance. This tool features a streamlined UI; a fine-tuned, super-efficient recording engineand diverse exporting/conversion capabilities, this software is far more than just a HyperCam alternative.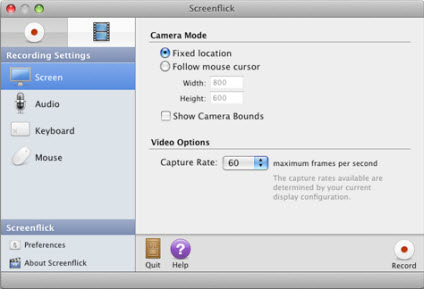 If the aforementioned alternatives to HyperCam can meet your need of recording screen on Mac, there is no reason to feel disappointed that HyperCam won't run on your Mac. You can find plenty of software that are just as effective (in some cases, more so) in carrying out your audio/video capture tasks. Among them, Apowersoft Free Online Screen Recorder is highly recommended for its simplicity and functionality.